MUSIC
: Melodic
progression
.
MUSIC
(1) The movement of a single part with reference to intervals taken by it. Conjunct motion takes place when the sounds move by single degrees of the scale, e.g., C, D, E, F; disjunct motion is when they move by skips, e.g., C, F, D, G. (2) The movement of two or more parts with relation to each other. Similar or direct motion is when parts move in the same direction either by single degrees or by skips; contrary motion is when parts move in opposite directions; is when one part remains stationary while another moves. [The Dictionary of Music]
Motion, Is the first aspect of positive (syntropic) polarity.
Keely
"All motion in the Universe is rhythmical". [Snell Manuscript - The Book, page 2]
Fichte writes: "The will is the living principle of the world of spirit as motion is of the world of sense." Newton said that this subtle ether interpenetrates all matter and is concealed in their substance, through the strength and activity of which, bodies attract each other and adhere together when brought in contact, annihilating distance, as if objects might touch each other. Through this "life spirit" light also flows, is refracted and reflected and bodies are warmed. Pythagoras viewed this as a divine luminous principle or substance which permeates all things and at the same time contains all things. They called it the astral light. The Germans call it the "Welgeist". [Snell Manuscript - The Book, page 2]
"The maximum test was made to placing an iron weight of 580 lbs. on the extreme end of the long arm of the lever. To lift this weight required a pressure of 18,900 lbs. to the square inch counting the difference in the length of the two arms and the area of the piston. When Keely turned the valve-wheel leading from the receiver to the flexible tube and through it into the steel cylinder beneath the piston, simultaneously with the motion of his hand the weighted lever shot up against its stop a distance of several inches, as if the iron were cork. [Snell Manuscript - The Book, page 3]
"The atom is surrounded with a dynasphere, or etheric capsule, which prevents the atoms from touching each other, inasmuch as this dynasphere is in inconceivably rapid motion. Dynaspheric force is broadly divided into two categories: the sentient and the non-sentient atoms (particles to it). Dynaspheric force, composed of non-sentient atoms, is the force used mechanically by Mr. Keely to his motor." [Laurence Oliphant] [Snell Manuscript - The Book, page 3]
"Demonstrating the overcoming of gravity, Keely used an airship model weighing about 8 lbs., which, when the differentiated wire of silver and platinum was attached to it, communicating with the sympathetic transmitter, rose, descended, or remained stationery midway, the motion as gentle as that of thistledown floating in the air." [Snell Manuscript - The Book, page 3]
"I find in my researches, as to the condition of molecules under vibration, that discordance cannot exist in the molecule proper; and that it is the highest and most perfect structural condition that exists; providing that all the progressive orders are the same. Discordance in any mass is the result of differentiated groups, induced by antagonistic chords, and the flight or motions of such, when intensified by sound, are very tortuous and zigzag; but when free of this differentiation are in straight lines. Tortuous lines denote discord, or pain; straight lines denote harmony, or pleasure. Any differentiated mass can be brought to a condition of harmony, or equation, by proper media, and an equated sympathy produced." [Keely and His Discoveries, Chapter VII]
Keely, Atomic Motion
Keely - "The higher the range of atomic motion the greater is its tenuity, and the range is according to the registered pressure." [Keely], [see Law of Matter and Force]
Motion, Thought
"All motion is thought, and all force is mind force." [Keely, Keely and His Discoveries, pg 252]
"On this subject Mr. Keely writes: - "Every disease that the physical organism is subject to has its connective link in the cerebral domain; where it unerringly telegraphs, as it were, its molecular differentiations, through the spinal dura mater or physical sympathetic transmitter, and vice versa back again. The sympathetic communication, as between the physical and mental forces, shows up truthfully the pure conditions that govern the celestial and terrestrial link of sympathy, as between the finite and the Infinite in planetary suspension. The whole system governing the suspension of the innumerable planetary masses, - the infinite certainly and harmony of their eccentric evolution and revolution, in their orbital and oscillating ranges of motion, - the triune sympathetic streams of Infinity that permeate their molecular masses - focalizing and defocalizing on their neutral centres of attraction - are all subservient to that Great Ruling Power: Mind Flow. There is not a grain of sand, nor an invisible corpuscle of floating matter, that does not come under the same rule that governs the most mighty of planets. . . ." [Vibratory Physics - The Connecting Link between Mind and Matter]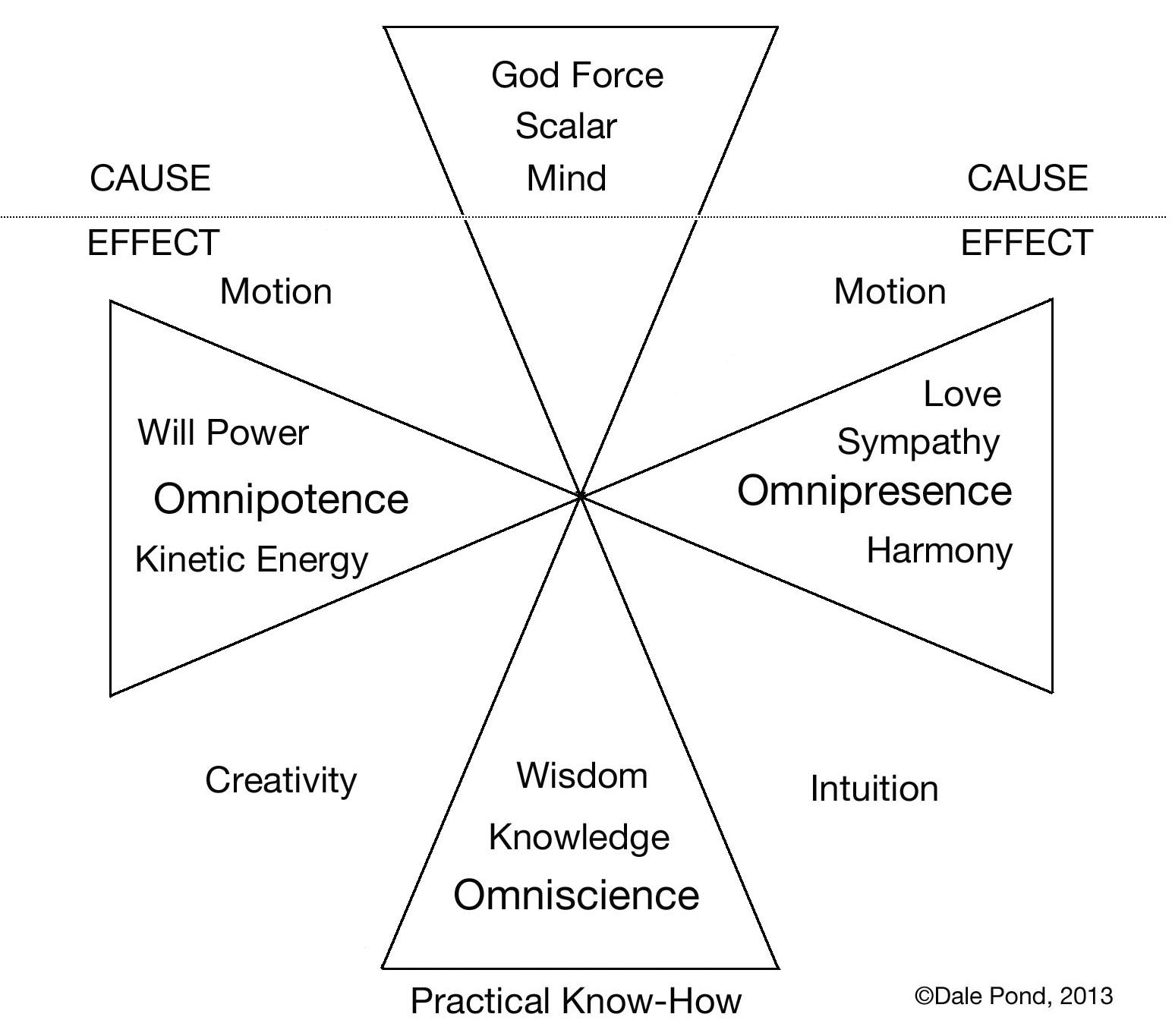 Gustave Le Bon
"I must point out, by the way - and this observation will explain many historical events - that it is not only physical, but many social phenomena which can be likewise defined by curves possessing the properties we have just stated, and in which consequently, very small changes in a cause may produce very great effects. This is owing to the fact that when a cause acts for a length of time in a same direction, its effects increase in geometrical progression, while the cause varies simply in arithmetical progression. Causes are the logarithms of effects." [Gustave Le Bon, The Evolution of Matter, page 194]
Keely
"Macvicar foreshadowed the teachings of this new philosophy when he wrote, "All motion in the universe is rhythmical. This is seen in the forward and backward movement of the pendulum, the ebb and the flow of the tides, the succession of day and night, the systolic and diasystolic action of the heart, and in the inspiration and expiration of the lungs. Our breathing is a double motion of the universal ether, an active and a reactive movement. This androgyne principle, with its dual motion, is the breath of God in man." The writings of the ancients teem with these ideas, which have been handed down to us from generation to generation, and are now flashing their light, like torches in the darkness, upon mysteries too long regarded as "lying outside the domain of physical science." [Bloomfield-Moore, see Father-Mother Principle, Neutral Center]
"Every body capable of rotation or revolution is susceptible to the operation of force, which, applied, impels motion.
"The hypothesis that motion can only be effected mechanically by pressure traction or contact is utterly useless and inefficient to properly explain even familiar movements, such as planetary oscillation, planetary revolution, nebular evolution, etc.
"Polar and depolar differentiation result in rotatory motion. Inflowing sympathetic streams with expression of radiant energy, also give rise to rotation. From the seventh subdivision, the "compound interetheric" or "Soul of Matter" all forms of matter receive their introductory or first impulse." The Snell Manuscript
"The luminiferous ether the compound interetheric element in other words, celestial mind force is the substance of which all visible and invisible things are composed." Keely seems here to speak of the Neutral Center as the Celestial Mind Force. "It is the great sympathetic protoplastic element life itself. Its sympathetic outreach is mind flow or will force actuating sympathetic polarization to produce action and sympathetic depolarization to neutralize it. Polar and depolar differentiation result in motion. The ether has for its attendants gravity, electricity and magnetism, the triple conditions born of itself. It is the Soul of Matter, from which all forms of motion receive their introductory impulse." [Ether - Snell]
The vapor from the liberator, registered at 20,000 lbs. per square inch has a range of atomic motion of 1333 1/3 the diameter of the atmospheric molecule with constant rotary vibratory action. At 10,000 lbs., 666 2/3, at 5,000, 333 1/3, at 2500, 166 2/3, at 1250, 83 1/3, at 625, 41 2/3. The higher the range of atomic motion the greater its tenuity and pressure. The very evolution on the negative shows a vacuum of a much higher order than was ever produced before confounding all theory to analyze. The highest vacuum known is 17.999999, or not quite 30 inches, but Keely produced etheric vacuums repeatedly of 50 to 57 inches ranging down to 30 inches or 57 lbs. All operations of nature have for their sensitizing centers of introductory action, triple vacuum evolutions. These evolutions are centered in atomic triple revolutions, highly radiophonic in their character and thoroughly independent of all outside forces in their spheres of action. No conceivable power, however great, can break up their independent centers. These triple centers are the foundation of the universe, and mathematically considered, the respective and relative motion of these atomic triplets, gravitating to and revolving around each other, is about one and one-third of their circumference. The problem of this action, when analyzed mathematically, (taking it as the quadrature of the circle) would baffle mathematical science to bring it to a numerical equation. Every revolving body is impressed by nature with certain laws making it susceptible of the operation of force, which being applied, impels motion. These bodies never can approach nearer than a certain limit, nor farther than a certain point. They are, at some mean point, made perfectly equal, and may therefore be considered as one force and as one element. It matters not that other and disturbing forces exist outside or inside the space these bodies revolve in, because if this force must be considered as acting uniformly, applying itself to each of these bodies in a way to produce a perfect equation on all, it is as if this outside force were nonexisting. [Snell Manuscript - The Book, page 2]
WHAT KEELY MEANS BY "SYMPATHETIC FLOWS"
The action of Nature's sympathetic flows regulates the differential oscillatory range of motion of the planetary masses as regards their approach toward and recession from each other. These flows may also be compared to the flow of the magnet which permeates the field, existing between the molecules themselves, sensitising the combined neutral centres of the molecules without disturbing, in the least, the visible molecular mass itself. In the planetary masses - balanced as it were in the scales of universal space, floating like soap-bubbles in a field of atmospheric air, the concentration of these sympathetic streams evolves the universal power which moves them in their oscillating range of motion to and from each other. This sympathetic triple stream focalises and defocalises on the neutrals of all such masses polarising and depolarising, positive and negative action, planetary rotation, etc., etc.. It is thus that all the conditions governing light, heat, life, vegetation, motion, are all derived from the velocity of the positive and negative interchange of celestial sympathy with the terrestrial.
Every harmonious condition of Nature's evolutions is governed by one incontrovertible law; that of concordant assimilative harmony. This concordant key is the ruling one over all the antagonistic, negative, discordant ones; the one that diverts the disturbance of sympathetic equilibrium to one general concentrative centre for redistribution. Harmony concentrates, Harmony distributes. The focalising point of concordant sympathetic concentration is the percussive electric field, where the velocity of its sympathetic streams rebounds with a power that throws them far out into universal space; and so far beyond their equative centre of equilibrium, as to bring them in sympathy with the universal attraction of the combined neutral centres of all planetary masses. KEELY. [True Science]
Russell
Energy belongs to the invisible universe. It is extended into the visible universe of motion ONLY FROM A FULCRUM which is at rest. The energy, however, does not pass beyond the fulcrum into matter, or condition of matter, or motion of matter. That which passes beyond rest into motion is an expression of energy - a simulation of energy - an effect projected from a cause to demonstrate what energy can do when projected into the illusions of motion.
Energy thus expressed might be likened unto the countless actions of a motion picture. The motion thus expressed simulates the energy, and the IDEA, which has been projected from an undivided mental Source through a divided electric wave source by the way of a fulcrum zero upon which the wave oscillates. [Walter Russell, A New Concept of the Universe, pages 32-33]
"
Desire is the cause of all motion.
"
Russell
,
The Secret of Light
"Records of Motion are seeds for repetition of motion. In the seed is desire for manifesting imaged forms of idea. All forms are wave forms. All wave forms unfold from seed records of those wave forms." [Russell, The Secret of Light, page 137]
WEIGHT DEFINED
The following definitions of weight are in keeping with Natural Law.
Weight is the sum of the differences between the two pressures which act upon every mass.

Weight is the measure of the differences in electric potential between any mass and the volume it occupies.

Weight is the measure of unbalance between any mass and its displaced environment.


Weight is the measure of the force which a body exerts in seeking its true potential.

Weight is the sum of the difference between the inward pull of gravitation and the outward thrust of radiation.

Weight is the measure of intensity of the desire within all matter to express motion or seek rest from motion.
 [Walter Russell, The Secret of Light, pages 184-185]
"To polarize means to divide stillness into opposing pulsing extensions. It is like extending a lever from a fixed fulcrum and setting it in motion to express the idea which is in the still fulcrum." [Russell, The Secret of Light, page 209]
Q. What is the underlying principle of motion? A. "The universe of motion is founded upon a very simple principle, as simple as your heart beat or your incoming-outgoing breath. All effects are the result of the two desires of the Creator for expression of His idea. One desire is for division of oneness of idea into multiple forms of ideas. The other is for a return to oneness for repetition of multiplicity through rest. Each of these desires is expressed by half a cycle of two-way motion between two opposite points of rest to other opposite points. Each opppsite voids its other opposite, but our senses do not detect this fact. If they did, they would sense the illusion which the universe of motion is.
"All effects of motion are the result of either balanced or unbalanced interchange between the pairs of opposites which manifest God's two desires while one their respective journeys to and from the rest points in the Light from which each is extended." Russell, The Message of the Divine Iliad, page 207-208 [see Law of Assimilation]
"Motion itself is controlled by the Mind of the Creator Who uses it to express His desire for simulating IDEA of Mind by giving it a formed body. There is no other purpose for motion.
"All of the energy of all Creation is in the omnipresent vacuum of the zero universe. The error of man's observation of this universal FACT lies in his beliefs that energy moves. The omnipresent vacuum never moves. It is the fulcrum from which motion draws its energy to move, but the fulcrum never moves. Every ultra-microscopic point in this Cosmic vacuum tube, which the universe is, is a fulcrum from which Mind-desire is extended to express the Idea of Mind. Mind-desire is the sole energy of the universe. Motion is but the lever which expresses the energy extended to it from the fulcrum." [Walter Russell]
"Desire in the Light of Mind for creative expression is the only energy in this universe. All motion is Mind motivated. All motion records Mind thoughts in matter." (Russell, A New Concept of the Universe, page 10)
"Motion is an appearance born of the axis of a conceptive cone in inertia. It assumes the appearance of an expanding cone and disappears through radiation in equatorial opposition." Russell, The Universal One, pg. 106
"This universe of motion is a universe of PRODUCTION, DESTRUCTION and REPRODUCTION.
"All form is produced by the male, electro-positive, plus action of the charging, electric oscillation of the universal life principle, is destroyed by the female, electro-negative, minus reaction of the discharging, magnetic oscillation, and is reproduced through the union of both by radio-active regeneration of inertia." Russell, The Universal One
"The "elements of matter" do not vary in substance. They vary only in their states of motion.
"All motion is periodic and evolutionary.
"All motion is motion in equilibrium. No other motion is possible.
"All motion has the appearance of being divided into opposites.
"These opposites of motion shall henceforth be termed "motion-in-inertia" and "motion-in-opposition".
"All that appearance which man calls matter is "motion-in-opposition".
"Motion-in-opposition is under either preponderantly electric or magnetic domination. It is a state of motion where pressures are unequalized and sustained in their state of unequalization by the resistance of the two opposing forces in motion. The point of maximum motion-in-opposition is the nucleal center of a unit or system where opposing pressures reach their point of maximum pressure.
"Form of matter disappears into motion-in-inertia.
"Motion-in-inertia is equally electric and magnetic. Neither force dominates. It is a state of motion where pressures are equalized." [Russell, The Universal One; Book 01 - Chapter 02 - The Life Principle]
"All motion in all this universe is based upon the fact that the sexless condition of stillness has been divided into two sexed conditions." [Atomic Suicide, Chapter 4 - The True Nature of This Mind and Motion Universe - part VI, page 86]
"In all this vast universe there is naught but Mind and thought-motion. All motion is but an electric recording of the Mind-thought which centers it. It is also the record of the idea it simulates. In the idea is purpose of idea. In the electric recording, therefore, the mechanics of idea, thought and purposefulness are lodged, otherwise The Creator could not create.
God's universe is living, and is purposeful. Wherever there is motion, there also is God commanding His thought-forms to fulfill their purposes." [Atomic Suicide, page 115-116]
"Electricity is motion - any kind, or stage of motion. There cannot be two kinds of electricity. There is but one kind of electricity but that one kind multiplies its power to compress in the first half of its cycle and divides that power in the second half. Much confusion is caused by mistaking speed for high potential, and vise versa. For this reason it is well to exemplify our meaning by the following example: To create matter by the compression of four pairs of rings, projected from cathodes, the speed of the current around its shaft of gravity multiplies constantly and volume decreases as speed increases, until the collision takes place. Simultaneously the speed of rotation of units in the current slows down until the completed mass, after the collision, is its minimum. From that point on every effect is in reverse. Revolution around the shaft of gravity of each separate unit of the mass, including projections from it like planets and satellites, become increasingly slower while rotation of each mass upon its own shaft is increasingly faster. In this case speed results in a lowering of potential and a vast increase in volume." [Atomic Suicide, page 148]
"Fig. 42. Three examples of tonal rhythms of the electric current. Every cycle of an electric current is a complete octave of four pairs and an inert gas keynote. All motion in Nature is tonal and rhythmic. Its rhythms are geometrically and mathematically cube-based." [Atomic Suicide, page 163]
"All motion is equally compressed in respect to gravity, therefore, all motion is in true gravity centered circles, which multiply into spheres, and again divide into true circles." [Atomic Suicide, page 169]
"The great mystery of all of the mysteries of matter lies hidden within the inert gases of the wave. The nature and structure of these keys to motion has never been known." [Atomic Suicide, page 169]
"Motion is an effect caused by the disturbance of rest by dividing its one condition into two opposing conditions. The greater the desire for division the greater is the multiplication of resistance to that division, which science mistakenly calls "energy" and believes to be a quality of matter. Energy is mental. It is but simulated in matter by motion." [Pulsing Electric Thought-Waves]
"Electricity records Mind-thought in rings of light which spin around a Magnetic center of still, invisible light. All motion in all the universe spins around Mind-centers which become shafts as motion extends." [Atomic Suicide, page 220]
Motion is a lever which must have a fulcrum. As motion extends there is always a fulcrum ever present to center it. A gravity shaft, which results from polarized division of stillness into moving pairs, is not a direction of motion, nor is it a part of Creation. It is merely an identifiable Mind position in the zero invisible universe." [Atomic Suicide, page 228]
"The question has long been asked by research scientists why it is that the inert gases will not mix, or unite with "any of the other elements." The first answer is that the inert gases are not electrically divided and conditioned elements, as all of the others in the nine octaves are. The inert gases begin in the first octave as invisible white fluorescent light of zero motion. They end at the 9th cathode in the 9th octave, as visible white fluorescent light, which has reached a speed of nearly 186,400 miles per second. Fluorescent light is that light which begins in the undivided electric spectrum. It is the beginning and end of motion. All motion is either red or blue, according to its sex. The end of motion at the amplitude of the 9th octave means that the divided spectrum has been united as one colorless, sexless light which has been under such high compression that it has reached its limit of conditioning by motion and must be transformed from the white light of visible motion to the invisible white Light of Magnetic stillness. The fluorescent light is that ending of electric power to divide motion into pairs, and to condition the pairs with the opposing sex tensions of electrically divided spectrum opposites. The inert gases are not pairs. They are not divided. Division takes place by light projected from them, but that projected light of spectrum pairs is the basis of the electrochemical elements, which have great volume and density in comparison." [Atomic Suicide, page 261-262]
"Fig. 69. This is the way man divides stillness to produce motion.
Fig. 70. This is the way Nature divides stillness to produce motion." [Atomic Suicide, page 272]
"Also the statement that uncharged particles are ejected from one end is not true to Nature. There are no uncharged particles in Nature. Wherever there is matter there is motion. Motion is an electric effect, which charges all matter." [Atomic Suicide, page 274]
Every effect of motion is voided as it occurs, is repeated as it is voided, and is recorded as it is repeated. [Atomic Suicide, page 287]
"All motion is Mind-thinking and rest from Mind-thinking. Thinking is cyclic but the energy Source of thinking is eternal." [Atomic Suicide, page 191]
"Motion is an electric effect, which charges all matter." [Atomic Suicide, page 274]
"All motion begins at a cathode point in space, which is all cathode. It cannot move out of that omnipresent position, however, without dividing its seeming energy into four radar-acting pairs in the wave, which is beginning to construct, nor can it do so without measuring out its own desire-energy into countless billions of other cathodes throughout all omnipresence." [Atomic Suicide, page 285]
"The master-tone of each octave is the inheritance of the original motion of the thinking process of Mind. These master-tones are the "inert gases" which are classified in the zero group of the Mendeleef table.
The state of motion of these inert gases is that of motion-in-inertia."
"Motion-in-inertia is that state of pressure equilibrium which lies between any two masses.
"The inertial line, or plane is that dividing line, or plane, toward which all masses discharge their potential.
"It is the line, or plane, of lowest potential of two opposing areas of potential, where opposing pressures neutralize. This is the plane of minimum pressure of two opposing areas.
"The master-tones which represent a state of motion-in-inertia and are the inert gases, bear the same relationship to the elements that white bears to the colors. They are a registration of them all. White is not included in the spectrum, it has no place there. The inert gases should not be included in the elements. They have no place there. Of this more shall be written later in its proper place." [Russell, The Universal One]
"God's end of the cosmic
Bridge where motion begins
Its projection into space
To simulate mind-idea.
Matter begins by division of stillness in the inert gases and its projection by two-way motion into pairs of octave wave tones, which we call elements. The principle of projection is the same that man uses in projecting the concept of his idea into the moving form of the idea. It is the dual radar principle of Nature. Reduced to its ultimate simplicity, Nature is a series of echoes." [Atomic Suicide - Fig 62]
The entire mechanical principal of Nature, by means of which its light illusions of motion are produced, is the consequent effect of such radial extensions. Because of it, the seeming multiplication and division of the universal equilibrium into the opposed electrical pressures of gravitation and radiation, which form the foundation of this universe of change, are made possible. (Fig. 3) God's imaginings extend from rest to rest in His three-dimensional radial universe of length, breadth and thickness - to become the stage of space for His imagined radial universe of matter, time, change and motion. (Fig. 4) Points of rest, further extended to other points of rest, form three reflecting planes of still magnetic Light which are at right angles to each other. (Fig. 4) From the center of these three mirror planes of zero curvature, God's givings are radially projected to six opposed mirror planes for reprojection as regivings, to unfold
page 220
and refold the forms of God's imaginings in the curved electric universe of His desiring. (Fig. 5)" [The Secret of Light, PART III: Omnipresence The Universe of Being Postulates and Diagrams, page 219-220]
When depolarization takes place the poles seem to draw closer together, but that is because of their lessening vitality. They still thrust away from each other until devitalization is complete. When motion ceases, the matter which it manifests ceases to be. [A New Concept of the Universe, page 18]
It is the contractive power within electricity to divert the universal constant of energy into centripetal vortices of closing spirals of increasing speed, thereby attracting similar states of motion into an accumulation of mass the pressure of which increases toward its center. [See Sympathetic Negative Attraction] [The Universal One, Book 02 - Chapter 12 - Gravitation and Radiation, Gravitation and Radiation - page 141]
---
Hughes
There is much paradox, and the scheme differs so much from any hitherto published on the subject, that I am aware that, if any link can be found to be wanting in the chain, the defect will immediately be seized upon. I believe, however, that it will be found to admit of clear demonstration. Anyone who has studied the subject knows the difficulties that arise on all sides. In the problem before us, we have to reduce large fields of thought to certain elementary truths. In my endeavour to do this, I have been entirely dependent upon the discovery of the laws of Nature, as my ear is not musical enough to assist me in the matter. "All mysteries are either truths concealing deeper truths, or errors concealing deeper errors," and thus, as the mysteries unfold, truth or error will show itself in a gradually clearer light. The great mystery of music lies in its infinite resources; it teems with subtle elements and strange analogies. A musical note may be compared to a machine: we touch the spring and set the machine in motion, but the complex machinery exists beforehand, quite independent of our will; the motive power is not of our creation, and the laws on which its operation depends are superior to our control. The complex work of harmony is governed by the laws which are originated by the Creator; every note performs what He has willed, and in tracing these laws let us not be indifferent about their Author, but ever bear in mind that the source or fountain of the life and activity of harmonies arises from the Power who created the machine, and who knows how it will act. Let us also remember that we understand this machine but partially, and govern it but imperfectly, as indeed the finite can only, in a small measure, grasp the Infinite; and in any [Harmonies of Tones and Colours, The Method of Development or Creation of Harmonies1, page 15]

combinations of dissonance, rests, sounding neither scale nor chords. Dissonance does not express opposition or separation, for there is no principle in musical tones which is productive of contraries; the dissonances follow the attraction of the tonic, or key-note, and the neutralization of the musical disturbance is implied in the disagreement in their motion with the repose of the unit, or key-note. So far is this from producing separation, that the apparent discord is simply a preparation for growth, the life of harmony causing an inherent tendency towards closer union. [Harmonies of Tones and Colours, Combinations of dissonance, rests, page 24]

CHAPTER XVII.
"There's not the smallest orb which thou behold'st,
But in his
motion
like an
angel
sings,
[
Harmonies of Tones and Colours
,
Diagram XIV - The Modulating Gamut of the Twelve Minor Keys by Fifths1
, page 39]
---
Lewis
Motion and Time: "Motion, when measured and proportioned by Time, manifests rhythm." [Harvey Spencer Lewis]
Motion is Vortex also Life Force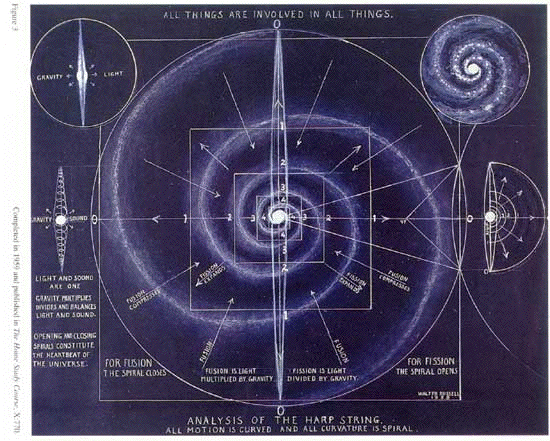 Figure 3.18 - "All Motion is Vortex Motion." Keely
(courtesy University of Science and Philosophy)
"All such experiments invariably resulted in vortex motion, whether induced sympathetically or otherwise. All corpuscular action in Nature is vortex motion."
[
Keely
]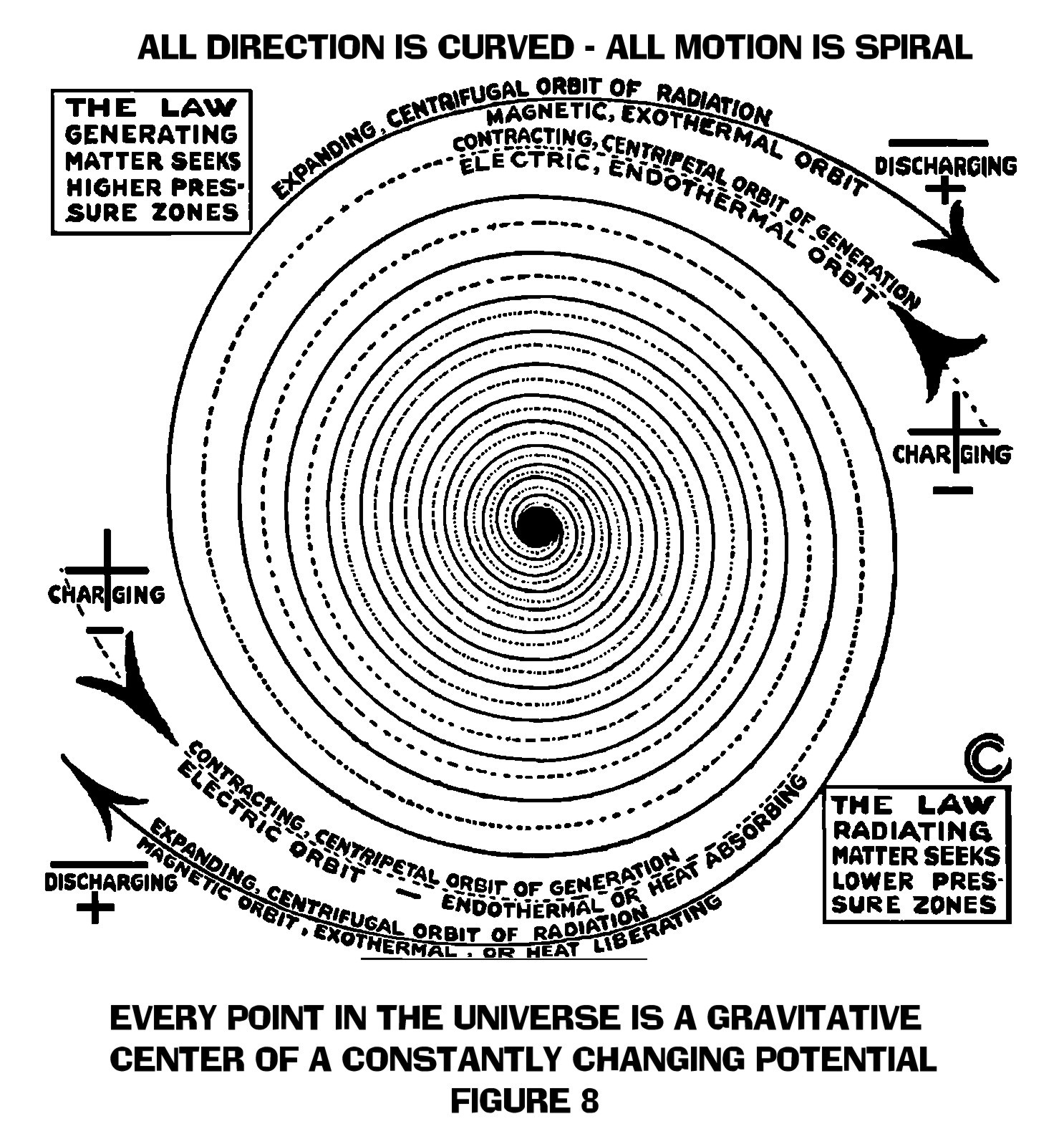 "All Motion is Spiral." Russell
(courtesy University of Science and Philosophy)
(click to enlarge)
Light is an etheric evolution propagated by "sympathetic conflict" between the "celestial" and "terrestrial" outflows: solar tensions against terrestrial condensations and true luminosity is induced in no other way. Progressive molecular and intermolecular disintegration reproduces light in Nature's manner on a small scale. In this regard Keely says "All such experiments invariably resulted in vortex motion, whether induced sympathetically or otherwise. All corpuscular action in Nature is vortex motion. The undulatory theory of light is only hypothetical. The conditions of electro-magnetic radiation, on the same plane of matter as light, disprove the undulatory theory in many particulars. The vortex action induced by differential conflict between the low and high tensions shows conditions analogous to those in the molecular dissociation of water into hydrogen and oxygen in other words, vortex action of the highest order but peripheral only. Were it otherwise, the ether could not be held suspended or enclosed in the molecular or atomic envelopes." [LIGHT - Snell]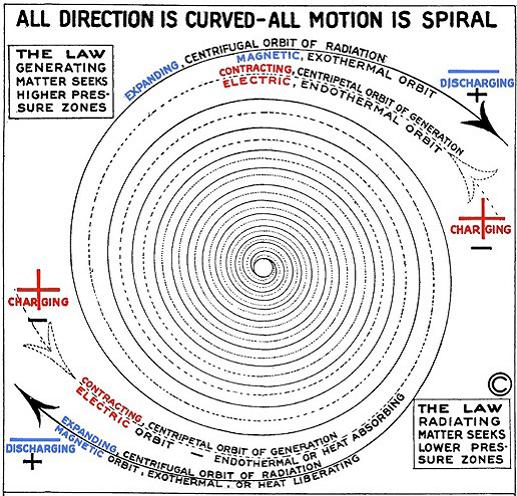 "All Motion is Spiral." Russell
(courtesy University of Science and Philosophy)
(click to enlarge)

"All motion is curved and all curvature is spiral." Russell, [Home Study Course]

"...all motion is curved." [Russell, Home Study Course]

"All energy expresses itself in spiral waves." [Russell, The Universal One, Book 02 - Chapter 13 - Expressions of Gravitation and Radiation - Universal Direction, Universal Direction - page 150]
"All
motion
is equally compressed in respect to
gravity
, therefore, all
motion
is in true
gravity centered circles
, which multiply into spheres, and again divide into true circles." [
Atomic Suicide
, page 169]
"Every effect in Nature is divided into pairs of opposition. Each one of each pair is the reverse of the other. Each one is like a mirror reflecting the other. Nature is like unto a clock with two hands which bend away from each other in opposite directions but equal potentials. If one hand multiplies potential the other simultaneously multiplies it equally. Nature will not allow her balance to be disturbed. Each polarized hand moves away from the other from zero to four. Each then reverses its polarity from a charging body to a discharging one. Generation also reverses and becomes radiation. Heating bodies cool. Living bodies die. Solids become gases and dissolve. Fast motion slows until it ceases." [Atomic Suicide, page 288]
This whole concept (Russell Vortex Theory) is so different from what people usually conceive it is near incredible for many. Hence the difficulty in gaining acceptance of its decipherment. Yes, music a part of it but no music (as we know music) is not a part of it. Yes, there are spinning rings but they are also spirals in dynamic collapse and extension. Yes, there are points of their manifestation along a shaft but they are not points but loci of discrete function and dynamic. Yes, there are things but no thing exists. See how it can get unwieldy? We must move from considering "things" to understanding function and dynamic in their places. Ideas are beautifully simple and elegant. The implementation of them can be a complex nightmare. Much of this boils down to resolving seeming paradoxes. [Dale Pond]
See Also
---
Double Vortex
electric cyclone
electric vortices
Figure 2.13 - Swirling Vortex around Neutral Centering Shaft
Figure 3.21 - Vortex or Gyroscopic Motions as Conflicts or Antagonisms between Light and Dark
Figure 3.22 - Vortex or Gyroscopic Motions as Conflicts or Antagonisms between Light and Dark Zones
Figure 3.23 - Vortex or Gyroscopic Motions as Conflicts or Antagonisms between Light and Dark Zones
Figures 3.31 - Vortex Orthogonal and self-contained Motions - Structure
Figures 3.32 - Vortex orthogonal and self-contained motions - cross-section
Figure 4.5 - Compound Gyroscopic or Vortex Motions
Figure 5.13 - Babbitt Atom constructed of Compound Vortexial Motions
Figure 5.3 - Vortex or Gyroscopic Motion is Natural and occurs ubiquitously
Figure 5.4 - Vortex and Gyroscopic Motion on One Plane then on three forming Sphere
Figure 5.5 - Double Interpenetrating Vortex
Figure 6.1 - Orthogonal Vortex Motion as Structural base of Cubes
Figure 7.1 - Step 1 - Wave Vortex Crests at Maximum Polarization
Figure 7.2 - Step 2 - Vortex Formation about a Single Axis
Figure 7B.12 - Sympathetic Affinity Attraction forming Vortex
Figure 13.05a - Complex Vortex Rotational Dynamics
Motion
One More Step Toward Building The Cube-Sphere Wave-Field
Part 03 - Polarity Creates Rotating Vortex
The Action of Force is Spiro-Vortex
Vortex
VORTEX ACTION
vortex ring
Water Vortex
Wave Field
3.03 - Vortexial Motion
3.10 - Vortex Motions result in Appearance of Form
3.14 - Vortex Theory of Atomic Motions
3.23 - Hydrodynamic Equations - Vortex Motions
4.5 - Triple Rotary or Vortex Motions
5.1 - Vortex Formation
5.2 - Vortex Motions in Resonators
5.3 - Vortex Motion in Ether and Atoms
5.6 - Vortex Forming Spheres
"Radical expansion of beginning points compress motion into cube planes of rest in space. These are reflecting mirrors of Magnetic Light which project God's thought-imaged forms onto His universal screen of space to simulate a reality of existence where not anything is, not even the motion which so convincingly seems to be there." [Atomic Suicide, page 111]
"The following is a heretofore unknown basic principle of motion.
Everywhere in Nature life and growth are expressed by increasingly fast centripetal motion, and death and decay are expressed by increasingly fast centrifugal motion.
In observing the opposite directions in which the arrows in the nebulae diagrams point, do not be confused into thinking that the many masses are turning in opposite directions. Every unit in all of them turns in the one direction which is common to all Nature. The opposite directions of the arrows indicate direction of increase and decrease in electric potential, which is the way all things live and die.
Fig. 40 represents a nebula which has not yet reached maturity. It is still being compressed toward a perfect sphere. It is a united pair but has not "had any children" yet. An atomic, solar or stellar system is one which has reached maturity as a united pair, and has begun to propagate generations of "off-spring", which, in turn, have propagated generations of their own. All atomic systems are discharging, depolarizing, expanding systems. There are no polarizing, or charging systems in Nature. Depolarization alone produces multiple systems. It is because of this fact that the "expanding universe" theory deluded so many observers.
Figures 36, 37, 38 and 39 are old systems. Figures 38 and 39 are excellent examples of the regeneration of new solar systems along the expanding paths of dying suns. Their symmetry, and very noticeable balanced rhythm, are very indicative of normal disintegration." [Atomic Suicide, page 138]
"Not one action of motion by man or Nature - in all the universe - can escape from the absolute centering of its action by the Controller of all action." [Atomic Suicide, page 171]
The one most important thing to burn into your consciousness is to realize that wherever motion is it is centered by stillness, and that stillness is its CAUSE. [Atomic Suicide, page 177]
"This also means that we should know why the inward explosion, which basically causes motion in this zero universe, is a centripetal spiral, and why it is returned by radar to the zero of its source as a centrifugal spiral. " [Atomic Suicide, page 287]
"The total lack of knowledge of the purpose and workings of the inert gases and their relation to growth control from the seed, and their power multiplication principle which causes all effects of motion to step-up from their zero cold static condition to white hot heat and power conditions." [Russell, Russells Optic Dynamo-Generator]
"In this Universe, the octaves of the elements of matter "Grow" from seed, just as all things grow from seed. Elements are not fixed created things. They are pressure conditions of light waves. The inert gases are the cosmic seeds of matter in this Universe. They surround the zero from which motion springs and to which it returns. They are the seeds of the octaves of matter, and each octave has a different seed just as different trees has different seeds. The inert gases are the recorders in cosmic seed of this creating universe of infinite continuity." [Russell]
---
Ramsay
"While the ratio of 1:2 corresponds to rest, and to the force of gravity, the ratio of 2:3 corresponds to motion, and to the centrifugal force. The prime 2, by any of its powers, never produces a new note. The prime 3 always produces a new note, and on this account its powers are limited to the first power, the square, and the cube, and each of these powers of 3 produces one new note." [Scientific Basis and Build of Music, page 27]
The mathematical scales, if followed out regardless of other laws which rule in music, would read like a chapter in Astronomy. They would lead us on like the cycles of the moon, for example. In 19 years we have 235 moons; but the moon by that time is an hour and a-half fast. In 16 such cycles, or about 300 years, the moon is about a day fast; this, of course, is speaking roughly. This is the way seemingly through all the astronomical realm of creation. And had we only the mathematical ratios used in generating the notes of the scale as the sole law of music, we should be led off in the same way. And were we to follow up into the inaudible region of vibrations, we should possibly find ourselves where light, and heat, and chemical elective motions and electric currents are playing their unheard harmonies; or into the seemingly still region of solid substances, where an almost infinite tremor of vibrations is balancing the ultimate elements of the world. Music in this case would seem like some passing meteor coming in from among the silent oscillations of the planetary bodies of the solar system, and flashing past with its charming sound effects, and leaving us again to pass into the higher silence of those subtle vibrations to which we have referred, having no infolding upon itself, no systematic limit, no horizon. But music is not such a passing thing. Between the high silence of these intense vibrations, and the low silence of oscillating pendulums and revolving planets, God has constituted an audible sphere of vibrations, in which is placed a definite limit of systematic sounds; seven octaves are carried like a measuring line round twelve fifths; and motion and rest unite in placing a horizon for the musical world, and music comes [Scientific Basis and Build of Music, page 39]
"and goes within this range, with its wondrous infoldings which so charm the ear, and which symbolise so many spiritual mysteries. These twelve major keys with their twelve minors are the musical world, and motion in the operation of 3 is not much hampered by rest controlling it in the operation of 2; and what is lost of so-called "perfect intonation" is far more than made up for in the beautiful system within system, which musical science, when fairly and fully brought into view, presents for our contemplation, and the intellect feasts along with the ear." [Scientific Basis and Build of Music, page 40]
In getting the length of a string, in inches or otherwise, to produce the scale of music, any number may be fixed on for the unit; or for the vibrations of the root note any number may be fixed on for the unit; but in the fractions which show the proportions of the notes of the scale, there is no coming and going here; this belongs to the invariables; there is just one way of it. Whatever is not sense here is nonsense. It is here we are to look for the truth. The numbers which express the quantities and the numbers which express the motions are always related as being of the same kind. The fractions bring their characters with them, and we know by this where they come from. 1/4 of a string gives a note 2 octaves above the whole string, no matter what may be its length; 2 has exactly the same character as 1; 2/4 gives the note which is 1 octave above the whole string; but in the case of 3/4 here is a new ingredient, 3; 3/4 of a string gives a note which is a fifth below the [Scientific Basis and Build of Music, page 75]
The sympathy of one thing with another, and of one part of a thing with another part of it, arises from the principle of unity. For example, a string requires to be uniform and homogenous to have harmonics producing a fine quality of tone by the sweet blendings of sympathy; if it be not so, the tone may be miserable ... You say you wish I were in touch with Mr. Keely; so do I myself ... I look upon numbers very much as being the language which tells out the doings of Nature. Mr. Keely begins with sounds, whose vibrations can be known and registered. I presume that the laws of ratio, position, duality, and continuity, all the laws which go to mould the plastic air by elastic bodies into the sweetness of music, as we find them operative in the low silence of oscillating pendulums, will also be found ruling and determining all in the high silence of interior vibrations which hold together or shake asunder the combinations which we call atoms and ultimate elements, but which may really be buildings of wondrous complexity occupying different ranges of place and purpose between the visible cosmos and Him who built and evermore buildeth all things. The same laws, though operating in different spheres, make the likenesses of things in motion greater than the differences. [Scientific Basis and Build of Music, page 87]
In a musical air or harmony, i.e., when once a key has been instituted in the ear, all the various notes and chords seem animated and imbued with tendency and motion; and the center of attraction and repose is the tonic, i.e., the key-note or key-chord. The moving notes have certain leanings or attractions to other notes. These leanings are from two causes, local proximity and native affinity. The attraction of native affinity arises from the birth and kindred of the notes as seen in the six-octave genesis, and pertains to their harmonic combinations. The attraction of local proximity arises from the way the notes are marshalled compactly in the octave scale which appears at the head of the genesis, and pertains to their melodic succession. In this last scale the proximites are diverse; the 53 commas of the octave being so divided as to give larger and lesser distances between the notes; and of course the attraction of proximity is strongest between the nearest; a note will prefer to move 5 commas rather than 8 or 9 commas to find rest. Thus far PROXIMITY. [Scientific Basis and Build of Music, page 91]
are always when they have returned to the side from which they were started. The Pendulographer, also, when writing the beautiful pictures which the musical ratios make when a pen is placed under the control of the pendulums, always finds his figure to begin again when the pendulums have finished their period, and have come for a fresh start to the side from which the period began. This confirms our author's definition of an oscillation of a pendulum. Fig. 3 is an illustration of the correct definition of a Musical Vibration, as also given in this work. Although the definition of an oscillation is not identical with that of a vibration, yet on account of their movement in the same ratios the one can be employed in illustration of the other as we have here done. Fig. 4 is a uniform rod suspended from the end as a pendulum; it will oscillate, of course, at a certain speed according to its length. In such a pendulum there are three centers related in an interesting way to the subject of Music in its three chords - subdominant, tonic, and dominant, which roots are F, C, and G. The center of gravity in the middle of the rod at 2, suspended at which the rod has no motion, corresponds to F, the root of the subdominant, in which there is the maximum of musical gravity. The center of oscillation at 3, which is one-third of the length of the rod from the end, is like the root of the tonic whose number is 3 in the genesis of the scale from F1. In this point of suspension the oscillations are the same as when suspended from the end at 1. The point at 9 is at a ninth from the center of oscillation. Our author discovered that, if suspended at this point, the pendulum had its highest rate of speed. Approaching the end, or approaching the center of oscillation from this point, the rate of speed decreases. Exactly at one-ninth from the center of oscillation, or two-ninths from the end, is this center of velocity, as Ramsay designated it; and it corresponds in some sort also to the root of the dominant G, which is 9 in the genesis of the scale from F1; its rate of vibration is nine times that of F1. The dominant chord is the one in which is the maximum of levity and motion in music. [Scientific Basis and Build of Music, page 105]
When 25 pendulums are arranged and oscillated to represent the different musical ratios in their natural marshalling, they will all meet at 1 when 64 of the highest is counted. This plate is intended to show that there are two kinds of meeting and passing of the pendulums in swinging out these various ratios. In the ratio of 8:9 the divergence goes on increasing from the beginning to the middle of the period, and then the motion is reversed, and the difference decreases until they meet to begin a new period. This may be called the differential way. In the ratio of 45:64 there is an example of what may be called the proximate way. In this kind of oscillations meet and pass very near to each other at certain points during the period. In 45:64 there are 18 proximate meetings; and then they exactly meet at one for the new start. This last of the ratios, the one which finished the system, is just as if we had gone back to the beginning and taken two of the simplest ratios, [Scientific Basis and Build of Music, page 105]
mathematical genesis, as seen in its D being a comma higher than that of the minor. This gravity and buoyancy of the modes is a striking feature of them. In the Thirds it is different from the Fifths; the larger hemisphere of each third seems gravitating toward the center of the tonic chord. The area of the scale has then the aspect of a planet with its north and south poles, and pervaded by a tendency towards the center; the center itself being neutral as to motion. [Scientific Basis and Build of Music, page 107]
See Also
---
Action
action and reaction sequence
action-reaction mathematics of the cycle
Aperiodic
Celestial Radiation
Continuous Motion
Controller of all action
Direction of Motion
Dynasphere
Dynaspheric Force
electric action
Father-Mother Principle
first comparison and combination of motions
four rings of the inert gas
Gravity is a shaft of Mind-controlling stillness
Heart
inert gas
Keelys Secrets - Part 2 - One Phase of Keelys Discovery in Its Relation to the Cure of Disease
key to motion
Law of Assimilation
Law of Motion
Laws of Thermodynamics
Life Force
Light Units
master key of wave mechanics and space geometry
Motion Cycle
Motion-in-inertia
motion-in-opposition
motion is electric
movement of Creation
Music
Neutral Center
oscillation
Periodic
Perpetual Motion
polarization
Pulsing Electric Thought-Waves
Revolution
Rotation
Rhythm
Rhythmic Balanced Interchange
Scalar
Simulated Motion
Spirit
theory of motion
unit of motions
Universal Heart Beat
vibration
Vortex
3.03 - Vortexial Motion
3.10 - Vortex Motions result in Appearance of Form
3.13 - Reciprocals and Proportions of Motions and Substance
3.14 - Vortex Theory of Atomic Motions
3.23 - Hydrodynamic Equations - Vortex Motions
4.5 - Triple Rotary or Vortex Motions
4.7 - Matter is Motion in Opposition
4.8 - Centripetal Orthogonal Motions
4.9 - Triple Contractive Motions
5.2 - Vortex Motions in Resonators
5.3 - Vortex Motion in Ether and Atoms
5.4 - Vortices are born of Motion and Matter is concentrated Vortices
7.1 - Matter is centralized motion
7.2 - Rhythmic Balanced Interchange
7.13 - Fourth