Fourth Subdivision
of
Matter
. A term used by
Keely
to designate those rates the vibrations between the 31st and 44th octave of the Electromagnetic
Spectrum
.
Mind Force is a pre-existing Natural Force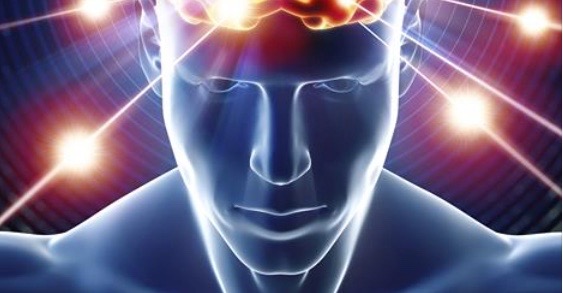 A common concept and thread connecting Keely, Russell, Cayce and Quimby is Matter is solidified tenuous Mind substance. Russell called it "frozen Light". Mind stuff or substance is a range of energy densities as shown in the Etheric Element table. In other words, Mind is a form of tenuous matter (gas, plasma or ether) that can be
So when Keely says "All force is Mind Force" and then he harnessed this primal Mind Force in his machines we should investigate it further. This concept has been extensively written about by Blavatsky, Rudolf Steiner, Dr. H. Spencer Lewis, Quimby, Hubbard, Reich and countless others of equal note. [See Keelys Accomplishments, Mind Force the hidden Scalar Force, Natural Forces]
The mind force herein referenced above is sometimes called "Thinking with the Heart" or Whole Mind [See Universal Ground State]. This is not the split mind of the ego or intellect which invariably leads one astray or into error.
Quarks play an important and foundation role in electrical and chemical processes (chemism). This is vital to SVP because Mind Substance has to have chemical properties else how would (chemical or molecular) drugs effect physiology, consciousness equilibrium and diverse psi phenomena? Quarks also having a fundamental role in electrical phenomena tells us electrons are not all there is to consider in electricity (see Daniel Pomerleau). It is assumed then quarks and gluons are a part or portion of the interetheric (celestial) streams so often referred to by Keely which is the media or conveyor of Mind Force (etheric substances) demonstrated by so many exceptional people: Mind Force is a pre-existing Natural Force. It is further presumed the endocrine system operates on the quark and photon subdivisions of Mind Substance which would account for psi phenomena.
This revolutionary idea is explained by the fact that atoms (Keely's atomic subdivision) are composed of electrons, protons and neutrons - (Keely's interatomic subdivision). These three are composed of photons - (Keely's etheric subdivision). Photons are composed of quarks - (Keely's interetheric subdivision). Therefore quarks and gluons are the first level of differentiation of Undifferentiated Mind Force or Keely's compound interetheric subdivision of Mind and Force. This interetheric level of Mind and Matter is where thought, intuition, telepathy, remote viewing and clairvoyance happens. These unseen forces are the non-observable scalar forces that originate observable Newtonian effects. This matrix of matter and energy shows how our consciousness is integral to everything that is and happens around us. [See Subdivision]
This table coordinates with the Etheric Elements table.
The
progression
of humanity can be seen in its discovery, development and use of
knowledge
paralleling these levels of
Matter
and
Energy
. Therefore human progress is a reflection of humanity's expansion or elevation of
Mind
,
Awareness
or
Consciousness
. These ages blend and overlap but as each is adapted into society leaps in development and use of tools and processes result in surges of general well being, commerce and societal expansions of
science
,
philosophy
and politics. As we can see from the above table humanity is on the cusp of another huge leap forward.
What this means in simple terms is while we use electrons to run our machinery and we are just now learning how to use photons in lasers and micro chips, Keely used photons, quarks and gluons (thought) to operate his machines over 100 years ago. He was a visionary of our age as were the early developers of interetherically operated radionic and psychotronic devices - not yet accepted into general science or society. Dale Pond, 03/21/10
"This thermodynamical characteristic of living processes generally, is carried over from other forms of variously living and extinct species and human cultures. This general principle of all living process presently known to us, is a general law. That law is definable as a condition of progress from lower to higher modes of thermodynamics of all forms of life, as the fruit of this same set of terms. The universe, most clearly the human species, depends for the survival of existing and improved species on increase of the relative "energy-flux density" in the flow of various expressions of progress and upward-directed evolution of living processes." Lyndon LaRouche, The Showdown has Begun
Mind Force Goes Mainstream
Boeing Psychic Lab
Defense Technical Information Center
Parapsychological Association
Index of Universities offering Education in Parapsychology
Keely
"The system of arranging introductory etheric impulses by compound chords set by differential harmonies is one that the world of science has never recognized. Beyond disintegration lies dispersion, and it is as easy to disperse as to disintegrate."
His first system requires introductory mediums of differential gravities air as one, and water as the other, to disturb equilibrium and liberate the etheric vapor. This subdivision only reaches the interatomic position and the "atomic and molecular leads" were submerged in the Generator he then used. He could not go beyond the atomic with his instrument and could not dispense with water until the Liberator was invented. In his first system he did not reach full maximum line of vibration. His first system embraced Generator, Engine and Gun.
His second system he considered complete as far as liberation of the ether is concerned but was not perfected so as to assure safety to the operator. His sundry devices for indicating and governing the vibratory etheric circuit also left much to be desired.
His third system embraced aerial and submarine navigation. He was then completing an experimental sphere intended to test the combination of the positive and negative in rotary action. [DISINTEGRATION OF MATTER - THREE SYSTEMS]
"Keely does not define the structure of the interatom, but from the fact that the "triple" vibrations cause it to further subdivide, we may assume it to consist of portions arranged in the same manner as in the lower subdivisions. Certain it is that Keely found the interatomic to subdivide into three etherons of the fifth subdivision. We may therefore conclude that the internal structure of the interatom is fundamentally the same as that of the first, second and third subdivisions. Its fundamental vibratory mode is the same as that of the atomic subdivisions - the harmonic or true fifth of the mass chord. Its vibratory frequency, however, is higher than any of the preceding. The interatom is subject to the general Laws of mass and is ponderable.
"Keely says the atomic triplets revolve "around each other" at "about 4/3 of their circumference." He says they remain in a triangular position unless disturbed by a magnet, when they lie in a straight line and the otherwise spherical dynasphere or Etheric capsule then becomes oblate. He explained what was afterwards called the "Zeeman effect" by this physical change in the light emitting body.
He states the repulsion of molecules by each other is caused by "electromagnetic radiation."
"The diamagnetic receding motion of metallic silver, exhibited toward a magnetic field, is caused by some 800,000 corpuscular percussions per second, or "interatomic bombardment." This would be more exactly expressed as "intersympathetic vibrations." (Vibrations acting on the atomic subdivision regardless of the existence about the atomic of the molecular, intermolecular and atomic capsules.)
"The negative sympathetic" portion of the polar stream, which has neutral affinity and is the magnetic flow proper, "coincides sympathetically" with the "second atomic flow." Snell Manuscript
"It is the most intricate of problems to treat philosophically; isolated as it is from all approach by any of the prescribed rules in "the orthodox scheme of physics." It turns upon the interchangeable subdivision of interatomic acting agency, or the force of the mind." [Vibratory Physics - The Connecting Link between Mind and Matter]
"Reception and dispersion are kept up on the atmospheric envelope of the earth by the atomic and interatomic conflict as "between the dominant and the enharmonic". This is brought about by the reception and dispersion of sympathetic streams, the ruling mode of whose vibration is the dominant, and the density of the coarser grades of matter, whose ruling vibratory mode is the enharmonic.
As every mass consists of vibrations in thirds, balanced in harmonic equilibrium without cancellation or diminution of energy, it stands therefore in harmonic relation to every other mass. All forms of matter and of motion are thus interrelated and interchangeable. Through resonance, increasing this sympathy, we can control the states of matter." [Mass Action, Snell Manuscript - the book]
"''Maxwell's theory is correct that the plane of polarized light is the plane of magnetic force. The sympathetic vibrations associated with polarized light constitute the pure coincident of the plane of magnetism. Therefore, they both tend to the same path, for both are interatomic, assimilating sympathetically in a given time, to continue the race together, although one precedes the other at the time of experimental evolution. The time is approaching when electromagnetic waves with an outreach of two feet will be produced, having an energy equal to that now shown up on the magnet when it is about to kiss its keeper, and showing a radiating force too stupendous for actual measurement.'' ELECTROMAGNETIC RADIATION - Snell
"Stripping the process of all technical terms, it is simply this: I take water and air, two mediums of different specific gravity and produce from them by generation an effect under vibrations that liberates from the air and water an interatomic ether. The energy of this ether is boundless and can hardly be comprehended. The specific gravity of the ether is about four times lighter than that of hydrogen gas, the lightest gas so far discovered. I can best answer you intelligently by explaining the operations of the gun I used at Sandy Hook Proving Ground. It was a breech loading rifle weighing 500 pounds. It was specially constructed for me. On Wednesday last I charged my tube, a five-gallon reservoir of wrought iron, one and a half inches thick - with etheric vapor. Then I boxed it up and did not ever test it, so I was certain of its powers. There, hours before the experiments, it remained untouched in my shop. The process of charging it consumed less than four seconds of time. [Keelys Etheric Vapor]
"Were our sight able to penetrate the interstitial spaces that exist inside the orbits of the oscillating intermolecules and analyze the conditions in those interstitial spaces, where dwells incalculable latent energy, we would be bewildered with amazement. And assuming our vision, which is limited by persistency, could follow the intermolecules in their rapid oscillations and the intermolecular etheric capsule as it revolves with infinite velocity like a transparent shell about the three component atoms that exist inside it, which in turn revolve in their orbits and oscillate with even a higher frequency than the intermolecules, we would still be only on the border gazing into the remote depths of the interstitial realms that stretch far down into the interatomic, etheric and interetheric subdivisions, and, within the interetheric subdivision at last arrive at the neutral center, the nucleus of everything we know as substance. This neutral center bears about the same relation to the etheric subdivision that the atomic subdivision bears to the crude molecular, in other words, its texture is as much finer than electrons as electrons are finer than coarse molecules." [INTERSTITIAL SPACES]

Subdivisions of Matter and Energy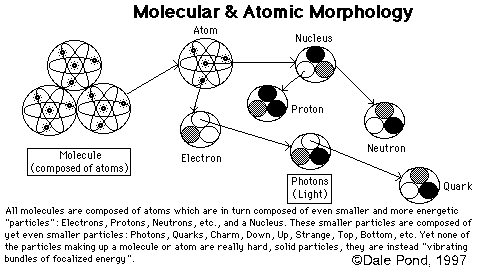 Subdivisions of Matter and Energy according to Keely
Schauberger
[2] Dynagen: This is one of three forms of Ethericity, a term that refers to those supra-normal, near non-dimensional, energetic, bio-electric, bio-magnetic, catalytic, high-frequency, vibratory, super-potent entities of quasi-material, quasi-etheric nature belonging to the 4th and 5th dimensions of being. As such these ethericities can be further categorised as 'fructigens', 'qualigens' and 'dynagens', which respectively represent those subtle energies, whose function is the enhancement of fructification (fructigens), the generation of quality (qualigens) and the amplification of immaterial energy (dynagens). According to their function or location these may be male or female in nature. — Ed. [From Special Edition Mensch und Technik, Vol. 2, 1993, section 3.1]
is first generated through friction. This heat is immediately absorbed by the water and in the process a physical vacuum is created, which then gives rise to the emergence of inner-atomic rays. Due to the absorbed heat, the free, dissolved oxygen still present in the water becomes aggressive and the emergent geospheric rays become aggressive owing to the presence of the vacuum. Through the encounter between the mutually opposed, contra-directionally propagated, excited rays, the precondition for the marriage is created. The child of this union is organic, or cold light. [The Energy Evolution - Harnessing Free Energy from Nature, Letter to Werner Zimmermann]
Good seed in good earth produces a multiple of itself in fruit. The seed grows and its multiplication proceeds with the aid of contra-directional influences. These influences are higher forms of organisation stemming from the Earth and the Cosmos. Substances that are ripe must either fall upwards or downwards. When water is decomposed inner-atomically, then what finally remains is the substance - water, the H-substance[2]. This H-substance is the polarity, which strengthens itself through these influences. It is the ur-child that draws in essences and energies from above and below and in this way it grows. [The Energy Evolution - Harnessing Free Energy from Nature, Letter to Werner Zimmermann]
See Also
---
Etheric Elements
fourth subdivision
inner constituent
inner element
inner interuniting properties
intra-atomic energy
INTERATOMIC BOMBARDMENT
INTERATOMIC FOURTH SUBDIVISION
interatomic vibration
intermolecular
Order
Matter
Subdivision