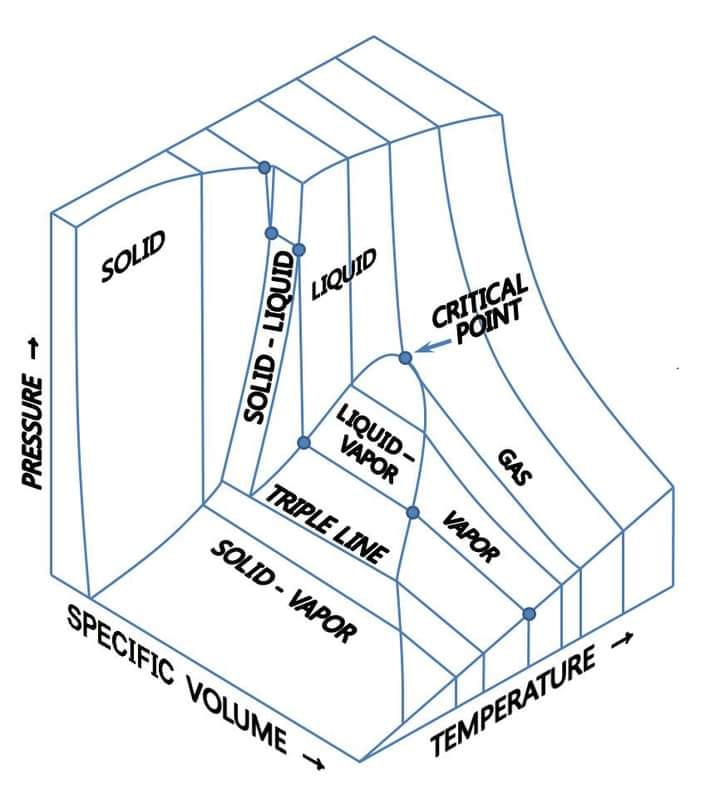 "Force divided by area." [Rossing, Thomas D.; The Science of Sound; Addison-Wesley Publishing Company, 1982]
---
Keely
"All moving bodies of visible matter produce heat as according to their velocity. The flow of gases only induces thermal reduction from molecular friction. By this term it must not be understood that the molecules actually come in contact, and rub against each other. There is no pressure, however great, that can cause molecular contact. The area of the volume of the molecule can be reduced by enormous pressure, and the tension thus brought to bear on their rotating envelopes induces heat. The heat thus induced is a positive proof of the wonderful velocity of the etheric envelope. If the molecules were dead - which is an infinite impossibility - to sympathetic vibration, and without a rotatory envelope if all the pressure possible to conceive were brought to bear upon them, it would not induce the slightest thermal change." [Vibratory Physics - The Connecting Link between Mind and Matter]
"Recently some questions, propounded to Mr. Keely by a scientist, elicited answers which the man of science admitted were clear and definite, but no physicist could accept Keely's assertion that incalculable amounts of latent force exist in the molecular space, for the simple reason that science asserts that molecular aggregation is attended with dissipation of energy instead of its absorption. The questions asked were:-
I. "In disintegrating water, how many foot-pounds of energy have you to expend in order or produce or induce the vibratory energy in your acoustical apparatus?"
Answer.- "No foot-pounds at all. The force necessary to excite disintegration when the instrument is sensitized, both in sensitization and development, would not be sufficient to wind up a watch."
II. "What is the amount of energy that you get out of that initial amount of water, say twelve drops, when decomposed into ether?"
Answer.- "From twelve drops of water a force can be developed that will fill a chamber of seven pint volume no less than six times with a pressure of ten tons to the square inch."
III. "In other words, if you put so many pounds of energy into vibratory motion, how many foot-pounds do you get out of this?"
Answer.- "All molecular masses of metal represent in their interstitial molecular spaces incalculable amounts of latent force, which if awakened and brought into intense vibratory action by the medium of sympathetic liberation, would result in thousands of billions more power in foot-pounds than that necessary to awaken it. The resultant development of any and all forces is only accomplished by conditions that awaken the latent energy they have carried with them during molecular aggregation. If the latent force that exists in a pound of water could be sympathetically evolved or liberated up to the seventh subdivision or compound interetheric, and could be stored free of rotation, it would be in my estimation sufficient to run the power of the world for a century." [Vibratory Physics - True Science]
The vapor from the liberator, registered at 20,000 lbs. per square inch has a range of atomic motion of 1333 1/3 the diameter of the atmospheric molecule with constant rotary vibratory action. At 10,000 lbs., 666 2/3, at 5,000, 333 1/3, at 2500, 166 2/3, at 1250, 83 1/3, at 625, 41 2/3. The higher the range of atomic motion the greater its tenuity and pressure. The very evolution on the negative shows a vacuum of a much higher order than was ever produced before confounding all theory to analyze. The highest vacuum known is 17.999999, or not quite 30 inches, but Keely produced etheric vacuums repeatedly of 50 to 57 inches ranging down to 30 inches or 57 lbs. All operations of nature have for their sensitizing centers of introductory action, triple vacuum evolutions. These evolutions are centered in atomic triple revolutions, highly radiophonic in their character and thoroughly independent of all outside forces in their spheres of action. No conceivable power, however great, can break up their independent centers. These triple centers are the foundation of the universe, and mathematically considered, the respective and relative motion of these atomic triplets, gravitating to and revolving around each other, is about one and one-third of their circumference. The problem of this action, when analyzed mathematically, (taking it as the quadrature of the circle) would baffle mathematical science to bring it to a numerical equation. Every revolving body is impressed by nature with certain laws making it susceptible of the operation of force, which being applied, impels motion. These bodies never can approach nearer than a certain limit, nor farther than a certain point. They are, at some mean point, made perfectly equal, and may therefore be considered as one force and as one element. It matters not that other and disturbing forces exist outside or inside the space these bodies revolve in, because if this force must be considered as acting uniformly, applying itself to each of these bodies in a way to produce a perfect equation on all, it is as if this outside force were nonexisting. [Snell Manuscript - The Book, page 2]
"The confined vapor was passed through one of the small flexible tubes to a steel cylinder on another table, in which a vertical piston was fitted so that its upper end bore against the underside of a powerful, weighted lever. The superficial area of this piston was equal to one-half of a square inch, and it acted as a movable fulcrum placed close to the hinged end of the short arm of this lever, whose weight alone required a pressure of 1500 pounds to the square inch against the piston to lift it. [Snell Manuscript - The Book, page 3]
"The maximum test was made to placing an iron weight of 580 lbs. on the extreme end of the long arm of the lever. To lift this weight required a pressure of 18,900 lbs. to the square inch counting the difference in the length of the two arms and the area of the piston. When Keely turned the valve-wheel leading from the receiver to the flexible tube and through it into the steel cylinder beneath the piston, simultaneously with the motion of his hand the weighted lever shot up against its stop a distance of several inches, as if the iron were cork. [Snell Manuscript - The Book, page 3]
Keely says: "In considering the operation of my engine, the visitor .... must abandon all thought of engines (such as conceived with pistons, eccentrics, or working with pressure.) "My system - both in the developing of this power and in every branch of its utilization is based and founded on sympathetic vibration. In no other way would it be possible to awaken or develop this force and equally impossible would it be to operate my engine upon any other principle. [Snell Manuscript - The Book, page 3]
In considering the operation of my engine, the visitor, in order to have even an approximate conception of its modus operandi, must discard all thought of engines that are operated upon the principle of pressure and exhaustion, by the expansion of steam or other analogous gas which impinges upon an abutment, such as the piston of a steam-engine. My engine has neither piston nor eccentrics, nor is there one grain of pressure exerted in the engine, whatever may be the size or capacity of it. [Keely, see Keelys Accomplishments]
He has again reduced in size the instrument producing the force. From 1882 to 1884 the "Generator" was six feet long and corresponding wide and high, but failing to make the arrangement automatic upon which its mechanical usefulness depended, Keely found a new standard for research in an experiment often made by himself, but never before successful, which resulted in invention in 1885 of the "Liberator" not so large as a lady's small round worktable. He made astonishing progress with this beautiful piece of vibratory mechanism, so as to combine the production of the power, operation of the cannon, his engine and his disintegrator in a machine no larger than a dinner plate and only three or four inches in thickness. This was completed in 1886, up to which time his experiments were upon the principle of sympathetic vibration, for liberating a vapory or etheric product. His later experiments were another modification of vibratory sympathy, and the size of the instrument used now, 1888, for the same purposes is no larger than an old fashioned silver watch. A pressure of 30,000 lbs. to the square inch in raising of the lever, and all other operations, without one ounce of pressure in any part of the apparatus, are effected by the ether. The force is transmitted along a wire of platinum and silver. Keely has named this new modification "Negative Attraction." The two forms of force with which he has experimented and the attendant phenomena, are exactly antithetical. It is by changing the vibrations of the cosmic ether that Keely releases this energy. Dr. Dupuy, of New York, experimented along these lines for many years, but without success to the degree Keely had. [underline added] [Snell Manuscript - The Book, page 3]
"The positive vibrations are the radiating or propulsive, the negative vibrations are the ones that are attracted towards the neutral center. The action of the magnetic flow is dual in its evolutions, both attractive and propulsive. The sound vibrations of themselves have no power whatever to induce dissociation, even in its lowest form. Certain differential, dual, triple and quadruple chords give introductory impulses which excite an action on molecular masses, liquid and gaseous, that increase their range of molecular motion and put them in that receptive state for sympathetic vibratory interchange which favors molecular disintegration, then, as I have shown, the diatonic enharmonic is brought into play, which further increases the molecular range of motion beyond fifty percent of their diameters, when molecular separation takes place, giving the tenuous substance that is necessary to induce progressive subdivision. This molecular gaseous substance, during its evolution, assumes a condition of high rotation in the sphere or tube in which it has been generated, and becomes itself the medium, with the proper exciters, for further progressive dissociation. The exciters include an illuminated revolving prism, condenser, and colored lenses, with a capped glass tube strong enough to carry a pressure of at least one thousand pounds per square inch. To one of these caps a sectional wire of platinum and silver is attached; the other cap is attached to the tube so screwed to the chamber as to allow it to lead to the neutral center of said chamber." [Snell Manuscript - The Book, ANSWERS TO QUESTIONS, page 6]
"Taking the law of assimilation as the cosmical law, together with self-manifesting power as the characteristic of being, we reach a primary classification of created objects, which corresponds with that which is known as mind and matter - or rather let us say mind and that which is not mind; for there is ground for the apprehension that mind and matter do not include all that exists; and that, along with matter, ether ought to be considered as something intimately related to matter indeed, but yet not just matter. When the elements of the ethereal medium are regarded as truly and simply material however small and light they may be, the elasticity and pressure which must be assigned to that medium in order to admit of the velocity of light, are altogether out of the harmony of things; and wholly incredible, especially when confronted with the phenomena and the theory of astronomy. Thus, to justify the velocity of light on the same principles as those of sound, in various material media, the ethereal pressure must be 122,400,000,000 times greater than that of the atmosphere - which is incredible, says Macvicar." [Law of Assimilation]
---
Russell
Pressure, Gravity
"The force as, or that of gravitation, has, since the time of Sir Isaac Newton, been recognized as one of the forces affecting a planet, compelling it to the completion of the path of its orbit. The path of the orbit, then, necessarily results from the action of this with some other force, and this latter force, from the consideration in Section III, must, at every point of that path, be equal to the force of gravitation; from whence it results that the continuing pathway of the orbit of the planet can result only from a continuing and relative change of position of these equal and opposed forces, one toward the other. Now, the diagram of the ultimate effect of the exertion of these forces for any one point of the path of the planet's orbit, Section IV, must be that for every other point, as least, for that portion of the orbit between the higher and lower vertices of the ellipse; from whence it follows, that for every point, at least between those vertices, the planet is subjected to the action of remnant and directly opposed forces exerted in direction of right line connecting the center of the planet with the immovable center of force. One effect of the exertion of such remnant forces may be mechanical, forcibly holding the planet in position: another effect, also mechanical, may be that of pressure." Russell, [Atomic Suicide - the book]
"In this Universe, the octaves of the elements of matter "Grow" from seed, just as all things grow from seed. Elements are not fixed created things. They are pressure conditions of light waves. The inert gases are the cosmic seeds of matter in this Universe. They surround the zero from which motion springs and to which it returns. They are the seeds of the octaves of matter, and each octave has a different seed just as different trees has different seeds. The inert gases are the recorders in cosmic seed of this creating universe of infinite continuity." [Russell]
"The master-tone of each octave is the inheritance of the original motion of the thinking process of Mind. These master-tones are the "inert gases" which are classified in the zero group of the Mendeleef table.
The state of motion of these inert gases is that of motion-in-inertia."
"Motion-in-inertia is that state of pressure equilibrium which lies between any two masses.
"The inertial line, or plane is that dividing line, or plane, toward which all masses discharge their potential.
"It is the line, or plane, of lowest potential of two opposing areas of potential, where opposing pressures neutralize. This is the plane of minimum pressure of two opposing areas.
"The master-tones which represent a state of motion-in-inertia and are the inert gases, bear the same relationship to the elements that white bears to the colors. They are a registration of them all. White is not included in the spectrum, it has no place there. The inert gases should not be included in the elements. They have no place there. Of this more shall be written later in its proper place." [Russell, The Universal One]
"C. Hydrogen (H) and fluorine (F) being almost mates and in nearly same pressure zone, same plane and same orbit, will unite part for part.
D. Oxygen (0) or beryllium (Be) being one pressure zone removed and consequently of double potential, will require two parts of hydrogen to their one, and then only unite under pressure of higher temperature. Hydrogen and oxygen, thus united, become the very stable compound known as water and remain united because they are opposed in sex, while beryllium and hydrogen, being both male, will break away unless bound by oxygen, sulphur or some other female stabilizer.
E. Nitrogen or boron are two pressure zones removed and require three parts of hydrogen and higher pressure for union. Same rule of sex applies.
F. Carbon, three pressure zones removed and four times higher potential, demands four parts of hydrogen to remain in union with its one; also the high temperature pressure of the electric are is needed to induce union.
ELEMENTS OF INSTABILITY IN UNION INCREASE IN THEIR INSTABILITY AS THEY INCREASE THEIR VARIABILITY IN DIMENSION. ESPECIALLY IN PRESSURE, ORBIT, ECLIPTIC, CRYSTALLIZATION, PLANE AND SEX." [Indicating Tonal Mismating in Variable Instability - page 111]
It is the contractive power within electricity to divert the universal constant of energy into centripetal vortices of closing spirals of increasing speed, thereby attracting similar states of motion into an accumulation of mass the pressure of which increases toward its center. [See Sympathetic Negative Attraction] [The Universal One, Book 02 - Chapter 12 - Gravitation and Radiation, Gravitation and Radiation - page 141]
ALL THINGS SIMULATES LIGHT
"All matter in this universe is but differently conditioned motion simulating light, and all differences in condition are pressure differences." [Walter Russell, The Secret of Light, pages 168-169]
WEIGHT DEFINED

The following definitions of weight are in keeping with Natural Law.
Weight is the sum of the differences between the two pressures which act upon every mass.

Weight is the measure of the differences in electric potential between any mass and the volume it occupies.

Weight is the measure of unbalance between any mass and its displaced environment.


Weight is the measure of the force which a body exerts in seeking its true potential.

Weight is the sum of the difference between the inward pull of gravitation and the outward thrust of radiation.

Weight is the measure of intensity of the desire within all matter to express motion or seek rest from motion.
 [Walter Russell, The Secret of Light, pages 184-185]
---
Sixth Dimension of Russell's eighteen dimensions.
See Law of Attraction, Syntropy, Gravitation
---
Schauberger
It must be stated at the outset that in this case the decisive but previously overlooked concentration of qualigen is only possible with the aid of radial->axial motion. Every medium becomes heavier if it is unable to breathe and its life is removed. This occurs immediately if excessive influences of heat and pressure are brought to bear by the opposite form of motion. In this case the diamagnetic, or adsuctional and insuctional force (namely Professor Warburg's life-energy) and otherwise known as levitational force by people of ancient cultures, is lost. [Nature as Teacher, Volume II, page 108]
In Nature there are only structures and orifices. From these arise all forms of materialisation and dematerialisation, if orifices and vessels are organised in an inversely symmetrical configuration and within them the reciprocal gaseous substances are correctly dosed. Pressure and suction, and most important of all, the temperature-gradient should be aligned in the right sense (+ not -), through which the desired energy is freed at the point of intersection.
This can be accumulated if the thing is cooled during its motion, becoming homogenously structured in the process. In this manner it is even possible to decompose ordinary air into animalistic electrical essences, or to produce an artificial thunderstorm, whose transformative essences discharge into metal conductors, calling into being a physical vacuum with which a thunderstorm can be produced in the tube, whose power exceeds that of a cyclone. While it is still necessary to use small quantities of earthly substances in the artificial production of petrol (gasoline), no fuels of any kind are needed to operate the air-turbine[4]. This will avert the crisis that will inevitably ensue if nature-alienated humanity continues to combust substances in its machines, which are preordained by Nature for the provision of food. The seemingly remarkable behaviour of liquids under the influence of light is the totally natural permanent condition of the eternal 'Arising' and 'Passing Away', of the evolution from small to large and vice versa, whose vital harmony Goethe has already explained to us so beautifully that all we need to do is read his works so as to create the perpetual interaction required by all molecules in order to exist in a state of well-behaved order. [The Energy Evolution - Harnessing Free Energy from Nature, Conclusions]
Therefore, if water, sap or blood are over-illuminated, over-warmed or water is accelerated above its boundary velocity by pressure- and heat-intensifying techno-academic devices, such as steel ploughs, pressure turbines and pumps, pressure screws (propellers), Pelton wheels, etc., then the decomposive energies mentioned earlier come to life. These positively overcharged, invasive emanations are x-ray-like in nature and pierce every form of resistance. They penetrate right through to the negatively charged cell-nucleus and in the surrounding growth and life-forms cause the cell-nuclei to split. There [The Energy Evolution - Harnessing Free Energy from Nature, The Biological Vacuum - The Optimal Driving Force for Machines]
These explanations provoked a veritable storm of protest in academic circles, forcing me to equip myself and go into action with somewhat heavier artillery. In response to the objections raised during the preliminary patent assessment, I then submitted the following supplementary explanation:
1. As inseparable trinities, the media of earth, water and air are the natural accumulators of bio-magnetic and bio-electric dynagen concentrates. These are extremely sensitive to pressure and heat and may only be accelerated artificially in the original (primordial) way, i.e. planetarily, wherein cooling effects must predominate. Any abnormal increase in heat, no matter from what cause, triggers unnatural interactions between basic elements at the expense of the negatively surcharged, biomagnetic dynagen concentrates.
2. All over-illumination and over-heating immediately provokes the release of decomposive energies; whether heating is the result of sunlight or [The Energy Evolution - Harnessing Free Energy from Nature, The Biological Vacuum - The Optimal Driving Force for Machines]
My allegations in this regard were construed an as affront to the honour and prestige of the Establishment and I was requested to provide written proof of these provocative assertions to the university professors I mentioned by name. This I also did and without exception they all had to capitulate. I could prove to them that as a result of techno-academic systems of motion - a predominantly centrifugal form of mass-movement - an atomic (electrolytic) excess pressure builds up in the structure of the basic elements, thereby producing an increase in temperature; in other words, a feverish condition. In contrast, an atomic (magnetic) low or negative pressure is generated through a form of planetary mass-motion in which centripetence predominates. This gives rise to a concentrative, negative pressure, which functions as a biological vacuum. It was discovered as early as 1908 by Professor Ernst Ferdinand Sauerbruch, who recognised that neither breathing nor expansion of the lungs would be possible if the biological vacuum were not to exist. He was declared a fool all the same and dismissed without notice when he told his superior, Professor Mikolitsch, the following:
"Were there no vacuum between the surface of the lungs and the pleura, no intake of breath, nor resistanceless expansion of the lungs would be possible. Everything would suffocate were this biological vacuity to be filled with normal, atmospheric pressure through any form of perforation." [The Energy Evolution - Harnessing Free Energy from Nature, The Biological Vacuum - The Optimal Driving Force for Machines]
The product of this involuting motion, which always converges to a point while at the same time curling in upon itself, is biomagnetism. That it is also contingent on the presence of catalytic influences will not be further discussed here. As such, biomagnetism extends itself longitudinally and radiates its surplus energies vertically and, for example, draws the trout along in its wake. The trout can so regulate this upsuctional force with its gills that even its motionless stance and equally well-known mastery of gravity becomes understandable in the light of the above. The weight of physical masses only exists in the atmospheric living space. Above this the force of levitation prevails as inverted gravitation. Consequently, all pressure- and heat-intensifying motion must inevitably function all the more irrationally, uneconomically and development-impedingly, the more it is accelerated and strengthened. To this end raw materials are squandered to such a degree that a growing dearth of them is unavoidable. [The Energy Evolution - Harnessing Free Energy from Nature, The Biological Vacuum - The Optimal Driving Force for Machines]
Viktor Schauberger's Microscope Evidence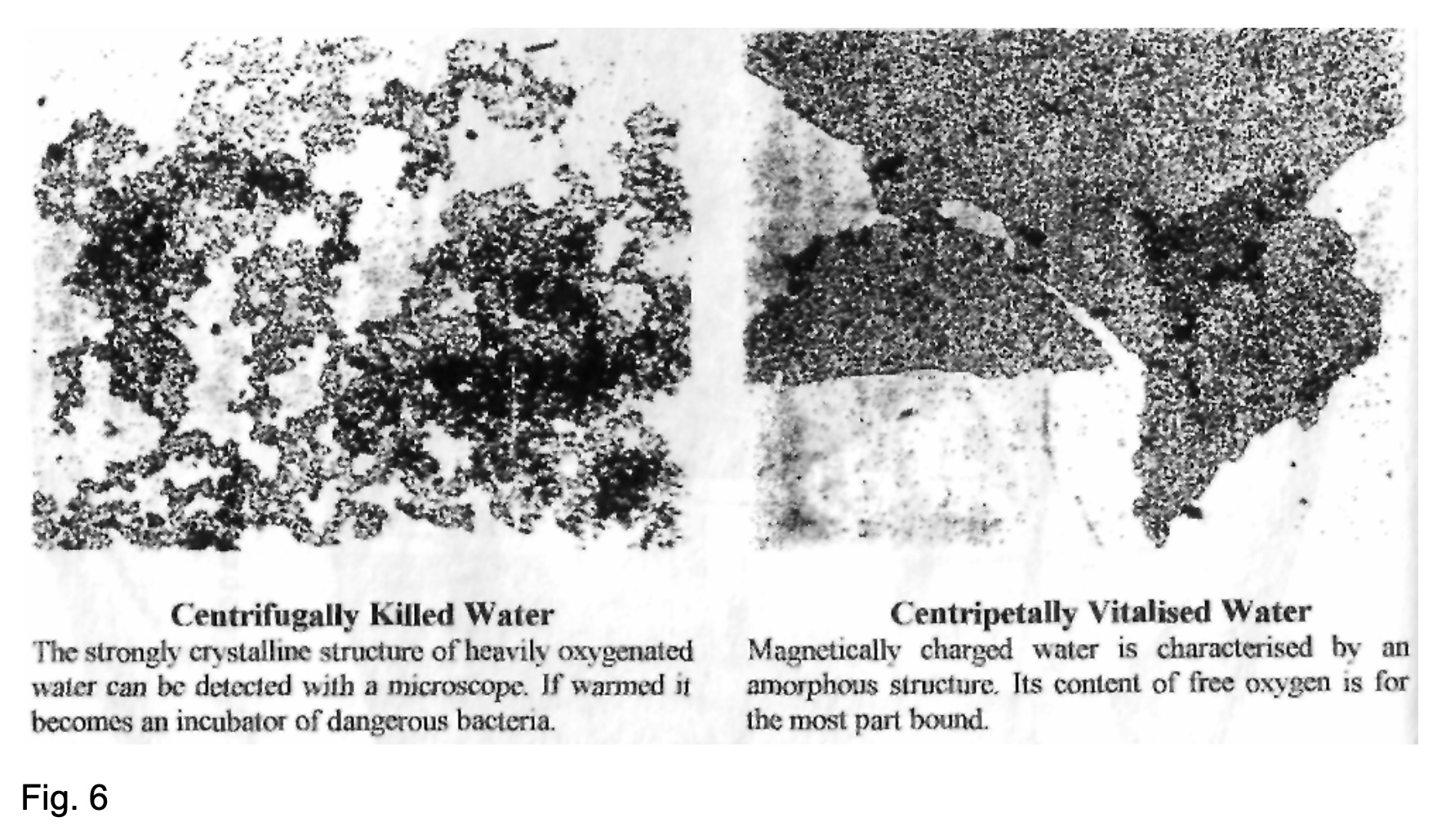 Biomagnetism is quality. Its adversary is all forms of over-illumination, over-heating or centrifugally engineered increase in pressure. In this case bio-electricity is produced, which, in the form of an atomic force of excess pressure, possesses energies that function electrolytically and over-acidify, decompose and kill all forms of life and growth. In the light of this, the deterioration of rivers and lakes becomes quite understandable. Since biomagnetism is quality, it follows that there is no constant conservation of energy in the presently accepted sense. There is likewise no equivalence between mass and energy and no insuperable force of gravity within the atmospheric envelope. All there is, is a rhythmical interplay between bipolar component forces, which ultimately inaugurates the final degeneration. In their interactive function as atomic pressural or suctional forces and through the biological vacuum thereby created, they also produce the best and cheapest driving force for machines. [The Energy Evolution - Harnessing Free Energy from Nature, The Biological Vacuum - The Optimal Driving Force for Machines]
The simplest effect of catalytic opposites, i.e. fine-structured opposites with inner interuniting properties, or more properly having a 'marrying' tendency (ur-procreation), can best be observed in the generation of electric current, which is normally only successfully achieved with so-called dynamos incorporating rotors made of paramagnetic metal.
Conversely, if diamagnetic catalysts are used in dynamos constructed in exactly the opposite way (so-called Repulsators - see fig. 7 & figs. 24 ->26), then an upward flowing diamagnetism is produced, which viewed biologically is to be understood as 'levitation' (resurrective or upsuctional force), during which the follow-up pressure mentioned elsewhere plays a subordinate role. If the developmental process is initiated in reverse order, where the pressural components predominate, then super-strong gravitational forces are freed. [The Energy Evolution - Harnessing Free Energy from Nature, The Catalysts]
Modern intuitionless science has regulated the eternal flow of evolution (panta Rhei) in the wrong way and thus failed to notice the possibility of generating ur-forces. Instead of additional products of emulsion possessing development-enhancing functions, it had to make do with development-disturbing reactive forces and resistances to motion that increase by the square of the reversed form of acceleration. According to an age-old maxim, "she half-pulled him down, he half-sank on her". In this play on words there lies a far deeper meaning. It would take too long here to enumerate all the catalysts with various functions, which as Goethe already recognised, form the 'connecting' emulsifying bond. They are ray-forms, upon whose function the development-disturbing rising temperature gradient and the development-fostering falling temperature gradient depend. Paramagnetic catalysts act decentratingly diamagnetic catalysts concentratingly. This fact alone pin-points the incorrect form of development, which ultimately results in the destruction of atoms. Wise Nature, on the other hand, proceeds by way of atomic transformation, which from, a biological viewpoint is the exact opposite. Pressure and fire technology therefore produce retrogressive atomic energies, whereas implosion technology generates super-powerful, forward-thrusting atomic energies, i.e. an almost 100% formative and levitative force. And so the question arises, what actually is a catalyst? The answer is simple. It is a condenser that has been galvanically alloyed with oppositely-charged substances, which radiates predominantly negatively potentiated ray-forms into the naturalesquely inwindingly moved medium. This then activates a flowing diamagnetism, the formative and levitative force that soars upwards and sucks the generating device up in its wake, and which can be regulated by the rate of rotation. With this, the force was rediscovered that enables air-craft to overcome gravity effortlessly and stationary machines to be powered for virtually nothing. According to accounts from earlier times, the high priests of ancient cultures had a commanding knowledge of this power, which they cherished and guarded like life itself so as to be venerated as Gods for their skill. [The Energy Evolution - Harnessing Free Energy from Nature, The Catalysts]
When what had been achieved experimentally with the test model was implemented practically, mysterious cavitation phenomena appeared, which destroyed even steel turbine blades within a short space of time.
It was only after protracted and expensive experiments with alloys that these decomposive phenomena could be sufficiently inhibited to enable the manufacture of this turbine system to begin. This was believed and is still so believed today, to be of such great service to industry and the economy, that a few companies licensed by Viktor Kaplan (because of the lucrative business opportunities) spared no material expense or intellectual effort in order to eliminate these decomposive effects, which according to measurements were equivalent to peak pressures of about 32,000 atmospheres (atm). [The Energy Evolution - Harnessing Free Energy from Nature, Cadaverine Poison in Ray-Form - Ptomaine Radiation]
The cause of this groundwater decomposition is the emission of analysing substances, namely cadaverine poison in ray-form (ptomaine radiation), which arises from liquefied stocks of fatty-matter when mechanically-induced centrifugal pressure and physically dissociative energies trigger lower-grade (expansive) temperatures, i.e. lower-grade cell vibrations, in molecular structures. [The Energy Evolution - Harnessing Free Energy from Nature, Cadaverine Poison in Ray-Form - Ptomaine Radiation]
The all-decomposing cadaverine poison in ray-form mentioned at the beginning is produced indirectly and therefore ur-produced by every pressure- and heat-intensifying machine of the relatively highest power. For this reason the blood-of-the-Earth-centrifugating Kaplan turbine is one of the first machines that must be eliminated as fast as possible. If this is done, it will still be possible at the eleventh hour to arrest an economic and cultural decline with all its perilous political repercussions throughout the civilised world, which will have been caused by the generation of lower-grade atomic energies. [The Energy Evolution - Harnessing Free Energy from Nature, Cadaverine Poison in Ray-Form - Ptomaine Radiation]
the alteration of the above fermentation process at its most fundamental phase. To make this even clearer: Allotropic oxygen conformations are liberated through pressure- and heat-intensifying dynamic effects or volume-enlarging thermal influences, because the fat-concentrates with opposite polarity become inactive and are maintained in a passive state under such influences. This results in the inner fission (dissociation) of the previously internally interconnected and highly evolved, therefore extremely pressure- and heat-sensitive trace-elements, which like yeasts initiate the process of raw-material transformation - the fermentation process described above. [The Energy Evolution - Harnessing Free Energy from Nature, Cadaverine Poison in Ray-Form - Ptomaine Radiation]
Energy Supply
Here such motion can be practically applied to the following:
(a) To the liquefaction of coal or carbonic-acid-bearing minerals by way of cold (cycloid) systems of flow, e.g. the generation of incombustible, gas-deficient and highly expansive, dynagen-rich 'explosive' water and drive water with the aid of Repulsators for the purpose of producing highly expansive pressures for driving machines of all kinds. [The Energy Evolution - Harnessing Free Energy from Nature, The Practical Application of Cycloid-Space-Curve-Motion arising from Processes of Cold Oxidation]
Explosion is chemical reaction that takes place extremely rapidly, in which a large increase in pressure occurs due to large quantities of hot gases. Explosions are always innately destructive. They therefore function in a life-harming way. [The Energy Evolution - Harnessing Free Energy from Nature, Explosion and Implosion - Expansion and Impansion]
The cause of an explosion is the sudden binding by highly charged oxygen, which at +40°C (104°F) becomes free and aggressive, of the sweet substances generally known as carbones, which become increasingly passive (inactive) with pressure and increase in heat. [The Energy Evolution - Harnessing Free Energy from Nature, Explosion and Implosion - Expansion and Impansion]
With implosions a molecular ordering takes places in a radial->axial direction and therefore a suctional effect takes place in the axis, where the most vigorous decrease in heat and pressure occurs. This attracts, indraws, concentrates and binds (emulsifies) the oxygen, which gives rise to diamagnetism. This is precisely the opposite of the atomic pressural force, generally known as electricity. With implosion, detonationless retro-suctional effects occur in the core zone, which promote a higher grade emulsive process, namely the binding of the oxygen, which becomes increasingly passive the closer it is to the center of flow. This results in the collapse of the peripheral masses, the release of the through-flowing substance from the walls, and thereby to an almost frictionless increase in the velocity of the self-inwinding through-flowing material, which accelerates by the square of the velocity of a falling heat gradient. [The Energy Evolution - Harnessing Free Energy from Nature, Explosion and Implosion - Expansion and Impansion]
This can be achieved when the rhythmical process of motion - an interplay between components (sub-forces) of suction and pressure - is activated in a manner in accord with natural development. That is to say, the suctional component, which builds up the invigorating motive influence prevails and outweighs the fatigue-inducing pressural component. [The Energy Evolution - Harnessing Free Energy from Nature, Magnetism - Electricism]
All systems of technical, hydraulic and dynamic motion cause the axial->radial dissociation of the tripolar masses of air and water, through which pressure, which generates lower-grade heat-forms, increases by the square of the centrifugating rotational velocity. This results in electrolytic dissociative processes, wherein the oxygen becomes free, unipolar and highly aggressive, and consumes and digests the carbones (fermented fatty-matter), which become passive under this heat influence. [The Energy Evolution - Harnessing Free Energy from Nature, Magnetism - Electricism]
No present-day scientist can explain or understand the quintessential nature of 'motion'. From a naturalesque standpoint, this should be viewed as a rhythmical metabolic interplay between the components of refreshing (cooling) suction and fatiguing (paralysing) pressure; in other words, two constituent forces which as reactive opposites, alternately (rhythmically) act mechanically (materially) and temperature-relatedly (physically). Therefore, depending on the predominance of either the suction or the pressure component (whether the active force is material or physical is unimportant), the metaphysical formative force, or the most elemental destructive force on this planet, comes into being. As the end product of a natural or unnatural sequence of motion, it will be accelerated along either the longitudinal or the transverse axis. [The Energy Evolution - Harnessing Free Energy from Nature, Magnetism is the Function of Levitism and Electricism is the Function of Gravitism]
No present-day scientist can explain or understand the quintessential nature of 'motion'. From a naturalesque standpoint, this should be viewed as a rhythmical metabolic interplay between the components of refreshing (cooling) suction and fatiguing (paralysing) pressure; in other words, two constituent forces which as reactive opposites, alternately (rhythmically) act mechanically (materially) and temperature-relatedly (physically). Therefore, depending on the predominance of either the suction or the pressure component (whether the active force is material or physical is unimportant), the metaphysical formative force, or the most elemental destructive force on this planet, comes into being. As the end product of a natural or unnatural sequence of motion, it will be accelerated along either the longitudinal or the transverse axis. [The Energy Evolution - Harnessing Free Energy from Nature, Magnetism is the Function of Levitism and Electricism is the Function of Gravitism]
The decisive factor here is "il primo movere" - the powerful motive impulse of suction or pressure, which will determine the fate of millions upon millions of people. [The Energy Evolution - Harnessing Free Energy from Nature, Magnetism is the Function of Levitism and Electricism is the Function of Gravitism]
If we study the inner processes involved in synthetic fuel production, then we can establish that, together with supplementary catalytic factors, strong pressure and high temperature play the leading role. [The Energy Evolution - Harnessing Free Energy from Nature, The Liquefaction of Coal by Means of Cold Flows]
(2) "A process for the liquefaction of gases by the Joule–Thomson effect. In this process devised by Carl von Linde (1842-1934) for liquefying air, the air is freed of carbon dioxide and water and compressed to 150 atmospheres. The compressed gas is passed through a copper coil to an expansion nozzle within a Dewar flask. The emerging air is cooled by the Joule–Thomson effect as it expands and then passes back within a second copper coil that surrounds the first coil. Thus the expanded gas cools the incoming gas in a process that is said to be regenerative. Eventually the air is reduced to its critical temperature and, at the pressure of 150 atmospheres (well above its critical pressure), liquefies. The process is used for other gases, especially hydrogen and helium. Hydrogen has first to be cooled below its inversion temperature (see Joule–Thomson effect) using liquid air; helium has first to be cooled below its inversion temperature using liquid hydrogen." [Collins Dictionary of Science. Oxford University Press, Great Britain, 1984, ISBN 0-19-211593-6.] — Ed [The Energy Evolution - Harnessing Free Energy from Nature, The Liquefaction of Coal by Means of Cold Flows]
That this tremendous pressure expresses itself silently requires no special comment. That, as a high-grade air, this product of transformation has a more beneficial effect on the environment and development generally than the waste matter of explosive processes, also goes without saying. That this high-grade product of transformed air does not smell, is without doubt. In this way what was striven for has been achieved, namely a far higher exploitable pressure than is produced by any form of petrol (gasoline). Moreover, it is an incombustible pressure-creating substance that neither (stinks nor creates a din, and its beneficial effect can be raised to any desired level, so that in practice the smallest quantities are enough to achieve any desired effects. [The Energy Evolution - Harnessing Free Energy from Nature, The Liquefaction of Coal by Means of Cold Flows]
Many suggestions have already been made as to how losses in energy, pressure or velocity arising in the transport of liquids or gaseous media can be reduced. Thus for the purposes of inhibiting the formation of air-bubbles, which provoke an increase in the resistance to flow, a British Patent No. 409,528 for a pipe has been published, which is wound in a screw-form manner and its cross-sectional surfaces are formed by two arcs of a circle. From the British Patent No. 28,5343 of 1913 AD, the application of a pipe with an egg-shaped cross-section was made known, which was provided with flow-directing slats to inhibit the formation of vortices. In the U.S. Patent No. 1,655,197 as well as in the Schauberger - Swiss Patent No. 126637, cylindrical or conical pipes were proposed with the object of reducing friction by converting it into rotation, for which the pipe axis served as the rotational axis. Lastly, the Schauberger - Austrian Patent No. 28099 depicts the use of indented and twisted pipes. [The Energy Evolution - Harnessing Free Energy from Nature, Schauberger Patent 196680 - Pipe for Liquid and Gaseous Media]
---
Christ Returns - Speaks His Truth
"How can I describe for you, my inner glow, my transcendent brightness and brilliance of joy and powerful feelings of love which possessed and inflated my entire being with their intensity until I cried out with the pressure within my mind and heart. It was so powerful it seemed it would entirely dissolve my bodily form." [Christ Returns - Speaks His Truth, Christ Letters - Letter 1, page 18]
See Also
---
12.11 - Eighteen Attributes or Dimensions
12.26 - Pressures
air-pressure pump
atmospheric pressure
atomic pressural force
atomic pressural or suctional force
centrifugal pressure
concentrative negative pressure
critical pressure
dynamic pressure
dynamic pressure
equilibrium zone of pressure
Ether Generator Producing High Pressures
Figure 13.21 - Differential Pressure Zones in Antagonism cause Rotation
Figure 15.00c - Keelys Devices for Liberating and Measuring Etheric Pressure
Figure 17.04 - Gravity Pressure Recorder - Bar Magnet
frictional motion
frictional pressure
geological water-pressure
head of pressure
heat-pressure
internal dissociative pressure
inverted pressure turbine
low pressure
negative pressure
plane of equal pressure
pressural component
pressural force
Pressure produced by Vibration
pressure screw
pressure turbine
pressure
pressure-creating
pressure-intensifying
pressure-less
pressure-producing
pressure-sensitive
pressure-turbine
PRESSURES PRODUCED BY VIBRATION
Sound Pressure
wall pressure
wave pressure