Music "The working out or development of a subject, e.g., the notes of a scale." [A Dictionary of Musical Terms]
The evolution of a music scale from the fundamental or keynote to and through the higher partials or harmonics. See Progressive Evolution, Overtone Series, Progression
Keely
"The action of the magnetic flow is dual in its evolutions, both attractive and propulsive. The inclination of the plane on which the subtle stream moves, either to the right or to the left, has nothing to do with positive or negative condition. The difference in conditions of what is called, by electricians, positive and negative electricity, is the difference between receptive and propulsive vibrations. They can be right or left receptive, or right or left propulsive. The positive vibrations are the radiating; the negative vibrations are the ones that are attracted toward the neutral centre." [Vibratory Physics - The Connecting Link between Mind and Matter]
JOHN ERNST WORRELL KEELY - the discoverer of compound interetheric force, as the result of more than 20 years of persistent effort to apply this force to the operation of machinery has, at last, been enabled to produce partial continuity of motion in his engine, but up to this time, he has not so mastered this subtle force as to control reversions. The development of his various discoveries has been one uninterrupted work of evolution, reaching, within the last year, he thinks, the sphere of perfect vibratory sympathy, both theoretically and practically. The proof of this is found in the fact that he now transmits vibrations along a wire, connected at one end with the vibratory machine which is the source of power and at its other end with the engine or cannon, as the case may be, which is operated by such vibratory power. Until recently Keely stored force, as he generated it, in a receiver, and experiments were made by him in the presence of thousands at various times for the purpose of testing the operations of this force, liberated in the presence of the audience and stored up in this small receiver. The editor of the Scientific American thus describes what took place: [Snell Manuscript - The Book, page 3]
"The positive vibrations are the radiating or propulsive, the negative vibrations are the ones that are attracted towards the neutral center. The action of the magnetic flow is dual in its evolutions, both attractive and propulsive. The sound vibrations of themselves have no power whatever to induce dissociation, even in its lowest form. Certain differential, dual, triple and quadruple chords give introductory impulses which excite an action on molecular masses, liquid and gaseous, that increase their range of molecular motion and put them in that receptive state for sympathetic vibratory interchange which favors molecular disintegration, then, as I have shown, the diatonic enharmonic is brought into play, which further increases the molecular range of motion beyond fifty percent of their diameters, when molecular separation takes place, giving the tenuous substance that is necessary to induce progressive subdivision. This molecular gaseous substance, during its evolution, assumes a condition of high rotation in the sphere or tube in which it has been generated, and becomes itself the medium, with the proper exciters, for further progressive dissociation. The exciters include an illuminated revolving prism, condenser, and colored lenses, with a capped glass tube strong enough to carry a pressure of at least one thousand pounds per square inch. To one of these caps a sectional wire of platinum and silver is attached; the other cap is attached to the tube so screwed to the chamber as to allow it to lead to the neutral center of said chamber." [Snell Manuscript - The Book, ANSWERS TO QUESTIONS, page 6]
"When our learned men are forced to admit that "all motion is thought", that "all nature is the language of One in whom we live, and are moved, and have our being", the attempts to evolve life out of chemical elements will cease; the Mosaic records will no longer be denied, which tell us that the Creator's law for living organisms is that each plant seeds, and each animal bears, after his kind; not that each seeds and bears after another kind. The doctrine of evolution, as made known to us in Geology, is a fundamental truth; proving that "there has been a plan, glorious in its scheme, perfect in system, progressing through unmeasured ages, and looking ever toward man and a spiritual end"." [True Science]
Every harmonious condition of Nature's evolutions is governed by one incontrovertible law; that of concordant assimilative harmony. This concordant key is the ruling one over all the antagonistic, negative, discordant ones; the one that diverts the disturbance of sympathetic equilibrium to one general concentrative centre for redistribution. Harmony concentrates, Harmony distributes. The focalising point of concordant sympathetic concentration is the percussive electric field, where the velocity of its sympathetic streams rebounds with a power that throws them far out into universal space; and so far beyond their equative centre of equilibrium, as to bring them in sympathy with the universal attraction of the combined neutral centres of all planetary masses. KEELY. [True Science]
The vapor from the liberator, registered at 20,000 lbs. per square inch has a range of atomic motion of 1333 1/3 the diameter of the atmospheric molecule with constant rotary vibratory action. At 10,000 lbs., 666 2/3, at 5,000, 333 1/3, at 2500, 166 2/3, at 1250, 83 1/3, at 625, 41 2/3. The higher the range of atomic motion the greater its tenuity and pressure. The very evolution on the negative shows a vacuum of a much higher order than was ever produced before confounding all theory to analyze. The highest vacuum known is 17.999999, or not quite 30 inches, but Keely produced etheric vacuums repeatedly of 50 to 57 inches ranging down to 30 inches or 57 lbs. All operations of nature have for their sensitizing centers of introductory action, triple vacuum evolutions. These evolutions are centered in atomic triple revolutions, highly radiophonic in their character and thoroughly independent of all outside forces in their spheres of action. No conceivable power, however great, can break up their independent centers. These triple centers are the foundation of the universe, and mathematically considered, the respective and relative motion of these atomic triplets, gravitating to and revolving around each other, is about one and one-third of their circumference. The problem of this action, when analyzed mathematically, (taking it as the quadrature of the circle) would baffle mathematical science to bring it to a numerical equation. Every revolving body is impressed by nature with certain laws making it susceptible of the operation of force, which being applied, impels motion. These bodies never can approach nearer than a certain limit, nor farther than a certain point. They are, at some mean point, made perfectly equal, and may therefore be considered as one force and as one element. It matters not that other and disturbing forces exist outside or inside the space these bodies revolve in, because if this force must be considered as acting uniformly, applying itself to each of these bodies in a way to produce a perfect equation on all, it is as if this outside force were nonexisting. [Snell Manuscript - The Book, page 2]
---
Ramsay
In the above line it will be readily observed that these three chromatic chords, having each of their intervals a minor third, involve, as necessary elements of their build, every one of the twelve semitones at one point or another of the line. This is a second witness to the legitimacy of the chromatic scale of twelve semitones. We have our first witness to the same in the evolution of the semitones progressively in the course of the modulations by which, in growth-like continuity, Nature links the successive keys; whether developed upward, as is the natural way of the majors; or downward, as in the natural way of the minors; or half upward and half downward, which is an expedient in order to simplify the signatures. In whichever direction the modulation is effected, one note is always divided, and must, true to Nature, be signified by placing a sharp or a ♭, as the case may be, to the 4-comma altered interval, and this always leaves a 5-comma interval to occupy the place to which Nature has assigned such interval in the original scale. When this operation has been twelve times performed, we have the chromatic scale of twelve semitones. Thus by two witnesses the thing is established. By further examination of these chromatic chords we find other interesting features beside their witness to the twelve semitones of the octave. [Scientific Basis and Build of Music, page 56]
In the center column are the notes, named; with the lesser and larger steps of their mathematical evolution marked with commas, sharps, and flats; the comma and flat of the descending evolution placed to the left; the comma and sharp of the ascending evolution to the right; and in both cases as they arise. If a note is first altered by a comma, this mark is placed next to the letter; if first altered by a sharp or flat, these marks are placed next the letter. It will be observed that the sharpened note is always higher a little than the note above it when flattened; A# is higher than ♭B; and B is higher than ♭C, etc.; thus it is all through the scales; and probably it is also so with a fine voice guided by a true ear; for the natural tendency of sharpened notes is upward, and that of flattened notes downward; the degree of such difference is so small, however, that there has been difference of opinion as to whether the sharp and ♭ have a space between them, or whether they overlap, as we have shown they do. In tempered instruments with fixed keys the small disparity is ignored, and one key serves for both. In the double columns right and left of the notes are their mathematical numbers as they arise in the Genesis of the scales. In the seven columns right of the one number-column, and in the six on the left of the other, are the 12 major and their 12 relative minor scales, so arranged that the mathematical number of their notes is always standing in file with their notes. D in A minor is seen as 53 1/3, while the D of C major is 54; this is the comma of difference in the primitive Genesis, and establishes the sexual distinction of major and minor all through. The fourth of the minor is always a comma lower than the second of the major, though having the same name; this note in the development of the scales by flats drops in the minor a comma below the major, and in the development of the scales by sharps ascends in the major a comma above the minor. In the head of the plate the key-notes of the 12 majors, and under them those of their relative minors, are placed over the respective scales extended below. This plate will afford a good deal of teaching to a careful student; and none will readily fail to see beautiful indications of the deep-seated Duality of Major and Minor. [Scientific Basis and Build of Music, page 109]
---
Hughes
The following scheme endeavours to show that the development of the musical gamut and the colours of the rainbow are regulated by the same laws. I wish it to be clearly understood that I have gained the evolutions from the mysterious type of Life—a golden thread running throughout the Scriptures, from the first chapter of Genesis to the last of Revelation;—life developing around us and within us from the Almighty, who is its Eternal Fountain. My youthful impressions included the belief that the views of Dr. Darwin, my great-uncle, contradicted the teaching of the Scriptures, and I therefore avoided them altogether. Having endeavoured for years to gain correctly the laws which develope Evolution, I suddenly discovered that I was working from Scripture on the same foundation which he had found in Creation; and as Creation and Revelation proceed from the same Author, I knew that they could not contradict each other. It is considered by many that my cousin, Charles Darwin, gained his first ideas of Evolution from his grandfather's works; but I know from himself that he was ignorant of them, and that his theory of Evolution was arrived at by his close experiments and observations of the laws of creation alone. Only a few months since, after reading his work on "the Movements of Plants," published in 1881, and wishing to be certain that I had not an incorrect belief, I asked the following question—"Did you gain your views on Evolution by your wonderfully acute observations, ignorant of your grandfather's ideas?" The reply was, that he had done so entirely from his own observations. [Harmonies of Tones and Colours, Introduction1 - Harmonies, page 9]

sciences, and link, by the same mode of physical evolution, the past, the present, and the future. [Harmonies of Tones and Colours, Introduction2 - Harmonies, page 10]

Among the many subjects which excite interest at the present time is the question whether the doctrine of Evolution is true or false. Milton had evidently some glimpse of its truth, as we see in the following lines:—

"Air and ye elements! the eldest birth
Of Nature's womb, that in quaternion run
Perpetual circle, multiform, and mix
And nourish all things; let your ceaseless change
Vary to our great Maker still new praise!" [Paradise Lost, Book V.] [Harmonies of Tones and Colours, Reflections on the Scheme4, page 46]

If the foregoing harmonies of sound and of colour have been rightly developed from the Scriptures, I trust they will be considered as steps gained towards the belief that Evolution is the law of the Almighty for the continuance of activity throughout the universe, and towards an increasing study of Creation and Revelation as mutually explaining each other. According to my belief, the Scriptures must be based on the principle which is explained of keyed instruments at the conclusion of Chapter II. In the development of musical harmonies the beginning and the ending are unfathomable. It is the same in the Scriptures. No musical note or colour can be separated from those below and above it. Neither can any portion of the Bible be separated: every part embraces the past, [Harmonies of Tones and Colours, Reflections on the Scheme4, page 46]

Harmonies of Tones and Colours
,
Supplementary Remarks and Diagrams
, page 53]
---
Cayce
"As man applies the laws of which he becomes conscious, the development of man brings forth those results merited by that knowledge...This we find, then is evolution. Man's development through man's acquiring, man's understanding of spiritual laws, of earthly laws, of God's laws, and applying same." Cayce (900-70)
---
Dialogue on Awakening
"Evolution by degrees is the perfect description of the supreme achievement of the ego. That keeps you in a constant state of allowing yourself to believe that there is a goal just around the corner as opposed to the recognition that if you are the perfect creation of the Father, what could there be to evolve into except the memory of it and memory is instantaneous." [Dialogue on Awakening]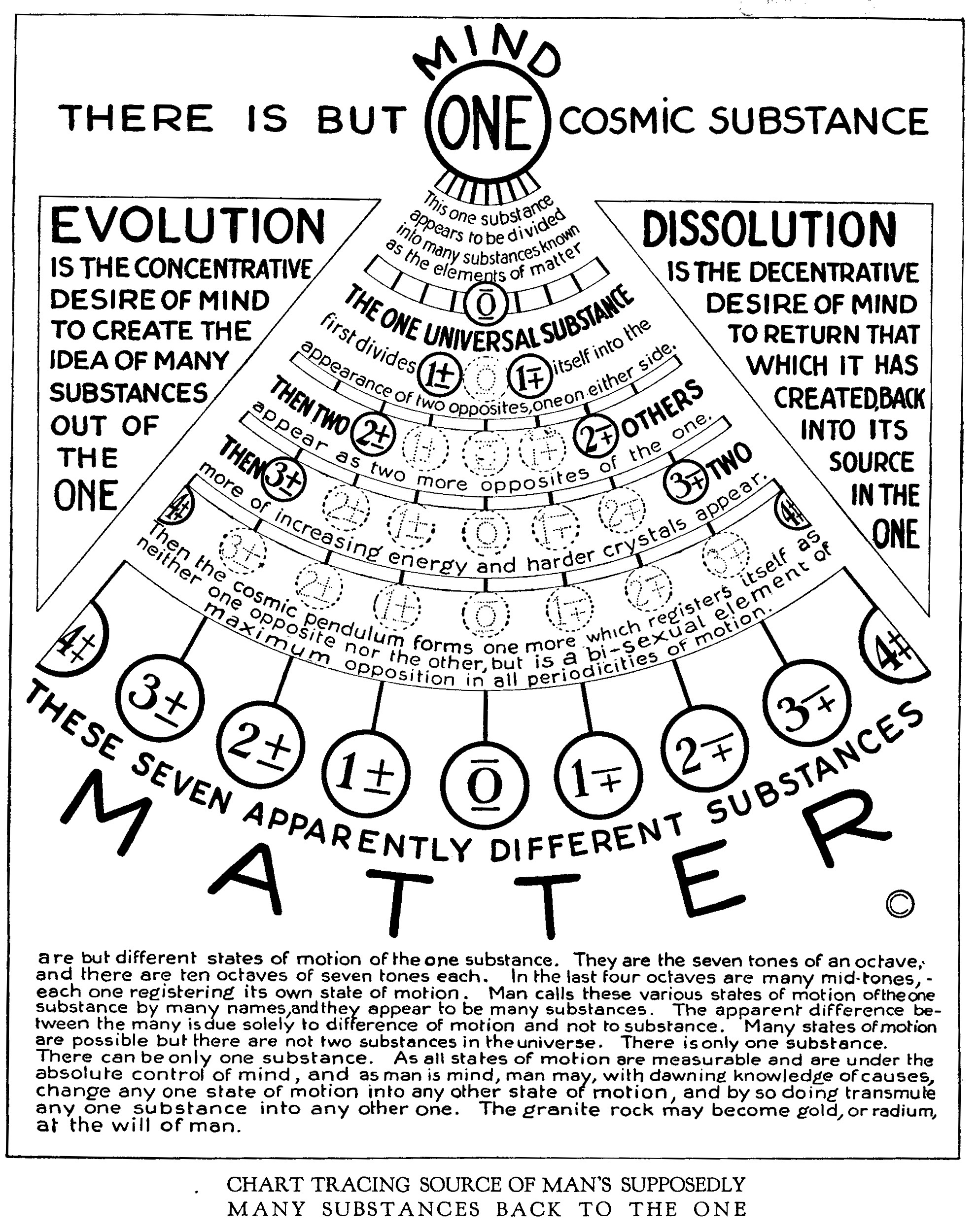 Mind - the One Cosmic Substance
(courtesy University of Science and Philosophy)
(click to enlarge)
Christ Returns - Speaks His Truth
"To discover your true SOURCE of BEING, I ask you to take stock of the unimaginable and indescribable complexity and diversity of purposeful work plainly evident in penguins and pigs.
Can the human mind replicate any of the most basic of activities within - say - the digestive system, which swiftly summons up the requisite enzymes and hormones necessary for digestion.
How dare the finite mind, which is incapable of perceiving clearly the true creative process governed by instinctual knowledge, presume to state unequivocally - defying contradiction - that it understands the true origins of creation and the forces out of which creation took form? What arrogance! These men can only think according to what their eyes tell them.
I view the present scientific ignorance with loving compassion, a degree of amusement, and a great all consuming passion to puncture their pride. For, until someone can penetrate their self-satisfaction and position of infallibility, a true mating of Eternal Verities and human scientific knowledge can never take place. But it must take place; otherwise human spiritual evolution will remain at a standstill.
The scientific mind is too full of 'finitely' devised book lore, accepted formulas and equations, and the need for their fellows' approval, to permit mystical penetration by Higher Intelligences.
On my behalf, I ask readers of these Letters, to form an association to challenge Science and ask 'at what point in the evolution of the 'material' world' is CONSCIOUSNESS first discernible?" [Christ Returns - Speaks His Truth, Letter 5, page 12]
---
Rudolf Steiner
We are surrounded by a world which is such as it is because certain beings sacrifice themselves before they have reached their goal.
If we follow the way of those which are sacrificed, we find them within other beings which are more highly organised; beings who have need of this sacrifice in order that they may exist.
Here, in a nutshell, we can grasp the meaning of existence, which is so seemingly difficult to understand in the coming forth of beings into existence and their annihilation.
Yet we have discovered that it is precisely in this that wisdom and meaning in existence are revealed, and that it is only our reflection that does not go far enough, when we lament that so many things must apparently disappear without reaching their goal.
The truth is that the spiritual beings are linked together. Everything that apparently perishes, gives up its spiritual part to the environment.
The spiritual part that has been forced out of those life-seeds that do not reach their goal - actually unites with what lives within man in his visionary world; fertilise it and bring it to further evolution. So our inner nature, through that which it inwardly evolves, is in continual relationship with the outer world, and works in connection with this outer world.
This outer world would be condemned to perish, could not develop further, if we did not bring to meet it fertilising germs.
That which lives within us is by no means a mere reflection of the other.
Outside in the world spirituality exists, but only a half spirituality, as it were.
In order that this spirituality outside may have offspring, the other spirituality that is within us must approach it.
That which takes form in our inner world of visions must unite with that which flashes forth from those things which apparently perish.
Our meaning, the meaning of man, consists in this that we take part in it. The ordinary knowledge of the normal consciousness knows little of these things.
But the more we progress in the knowledge of such things, the more we become conscious that in us lies the point where the North and the South Poles of the world (if I may make the comparison) exchange their opposite forces, and unite, so that evolution may advance.
Through the teaching of the spiritual world we learn that in us is the stage where the adjustment of forces takes place. We feel how within us, as in a focal point, the Divine world of spirit dwells, how it unites with the world outside, and how these two mutually fructify one another.
Everyone is here to awaken to a whole new energetic world that exists way beyond the old physical focused world. While each will do this in their own "time" and ways, no one has to wait "until later" (the old linear way) ... and each can choose/decide to take the steps to do this intentionally/consciously for themselves. [Rudolf Steiner]
---
"The purpose of evolution is to attain understanding of the necessity of doing good and living in harmony with Cosmic Laws; and to express your Divine Nature in everything you think, say and do." [Rosicrucian Manuscript]
---
Schauberger
It has become clear to some that the origins of all manifestations of life and motion lie in chemo-physical and electromagnetic causes, which on their part are triggered by plus and minus temperatures.
Will and counterwill are functions of the temperatures that arise for one reason or another. Work is a function of the temperatures that lie above or below the turning point or point of intersection - the anomaly point - in which all life arises (zero point). It is of similar nature to what we experience as the 'present', which is a function of an on-going extremely high velocity flow. This flow is an eternal motion-of-creation, which in turn gives rise to a constant creation-of-motion.[1] Thus we arrive at the fallacy and the explanation of the life that lies between birth and burial, which is the illusion that clothes evolution with reality. Temperature is thus the difference between differences, out of which the ceaseless movement of evolution arises, which is itself the product of tensions resulting from the contrasting directions of movement.
The movement of the planets is mirrored in the movement of earthly bodies and thus the possibility also exists to order the course of such planetary systems by means of a particular physical motion. Conversely, it is also possible to exploit planetary motion to produce physical motion, which will enable us to harness a constantly waxing motive force for our own use. Opposites have their appointed directions of movement and find their expression in the mutual interaction of living and moving matter. [From Schauberger, The Energy Evolution - Harnessing Free Energy from Nature - From Special Edition Mensch und Technik, Vol. 2, 1993, section 3.1]
of the most purely spiritual dimension, which is transformed at the speed of lightning into movement and formation, through which the thing is forcibly turned inside out and is thus energised from within. On the other hand, this two-fold motion is also the origin of life, which on its part continually transforms itself both without and within.
If we should now succeed in maintaining any given substance - water, for instance - in constant state of change and transformation, then we are presented with the eternal, formative movement. This generates the creation-of-motion, which we can transform by indirect means into that which in today's terminology is described as 'energy'. With this we are well on the way to a technology that will usher in and order the coming bio-ecological age.
The basic principle of this natural technology is the frictionless motion that naturally and necessarily results from the creation-of-motion innate in evolution, which as it evolves to a higher state of organisation, automatically
[3] In Viktor Schauberger's writings in German, the prefix 'Ur' is often separated from the rest of the word by a hyphen, e.g. 'Ur-sache' in lieu of 'Ursache', when normally it would be joined. By this he intends to place a particular emphasis on the prefix, thus endowing it with a more profound meaning than the merely superficial. This prefix belongs not only to the German language, but in former times also to the English, a usage which has now lapsed. According to the Oxford English Dictionary, 'ur' denotes 'primitive', 'original', 'earliest', giving such examples as 'ur-Shakespeare' or 'ur-origin'. This begins to get to the root of Viktor's use of it and the deeper significance he placed upon it. If one expands upon the interpretation given in the Oxford English Dictionary, then the concepts of 'primordial', 'primeval', 'primal', 'fundamental', 'elementary', 'of first principle', come to mind, which further encompass such meanings as: — pertaining to the first age of the world, or of anything ancient; — pertaining to or existing from the earliest beginnings;- constituting the earliest beginning or starting point;- from which something else is derived, developed or depends;- applying to parts or structures in their earliest or rudimentary stage; — the first or earliest formed in the course of growth. To this can be added the concept of an 'ur-condition' or 'ur-state' of extremely high potential or potency, a latent evolutionary ripeness, which given the correct impulse can unloose all of Nature's innate creative forces. In the English text, therefore, the prefix 'ur' will also be used wherever it occurs in the original German and the reader is asked to bear the above in mind when reading what follows. — Ed.
6
vacates the place it occupied and in this way gives rise to the counter-motion of the surplanting body. [From Special Edition Mensch und Technik, Vol. 2, 1993, section 3.1]
In Nature there are only structures and orifices. From these arise all forms of materialisation and dematerialisation, if orifices and vessels are organised in an inversely symmetrical configuration and within them the reciprocal gaseous substances are correctly dosed. Pressure and suction, and most important of all, the temperature-gradient should be aligned in the right sense (+ not -), through which the desired energy is freed at the point of intersection.
This can be accumulated if the thing is cooled during its motion, becoming homogenously structured in the process. In this manner it is even possible to decompose ordinary air into animalistic electrical essences, or to produce an artificial thunderstorm, whose transformative essences discharge into metal conductors, calling into being a physical vacuum with which a thunderstorm can be produced in the tube, whose power exceeds that of a cyclone. While it is still necessary to use small quantities of earthly substances in the artificial production of petrol (gasoline), no fuels of any kind are needed to operate the air-turbine[4]. This will avert the crisis that will inevitably ensue if nature-alienated humanity continues to combust substances in its machines, which are preordained by Nature for the provision of food. The seemingly remarkable behaviour of liquids under the influence of light is the totally natural permanent condition of the eternal 'Arising' and 'Passing Away', of the evolution from small to large and vice versa, whose vital harmony Goethe has already explained to us so beautifully that all we need to do is read his works so as to create the perpetual interaction required by all molecules in order to exist in a state of well-behaved order. [The Energy Evolution - Harnessing Free Energy from Nature, Conclusions]
The potential differences in constant existence between inner and outer temperatures are none other than forms of energy, which complete the cycle of water and at the same time kindle it anew.
Evolutionary manifestations are therefore,
1. of material, and
2. of immaterial nature.
Stone, plant, animal, human being, planet and Sun are organisms possessed of body and soul. Every ray of light or heat requires a physical form in which it can evolve, or organise itself. Every body requires an inner energy that builds it up or transforms it. When a body disintegrates then those energies
8
that created it will again be freed. They are never lost. If they lose their place of abode with the decaying of the body, then they are willingly taken up by the water that eternally circulates in, on and above the Earth and which conducts them once more to a new life. Therefore wherever we look there is life, constant formation and transformation. Should we look into apparent emptiness, then a sea of spiritual life, passed and future generations, returns our gaze. Every material form of vegetation is always the reflection of an immaterial form consisting of light, heat and radiation.
Every change in sphere changes the outer and inner relations of the whole, changes the weight and the intensity of the inner radiation of water and thus the direction in which this carrier of life moves. Disturbances to the inner and outer conformities with natural law lead to a disturbance in the organisation of the whole evolution of life. The disappearance of water or its substantial transformation is a very serious warning sign, because the character of the water also changes with its inner composition, and with this the character of all forms of life, including human-beings. The qualitative decline of the vegetation and above all the deterioration of the highest plant-organism - the forest, the psychic and moral degeneration of humankind, are only the legitimate consequence of the disturbance of the physical composition of water and the disruption of the geosphere occasioned by humanity's subversive activity in the organism of the Earth.
What we are experiencing today is no crisis, but rather the demise of the whole, i.e. the qualitative, physical degeneration of all organisms, brought into effect through the disturbance of Nature's water-balance. In step with this devolution goes the moral, mental and spiritual collapse of humanity, which has already reached such an advanced state, that despite all warning signs people still do not recognise the seriousness of the situation. Worse than animals, they seek their final salvation in the decimation of humanity with weapons of war, that our priests even bless along with the banners under which our children are supposed to bleed to death.
The decision, whether we take the latter path or whether at the final hour we can protect ourselves from our own self-mutilation, only lies with us, or with those men of science and the state, who take upon themselves an altogether appalling responsibility, when out of personal interest, with no consideration of the gravity of the situation and being incapable of bringing any effective help, they continue to adhere to their present point of view. [The Energy Evolution - Harnessing Free Energy from Nature, Conclusions]
See Also
---
harmonic progression
1.20 - Evolution and Devolution of Frequency
12.18 - Multiple Octave Progression
12.38 - Orbital revolution
13.12.1 - Disturbance of Equilibrium
3.22 - Quantum Leap Delta equivalent to Locked Potentials Delta
arithmetic progression
arithmetical progression
capacitor
change
chord resolution to center
coil
degree of development
Delta
Dimension
Dissolution
evolution
Genesis of the Scale
Geometrical Progression
Gradient
growth
Healing
inductance
Inductor
Law of Evolution
Law of Transformation of Forces
Motion
musical progression
Overtone Series
progression of adjacencies
progression of keys
progression
Progression
Progressive Evolution
Ramsay - PLATE II - The Genesis
Ramsay - PLATE XI - Diatonic Resolutions Simple and Compound
Ramsay - PLATE XIX - Chromatic Resolutions
Ramsay - PLATE XVII - Chromatic Resolutions Major
Ramsay - PLATE XVIII - Chromatic Resolutions Minor
Ramsay - PLATE XX - Chromatic Resolutions
Ramsay - PLATE XXVI - Chromatic Resolutions
Ramsay - The Chromatic Chord a Universal Joint for Resolution
reactance
resolution
Restoring
Signal Resolution
State
system of resolutions
Thermodynamics
transformation of equilibrium
transformation