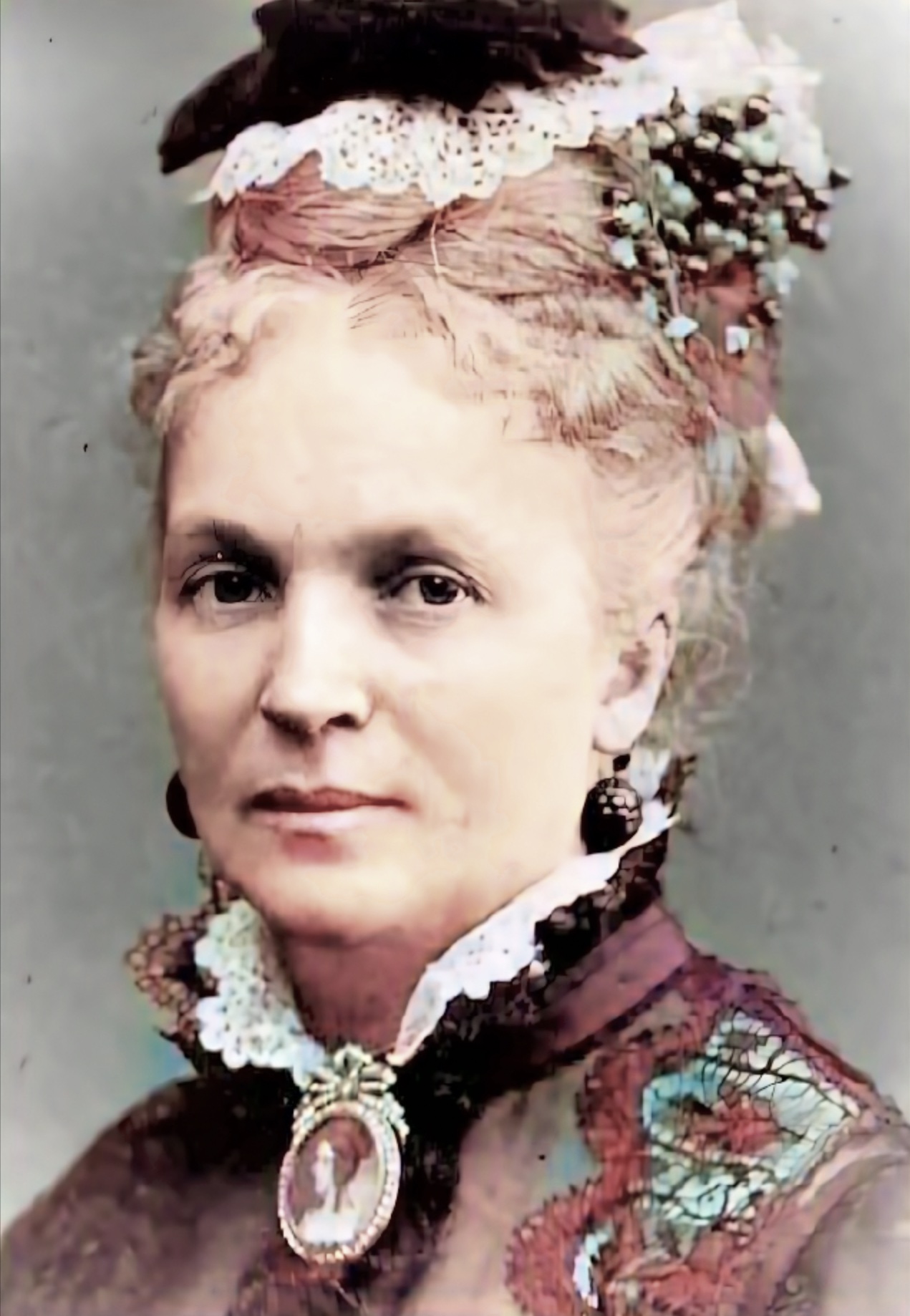 (1824 - 1899)

Keely's work, the work we have been enjoying, we owe entirely to Mrs. Clara Jessup Bloomfield-Moore (CJBM). She financed his research and wrote prolifically attempting to interest science of her day to look at and accept his discoveries. See Moore's commitment to support Keely
"As a school-girl, fifty years ago, I had the privilege of attending courses of lectures at Yale College, where experiments were given in natural philosophy and in chemistry; which kept up the interest that was awakened in earlier years; when, with my mineral hammer and basket, my father took me in his walks, laying the foundation of that love of true science which has made the discoveries of Keely of such intense interest to me." An Appeal in Behalf of the Continuance of Keelys Researches see this article for her explanation of her involvement with Keely
Mrs. Moore was a remarkable woman. She was born in Philadelphia, Pennsylvania, February 16, 1824, and was a daughter of the distinguished scientist, Augustus Edward Jessup, for many years an active member of the Academy of Natural Sciences and was part of the exploratory team to Yellowstone, Wyoming territory. She received her education partly at home and partly at the Westfield (Mass.) Academy. October 27, 1842, she married at Westfield, Bloomfield Haines Moore, of Philadelphia, who subsequently established (with his father-in-law) the well-known paper manufacturing firm of Jessup & Moore located near Wilmington, Delaware. His death in 1878 deprived Philadelphia of one of its outstanding citizens. The Philadelphia Inquirer published a long editorial, the writer of which stated that: "It was the unswerving rectitude, the untiring industry and doubtless enterprise which marked his career from first to last, that made his life of such value to his fellow-citizens and gave him his true distinction." Mrs. Moore was a prolific writer, her publications including: The Young Ladies Friend (1876), On Dangerous Ground (1876), Sensible Etiquette (1878), Slander and Gossip (1882), and Social Ethics and Social Duties (Boston: Estes and Lauriat, 1892. Copy held at Stanford Un.) Commentary on marriage, divorce, self improvement, and university education for women. Her last years were passed in London, where she was presented at the Court of Queen Victoria and associated with the greatest literary minds of England, including Robert Browning who was her greatest friend and for whom she wrote an eulogy. Her generosity enriched several institutions, including the Franklin Institute and the University of Pennsylvania (to each of which she donated $10,000 as memorials to her husband), and the Pennsylvania Museum and School of Industrial Art at Philadelphia (to which she presented her priceless art collection as a memorial to her husband, and which bears his name). She died in London, January 5, 1899. She and Mr. Moore were the parents of three children:
1. Ella Carlton (1843-1892); m. 1864 Count Carl Gustaf von Rosen, Commander-Captain, Swedish Navy;
2. Clarence Bloomfield-Moore (1852-1936); unmarried; Became renown archeologist with extensive digs and work throughout Florida.
3. Lillian Augusta Stuart (1853-1911); m. 1874 Baron Carl Nils Daniel de Bildt, Swedish Minister to Italy, and an eminent historian. (1)
Other Works by Clara Jessup Bloomfield-Moore (pen names: Clara Moreton and Harriet Oxnard Ward (H. O. Ward):
The Adopted.
The Fulfilled Prophecy.
Renunciation.
Reasonable and Unreasonable Points of Etiquette.
Unsettled Points of Etiquette.
Miscellaneous Poems.
Stories for Children.
Three Eras in a Life.
1851
Frank and Fanny, a Rural Story (1851)
1877
Character and Descriptive Songster (1877)
1878
Sensible Etiquette of the Best Society, Customs, Manners, Morals, and Home Culture. (1878)
1879
Tales from Aristo, retold for Children by a Lady (1879)
Agathas Friendship: A Romance for American Society.
Nancy Lee Songster; containing a complete collection of the above artist, together with a collection of the latest and best seriocomic and sentimental songs of the day (1879)
1881
First Requisites in Physician and Nurse of the Cure of Insanity (1881)
1882
A Chapter from the Modern Pilgrims Progress: Slander and Gossip. (1882)
The Diamond Cross.
1886
The Keely Motor (1886)
Mr. Keely's Etheric Force (1886)
1887
The Keely Motor Secret (1887)
1888
Etheric Force Identified as Dynaspheric Force, Theosophical Siftings Vol 1, No 9
Keelys Secrets - Part 2 - One Phase of Keelys Discovery in Its Relation to the Cure of Disease Theosophical Siftings, vol1, i9, 1888 (original article)
Keelys Secrets - Etheric Force Identified as Dynaspheric Force - One Phase of Keelys Discovery in its Relation to the Cure of Disease (1888) (edited in Keely and His Discoveries)
1889
Letter of Instruction to my Grandson, Clarence von Rosen (1889)
1890
Idol Affections (1890)
Robert Browning, (1890)
The Keely Motor Bubble, (1890)
True Science, (1890) Vibratory Physics - True Science
Keely's Contribution to Science, (1890)
1891
Keely and Science - Part 1, Theosophical Siftings, vol 3 (1891)
Keely and Science - Part 2, Theosophical Siftings, vol 3 (1891)
More Science (1891)
The Refiner of Silver (1891)
Newton of the Mind - The Propeller of Keely's Airship Described, (1891)
Latent Force and Theory of Vibratory Lift for Airships, (1891)
1892
Wisdom in Mystery - Keelys Progress - Part 1, Theosophical Siftings, vol 5 no 1 (1892)
Social Ethics and Society Duties: Thorough Education of Girls for Wives and Mothers and for Professions, (1892)
Keely's Present Position (1892)
Physical Discoveries of John Keely (1892)
1893
A New Creed - Human and Humane; Theosophical Siftings; Vol 5, No 11, 1893
Ether, the True Protoplasm (1893)
Keely and His Discoveries (1893)
Freedom (1893)
The Veil Withdrawn (1893?)
What Electricity Is - Bloomfield Moore (1893?)
1894
An Echo (1894)
Aerial Navigation: Keely and His Energy (1894)
What is Science? (1894)
A Confession of Faith (1894)
1895
Keely Motor and the Dogmatism of Science (1895)
Some Truths about the Keely Motor
The New Philosophy.
Newton of the Mind - The Propellor of Keely's Airship Described
The Action of Force is Spiro-Vortex (1895)
1896
Some Truths about John Keely (1896)
---
A couple of years ago I was contacted by a lady from the Moore College of Art and Design in Philadelphia. She was researching Bloomfield-Moore for some purpose. That contact information is on the other computer which will not start.
Moore College of Art and Design
More works by Bloomfield-Moore
Clara Bloomfield-Moore - wikipedia
I have more materials on her within the archives. Some materials are just notes. Who has the time to go through all that?
I have since the 1980s used a text searchable database program to log my research. This allows me to find notes or materials in a few seconds. Much of that database has been converted to pdf files which can also be word searched. I'm attaching the pdf of "Keely and His Discoveries" that you can word search and find all the occurrences of the term "Hughes" (for instance) which are of course references to her and her book. This book has been entered into the svpwiki.com HERE and can be accessed and searched. Some of those links on that page are original unedited articles while some are not. I did not note which are which. [Dale Pond]
---
See Also
---
Agreement between Bloomfield-Moore and Keely
Bibliography
Bloomfield-Moore withdraws support of Keely Motor Company
Family Biography
Clara Jessup Bloomfield-Moore
Chronology
Clara Sophia Jessup Bloomfield-Moore
Jessup/Moore Genealogy
Keely Chronology
Keely and His Discoveries
Keely Not Dead Yet
Keely The Inventor Dead
Letter from Bloomfield-Moore to Professor Dewar
Letter from Bloomfield-Moore to Brinton about publishing this book in America
Letter from Keely to Bloomfield-Moore
Letter from Keely to Bloomfield-Moore2
Letter from Keely to Bloomfield-Moore3
Letter from Keely to Bloomfield-Moore4
Letter from Keely to Bloomfield-Moore5
Letter from Keely to Bloomfield-Moore6
Letter from Keely to Bloomfield-Moore7
Moore's commitment to support Keely
Mrs. Bloomfield-Moore Dead
Mrs. Moore on the Keely Motor
Women in Science
14.01 - Hints from Bloomfield-Moore