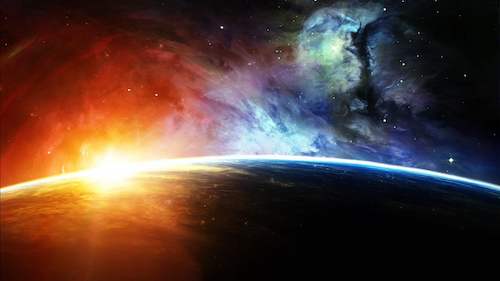 Keely
"There is no missing link in the evolution theory, as laid down in Keely's pure philosophy. Inasmuch as the Father of all is Himself a Spiritual Being, cosmical law leads us to expect that the type of created being, His offspring, shall be spirit also. Nor can Being in any object be so attenuated, or so far removed from Him who filleth all in all, but it must surely retain an aura of His spiritual nature. The corner-stone of this philosophy is one power, one law; order and method reigning throughout creation; spirit controlling matter, as the Divine order and law of creation that the spiritual should govern the material - that the whole realm of matter should be under the dominion of the world of spirit. Nor is this a new truth. According to Diogenes Laertius, Thales taught that souls are the motive forces of the universe." [True Science]
"The economy of creation is not regarded in this philosophy as a theory of development all in one direction; but as a cycle in which, after development, and as its fruit, the last term gives again the first. Herein is found the link by which the law of continuity is maintained throughout - the link which is missing in the popular science of the day; with this very serious consequence that, to keep the break out of sight, the entire doctrine of spirit and the spiritual world is ignored or altogether denied". [True Science]
Ramsay
"The science of music is the knowledge of how Nature proceeds in this beautiful region of creation in which so much of pleasure for mankind is found, and meet expression for the praise of God. "Music hath charms to soothe the savage beast;" how much more to gratify the civilized and educated ear; to stir with inspiration the prophetic gift; to comfort the troubled heart; and to draw forth the best feelings of our nature." [Scientific Basis and Build of Music, page 20]
Cayce
Q- The first problem concerns the reason for creation. Should this be given as God's desire to experience Himself, God's desire for companionship, or in some other way?
A- God's desire for companionship and expression. [Cayce 5749-14]
Dialogue on Awakening
"There is nothing created by God, which is the expression and the extension of the Mind of God, that is changeable." Dialogue on Awakening, 3rd edition, pg 150 see Christ Consciousness
"It would be appropriate for me to give you a different understanding as to what happens when one asks for guidance. As we have discussed before, there is the Mind which expresses God which I have called the Christ. Within this Mind of the Christ, resides the truth of God. That truth is, in its essence, entirely whole. Its wholeness is expressed by each unique and individual expression which resides in it. But each expression knowing itself will only express this truth in a slightly different fashion. This expression of truth, in an infinite number of ways, is what is called the movement of Creation." Dialogue on Awakening, 1st edition, pg 117 see Christ Consciousness
Russell
"The entirety of Creation is the manifestation of love." [Russell, Home Study Course, Unit One - Lesson 3.2]
See Gods Full Process of Creation
"Creation is but a concept of Mind. It is but an illusion, an effect of thinking." Russell, The Universal One
"Creation" is the transforming of the One substance by the rhythmic thinking of idea, into apparent opposites, and into that which man calls form." [Russell, Book 1 Chapter 8 of The Universal One]
"Creation is but a journey of the thinking Mind of the universal One into the illusions of His divine idea.
"Creation is but a manifestation of God's sublime idea of a universe of space and time and motion.
"Creation is but a materialization of images thought out during the thinking process of Mind in action.
"Idea is the sole product of thinking; thinking is the sole purpose of Mind." The Universal One, Book 02 - Chapter 01 - Dynamics of Mind - Concerning Light Units of Matter
"The supreme effort of this book is to have you comprehend that Creation is a division of The Eternal One into countless twos of sex-conditioned opposites, which eternally seek to void their division by uniting as One.
"Creation is a Mind-imagined journey of electrically divided male and female opposites in increasingly greater speed and power in the direction of each other, where they unite in rest to re-divide, and return with ever increasing speed and decreasing power, to the zero of rest in the Magnetic Light of Mind from which they sprang into action. Creation is an illusion which stimulates substance by multiplying the speed of centripetal motion, and loses its appearance of substance by multiplying its centrifugal speed. If we prove this new state of facts to be in accord with Nature's plan, it will obviously be necessary to have very different concepts of the Nature of the universe than those concepts which are now held by man." [Atomic Suicide, page 83]
"Creation consists of the invisible universe of Mind, which Jesus called heaven and man calls space, and the visible universe of motion, which man calls matter and substance." [Atomic Suicide, page 235]
Blavatsky
"If out of the material portion of the ether, by virtue of the inherent restlessness of its particles, the forms of worlds and their species of plants and animals can be evolved, why, out of the spiritual part of the ether, should not successive races of beings, from the stage of monad down to that of man, be developed; each lower form unfolding a higher one until the work of evolution is completed on our earth, in the production of immortal man?" [Isis Unveiled, H.P Blavatsky (Volume 1)]
Christ Returns - Speaks His Truth
"I was brought to a realization of the INFINITE POWER of the 'Intelligent Creativity' ever active within creation, maintaining order, co-operation, harmony, daily productivity, unequalled by man anywhere, at any time." [Christ Returns - Speaks His Truth, Letter 1, page 15]
"If this was so, how could there not be survival of the eternal flame of: Loving Intelligent Creative Power hidden within the created entities of every kind in the universe? Therefore, this world was but a shadow and image of the hidden worlds of Loving Intelligent Creative Power beyond this dimension. The Reality of the entirety of creation lay beyond this visible world." [Christ Returns - Speaks His Truth, Letter 1, page 15]
"This must surely be the true goal behind creation, I thought. And it came to me with a surge of elation and loving joy, that this was the purpose for which man had been evolved and developed!" [Christ Returns - Speaks His Truth, Letter 1, page 16]
"What a MIRACLE was creation!" [Christ Returns - Speaks His Truth, Letter 1, page 16]
"I felt immense excitement because, at last, I would be able to understand how it was that such a loving Divine 'Creative Power' could allow Its creation to endure such misery." [Christ Returns - Speaks His Truth, Letter 1, page 17]
"(However, at the moment of creation, two BASIC IMPULSES came into being, ensuring individuality, and it was these which controlled mankind's consciousness.
These IMPULSES were explained to me in detail but this knowledge is reserved for a future Letter when you will be better able to understand it) ................................ ." [Christ Returns - Speaks His Truth, Letter 1, page 17]
"I felt immense excitement because, at last, I would be able to understand how it was that such a loving Divine 'Creative Power' could allow Its creation to endure such misery.
I was shown that every living thing in creation should be radiantly healthy, cared for, nourished, protected, healed, maintained in peace and plenty, prospered within an orderly society of 'beings' extending only love to each other.
(However, at the moment of creation, two BASIC IMPULSES came into being, ensuring individuality, and it was these which controlled mankind's consciousness." [Christ Returns - Speaks His Truth, Letter 1, page 21]
"The Law of 'Cause and Effect', 'Reaping and Sowing' is the visible effect of what you call 'electromagnetism', and no one who has any knowledge of science would expect 'God' to set aside the laws of electromagnetism, which are those of 'activity-bonding-rejection'.
'Activity-Bonding-Rejection' or 'Movement-Attraction-Repulsion' are the fundamental IMPULSES of EXISTENCE and of HUMAN CONSCIOUSNESS itself, which have brought about your visible forms in life, and are the only 'instruments' or 'tools' of creation. They are responsible for the formation of substance or 'matter' and also for the development of individualised forms and finally of personality itself in all living entities." [Christ Returns - Speaks His Truth, Christ Letters - Letter 3, page 1]
'If you could carry within your mind, a seed - the perfected plan of your most heartfelt goals, and know beyond all doubt, that it can grow and come into perfect fruition, you would see this wonderful seed take on a life of its own which would presently manifest in your life.
'And you could surely move the mountains in your lives - those mountains which stand across your path and prevent you from achieving all that you would like ... mountains which, in times of recklessness and evil thinking have been created by yourselves.
'If you only understood creation and existence, you would be able to live lives of total freedom, limitless achievement and transcendent joy. [Christ Returns - Speaks His Truth, Letter 3, page 65]
"The DIVINE INTENTION of UNIVERSAL CONSCIOUSNESS was to express ITs own wholeness through creationby individualising, in physical form, each of the two equally balanced aspects of ITSELF and then bringing them together again in physical form, to experience the unity and wholeness of DIVINE CONSCIOUSNESS from which they originally took their individuality.
As they come together in love and unity of spirit and body, they discover the joy and ecstasy of UNIVERSAL CONSCIOUSNESS in equilibrium.
(This entire process is clearly set out in Letters 5 and 7.) Therefore, the combination of the masculinity of the man and the femininity of the woman is essential to make a 'whole' drawn from the SOURCE of BEING. Out of this combination is formed a whole child." [Christ Returns - Speaks His Truth, Letter 4, page 17]
"When I was in the desert in Palestine, I first perceived that the over-riding nature of UNIVERSAL CONSCIOUSNESS Creativity, our SOURCE of BEING was INTENTION.
The Intention to create, plan and design - and then to bring forth that design by growing it, feeding, healing, protecting, and fulfilling its every need in a disciplined manner.
Both male and female have been evolved in physical form and consciousness to experience - INTENTION and express it in all ways possible in their lives. This is the very first act of creativity.
Without INTENTION there would be no CREATION.
INTENTION is the origin of - and permeates - the whole of existence.
INTENTION defines the nature of the deed - loving or destructive.
The male and female have been individualised to experience and formulate INTENTION in their lives. This is the very first impulse of creativity." [Christ Returns - Speaks His Truth, Letter 4, page 18]
"Male and female have also been individualised to experience and express WILLPOWER.
WILLPOWER in the MALE is experienced and expressed primarily as Activity. In primitive forms - he moves out into the environment to fulfill his INTENTION. Therefore, he dons the robes of the leader and quester. He was individualised to think and work to fulfill his purposes without the encumbrance of emotions.
WILLPOWER in the FEMALE is motivated and experienced primarily as Feeling - the Need to Nurture the original INTENTION and bring it, PURPOSE fully to full term - fruition - through the process of caring, feeding, clothing, repairing, teaching, protecting.
PURPOSE is entirely different to INTENTION since purpose comes down from the mental plane of intention and becomes an emotional drive, a desire to formulate 'a means to achieve the intended end'.
A 'powerful INTENTION to do something' becomes a PURPOSE behind continued existence. In this way, thought and feeling are married to perform the work of creation.
The male is constantly roaming seeking new ideas, new ways to fulfill his INTENTIONs to give him purpose in life.
The female's intentions are 'purpose personified', sensitive and stable, prepared to make sacrifices for the loved ones.
Therefore, the two basic IMPULSES within the SOURCE of BEING - expressed in physical form as male and female - are inter-dependent. One could not survive without the other. Both are needed for the continuity of creation.
Because of his masculine mobility, his leadership drive, the male has considered himself superior to the female. This is because she remains stable, creating security for the male. But the feminine drive is the drive of unconditional love, the drive worthy of the highest respect and consideration to enable her to flourish and perform her innate purpose within the household in peace of mind and joy.
The man's role is to provide physical security and material means of subsistence for the family. The woman's role is to provide emotional security and the emotional means of personal fulfilment and joy within the family environment." [Christ Returns - Speaks His Truth, Letter 4, page 18]
"When on earth, to describe the Reality behind and with in existence, I deliberately coined the term the 'Father' when referring to 'God'. This was done for two reasons.
Firstly, as I explained in Letter 1, when I received enlightenment in the desert, I was enabled to see that the concepts describing the Creator of the universe as 'revealed' by the Jewish prophets were completely wrong.
Secondly, I was given to perceive clearly - and fully understand - the true nature of the Creator and I realised that it was a nature of parenting - of fulfilling the needs of creation in clear-cut, specific ways which were synonymous with those of a father-mother. Indeed, I saw that the parenting impulses present in all living creatures had been drawn directly from the Creator, and that the origin of all love and parenting drives was also the origin of life and existence itself.
I also 'saw' that creation was a visible manifestation of the Universal Creative Impulses of Being, and therefore humankind could be termed the offspring of the creator.
For this reason, it was quite natural for me to speak of the 'Father' when referring to the Creator, since, to me, this is what the Creator truly is in every way - more especially 'Father-Mother' but having regard to the Jewish insistence on the woman occupying a subordinate position in their daily lives, I referred only to the 'Father' to avoid Jewish resistance and to gain their acceptance of the new terminology.
I also coined the term the 'Father' to help the Jews realise that their concept of Jehovah and the rigidity of Jewish laws were totally erroneous. Also by using a new terminology - the 'Father' - to describe the Creator - the Creative Impulse - behind and with in existence, I made it clear I had brought an altogether new teaching in opposition to the accepted belief in a 'God' which rejected certain people and sent disasters upon them as retribution." [Christ Returns - Speaks His Truth, Letter 5, page 1]
"And when I say: 'making true contact with It', I mean that the prayer of supplication for this benefit or that is not making true contact with your SOURCE OF BEING.
Your prayer is certainly received into the Source of Being, and an answer is frequently received swiftly and the need is fulfilled, even as you have asked. But true contact with the Source of your Being, is only experienced when you have sufficiently cleansed your consciousness of the gross human ego-drive and have spent some time in meditation and a regular emotionally powerful 'reaching out' in consciousness to your Source seeking contact and renewal and refreshment of spirit.
This is the true purpose behind existence. A constant and mutual reciprocation of communication between the Source of all Being and creation." [Christ Returns - Speaks His Truth, Letter 5, page 5]
"At the outset of the following teachings, I, the CHRIST, must remind you that yours is not a solid universe. As you probably know, according to your scientists, solid 'matter', the visible substance of the world, is really composed of energy particles.
The TRUTH of BEING of your earthly dimension rests on this fundamental reality of creation.
To understand my teachings regarding the Truth of Being, it is necessary to grasp this fundamental 'seeming emptiness' underlying all your created world." [Christ Returns - Speaks His Truth, Letter 5, page 6]
"As I revealed to you in Letter 1, during the time I received full illumination in the desert, I was shown that 'matter' was not really solid. I was not given to understand exactly how the electrical particles which I termed the 'shimmer of motes' took on the appearance of visible 'matter'. I only knew that these 'motes' were moving at high frequencies of speed within 'GOD MIND' and 'GOD MIND' was therefore universal.
I perceived that 'GOD MIND' was both the creator - and substance - of all things within creation itself. Of this, I was absolutely certain.
I also 'saw' very clearly that human thought, when fraught with conviction or emotion, radically affected this process of materialisation of visible forms.
Therefore the human mind could - and did - interfere with the true intention of 'GOD MIND'." [Christ Returns - Speaks His Truth, Letter 5, page 6]
"There is nothing that electromagnetism has brought into visible being which the human mind can deem to be lacking purpose or meaning.
Science ignores this most basic and vital level of creation. Without an answer to this question, as to why everything which has been brought into visible manifestation by the activity of the twin energies of electromagnetism is invariably purposeful, successful and rational - nothing of any value in the search for your origins will be discovered.
Until science can probe and discover the 'Reality' of the 'space' in which electrical particles of 'visible being' are supported, science will forever remain behind locked doors of materialism. It will be barred to eternal Truth and universal wisdom and imprisoned within the bondage of reason alone - reason which is solely the product of the finite activity of brain cells.
It is to the true nature of the SPACE I intend to introduce you - but before proceeding to this, I must first bring many highly pertinent questions to your attention." [Christ Returns - Speaks His Truth, Letter 5, page 8]
"To discover your true SOURCE of BEING, I ask you to take stock of the unimaginable and indescribable complexity and diversity of purposeful work plainly evident in penguins and pigs.
Can the human mind replicate any of the most basic of activities within - say - the digestive system, which swiftly summons up the requisite enzymes and hormones necessary for digestion.
How dare the finite mind, which is incapable of perceiving clearly the true creative process governed by instinctual knowledge, presume to state unequivocally - defying contradiction - that it understands the true origins of creation and the forces out of which creation took form? What arrogance! These men can only think according to what their eyes tell them. I view the present scientific ignorance with loving compassion, a degree of amusement, and a great all consuming passion to puncture their pride. For, until someone can penetrate their self-satisfaction and position of infallibility, a true mating of Eternal Verities and human scientific knowledge can never take place. But it must take place; otherwise human spiritual evolution will remain at a standstill.
The scientific mind is too full of 'finitely' devised book lore, accepted formulas and equations, and the need for their fellows' approval, to permit mystical penetration by Higher Intelligences.
On my behalf, I ask readers of these Letters, to form an association to challenge Science and ask 'at what point in the evolution of the 'material' world' is CONSCIOUSNESS first discernible?" [Christ Returns - Speaks His Truth, Letter 5, page 12]
"You now know that the Father-Mother Creative Process and the tools of physical creation are all in a state of equilibrium within the Universal Dimension, but now that equilibrium is to be exploded to bring about
INDIVIDUAL FORM.
You know, too, that since the
Infinite Eternal IMPULSES
are contained in a state of
mutual restraint
, these
IMPULSES
are of an unimaginable
intensity
of energy - against which your
atomic energy
contained within the
splitting of an atom
is a mere '
pouff
', an infinitesimal twitch of no importance.
I want you to fully realise all the foregoing, since your realisation of what happened at the time of the
Big Bang
will give you a glimpse of what happened at the time of the sundering of
UNIVERSAL CONSCIOUSNESS
to permit the
creation
of individual form to take place." [
Christ Returns - Speaks His Truth
,
Letter 5
, page 20]
"Creation is the product of PRIMARY IMPULSES working individually and together - making impressions upon the other, fulfilling inbuilt needs imprinted within consciousness - these needs being, at the outset to increase and experience self-expression leading to further separation then - to restore a sense of inner security and comfort - to be re-united within the harmony of UNIVERSAL CONSCIOUSNESS. Out of this driving force for a re-united harmony of being, came the male-female drive for re-union to recapture the bliss which is buried in the soul consciousness." [Christ Returns - Speaks His Truth, Letter 5, page 23]
"'Father' and 'Mother' Consciousness energies are IMPULSES both restrained within the UNIVERSAL DIMENSION and when they have been released from equilibrium they powerfully perform the work of creation." [Christ Returns - Speaks His Truth, Letter 5, page 23]
"Therefore, the IMPULSES are the REALITY behind and within all creation." [Christ Returns - Speaks His Truth, Letter 5, page 24]
"I asked the Creator - 'Universal Consciousness' - why mankind endured so much suffering and evil.
I was then shown very clearly that all the problems experienced by humans arose from the 'central point' of the self, (science now calls this the 'ego').
It manifested itself in the 'personality'
as a DRIVING NEED to defend the self from criticism or emotional/physical attack
and a similar DRIVING NEED to push aside other people, in order to arrive first in the race of life.
It also manifested itself in the 'personality'
as a DRIVING NEED to take all that was best for the self, despite the opposition of others and a similar DRIVING NEED to hold on to personal possessions, be they relatives, friends, material goods or achievements, despite any opposition. I was also made to understand that without these TWO fundamental, eternal, undeviating 'impulses of creative being' there would be no creation.
This is the secret of creation - and the secret of existence and of 'individual being'." [Christ Returns - Speaks His Truth, Letter 5, page 24]
"To fully understand the nature of creation: the reasons why the ego functions as it does, why created entities feel the urges they feel, it must be understood that the NATURE and QUALITY of UNIVERSAL CONSCIOUSNESS is RADIANT JOY - FULFILLMENT - HAPPINESS.
THIS IS WHAT I TERMED THE 'KINGDOM OF HEAVEN WITHIN YOU' - WITHIN YOUR SOUL - WITHIN THE DEEPEST RECESSES OF YOUR PSYCHE, which is the intermediary between the radiance of your soul and the shadow self of ego.
To return to this transcendent state of glorious, beautiful, happy, harmonious being is your soul's deepest longing!
It is this enduring longing, this inborn unconscious recollection of equilibrium and peace, joy and harmony, which, through the psyche, prompts the EGO to manipulate the environment on your behalf. Its consistent purpose is to bring you back to your primal original state of glorious ecstasy out of which you drew your soul, being and form. But the ego can bring about your desired joy and pleasure, only by means of the two magnetic/emotional 'Bonding-Rejection' impulses - which are only materialised impulses to give you your individuality." [Christ Returns - Speaks His Truth, Letter 6, page 9]
"ALL CREATION is CONSCIOUSNESS made visible." [Christ Returns - Speaks His Truth, Letter 7, page 9]
"Laughter is a gift of love for a creation possessed by, and needing relief from their egos." [Christ Returns - Speaks His Truth, Letter 9, page 14]
Jerry Williams
"What you (Dale Pond) have done (with this presentation) is give physicists and scientists a way to deal with and accept Creation and the Creative Forces without using the word "God"." [Jerry Williams]
See Also
---
Bonding - Rejection
Creative Force
Creative Forces
Etheric Elements
Father-Mother Principle
Gods Full Process of Creation
Idea
In the Wave lies the Secret of Creation
Law of Assimilation
Law of Creation
Light Units
Matter
Mind of Christ
movement of Creation
Rhythmic Balanced Interchange
Thinking
Thought
7.6 - Reciprocal Disintegration and Creation
9.8 - Spontaneous Creation of Harmonic Series