noun: the loudness of a sound from a television, radio, etc.
noun: an amount of something
noun: the amount of space something fills, or the amount of space in a container
noun: the magnitude of sound (usually in a specified direction) ("The kids played their music at full volume")
noun: the amount of 3-dimensional space occupied by an object ("The gas expanded to twice its original volume")
noun: a relative amount ("Mix one volume of the solution with ten volumes of water")
noun: the property of something that is great in magnitude
Keely
Pure sympathetic concordants are as antagonistic to negative discordants as the negative is to the positive, but the vast volume the sympathetic holds over the non-sympathetic, in ethereal space, makes it at once the ruling medium and readjuster of all opposing conditions if properly brought to bear upon them. [Snell Manuscript - The Book, page 3]
The vibrations induced by this experiments reached over 700,000,000 per second, unshipping the apparatus, thus making it insecure for a repetition of the experiments. The decarbonized steel compressors of said apparatus moved as if composed of putty.
Volume of sphere 15 cubic in weight of surrounding metal, 316 lbs. [Snell Manuscript - The Book, page 3]

The peculiar conditions as associated with the gaseous elements of which water is composed, as regards the differential volume and gravity of its gases, make it a ready and fit subject of vibratory research. In submitting water to the influence of vibratory transmission, even on simple thirds, the high action induced on the hydrogen as contrasted with the one on the oxygen (under the same vibratory stream) causes the antagonism between these elements that induces dissociation. The differential antagonistic range of motion, so favoring the antagonistic thirds as to become thoroughly repellant. The gaseous element thus induced and registered, shows thousands of times much greater force as regards tenuity and volume than that induced by the chemical disintegration of heat, on the same medium. [Snell Manuscript - The Book, page 4]
"The graduating of a perfectly constructed instrument, to a condition to transmit sympathetically, is no standard whatever for any other one that may be built, nor ever will be, because no concordant conditions of compound molecular aggregation can ever exist in visible groupings. If it were even possible to make their parts perfectly accurate one to the other, in regard to atmospheric displacement and weight, their resonating qualities would still have a high rate of sympathetic variation in their molecular groupings alone. If one thousand millions of coins, each from the same die, were sympathetically graduated under a vibratory subdivision of 150,000, the most amazing variation would be presented, in regard to molecular grouping (mass) and resonance. [Snell Manuscript - The Book, GRADUATION OF MACHINES, page 5]
---
R. A. Schwaller de Lubicz
"...Volume is perceptible Space. Everything in the Universe has Volume, and there exists no perceptible Space other than that of Volume." [R. A. Schwaller de Lubicz, The Temple in Man]
---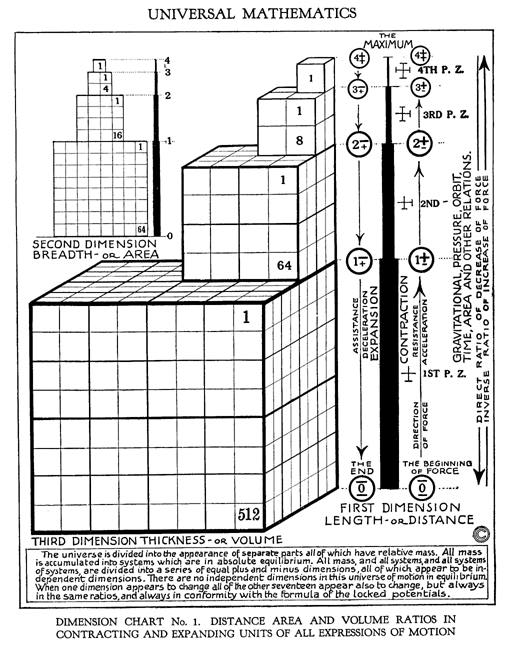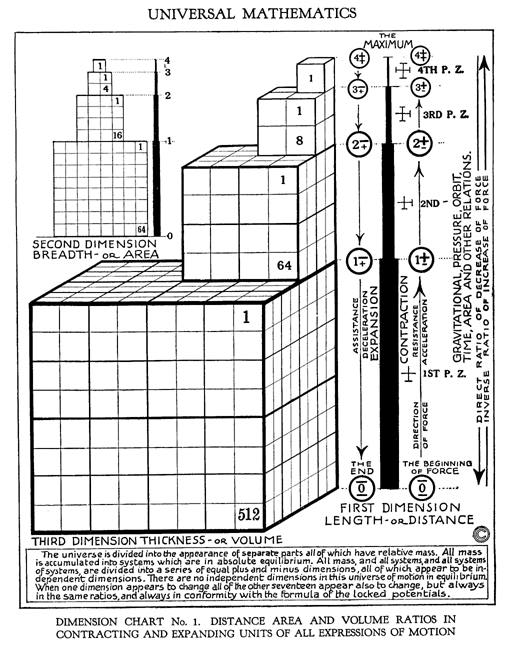 In graphic
Figure 12.09 - Dimensions and Relationships
it is clear:
Relative Volume
Accumulating Dispersing
4+ = 1/8 of 3+ or 3+ = 8 X 4+ or 81
3+ = 1/8 of 2+ or 2+ = 8 X 3+ or 82
2+ = 1/8 of 1+ or 1+ = 8 X 2+ or 83
Numeric Progressions (units)
1st Dimension = Linear = 1, 2, 4, 8.. (Doubling, nX2)
2nd Dimension = Area = 1, 4, 8, 64.. (Squaring, n2)
3rd Dimension = Volume = 1, 8, 64, 512.. (Cubing, n3)
Volumes
Cube Volume = 1 = 13 = 1 on a side
Cube Volume = 2 = cube root of 2 = 1.259922 on side
Cube Volume = 4 = cube root of 4 = 1.587403 on side
Cube
Volume
= 8 =
cube root
of 8 = 2 on side
therefore
Wavelengths and Frequencies - Octave Relations of Russell's Indig Number System
Table 12.02.01 - Wavelengths and Frequencies
Showing linear versus
geometric progressions
as also other types of
progressions
(counting methods or scales).
See Also
---
arithmetical progression
Frequency
Geometrical Progression
Laws of Being
progression
Ratio
Reciprocal
Reciprocating Proportionality
Square Law
Table 12.02 - Length Area and Volume Math
Tone
Volume
wave number
Wavelength
12.00 - Reciprocating Proportionality
12.18 - Multiple Octave Progression
References
Calculate various Properties of a Cylinder
See Also
---
Area
Cube
Length
Sphere
Volume

See Also
---
Eighteen Attributes or Dimensions
Figure 6.17 - Areas and Volumes - Relations and Proportions
Secret of Thoth and the Missing Volume of the Wedjat Eye
Sympathetic Volume
Table 12.02 - Length Area and Volume Math
Volumetric Resonator