Center fleeing force. See also Entropy, radio-active, dispersive.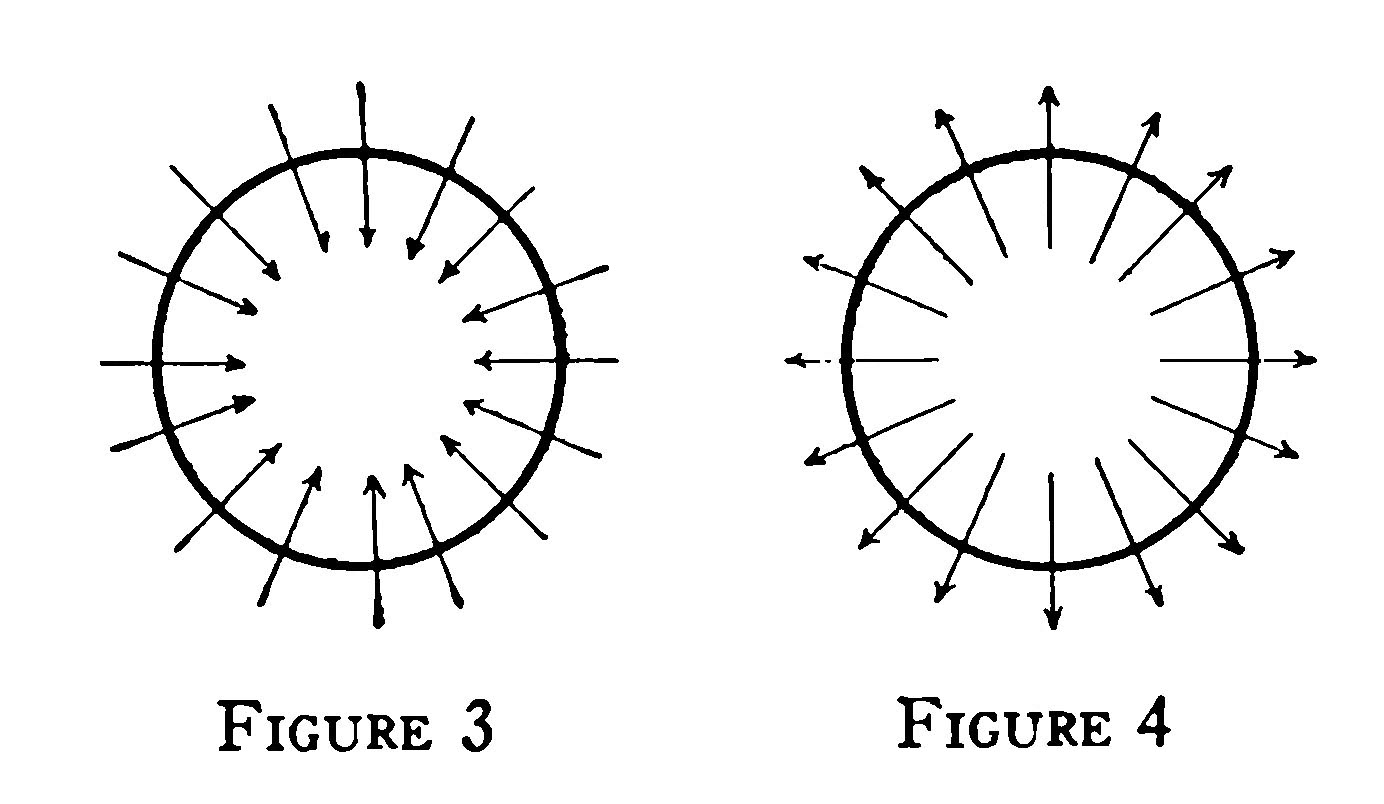 Schauberger
"We must look into unknown dimensions, into Nature, into that incalculable and imponderable life, whose carrier and mediator, the blood of the Earth that accompanies us steadfastly from the cradle to the grave, is water." [Viktor Schauberger, 1932, Implosion Magazine, No. 103, p. 28]
"Whoever accelerates the media of earth, water and air centrifugally perishes unconditionally, for in so doing they reduce the Blood of the Earth (water) to a pathogenic state and make it the most dangerous enemy of all living and growing things." [Viktor Schauberger, Implosion Magazine, No. 96, p. 4.]
In the aforementioned patent applications it was stated in no uncertain terms, where the causes of these regressive symptoms, including cancer, were to be sought, which imperil all growth and highly evolved forms of life. In these applications I made the observation that it was the method of moving water techno-academically which in every respect is destructive and which is solely responsible for the economic decline, the rise in social privation and the constant increase in political unrest. Techno-academic motion is so called, because it is taught in all academies and universities in the form of the centrifugence of medial structures (earth, water and air) and in every dictionary it is described as an 'unnatural' (unreal) form of acceleration. In spite of this it is used today in all areas of industry in its exceptionally centrifugating form, because no other method of acceleration is known. It will therefore continue to be used everywhere until a more rational source of power is discovered.
Observations over many years of the almost motionless stationary trout in rushing mountain streams led to the discovery of the best and cheapest source of mechanical power. It is a form of energy that promotes healthy growth and will free humanity from the technology that presently enslaves it. Founded on a biological vacuum, it will provide the basis for a quantitative and qualitative increase in productivity, thereby solving the pressing problem of more and more people and less and less food. The political turmoil now apparent everywhere can easily lead to the third and last World War, which if atom bombs are used, will mean the end of civilisation. This should certainly be reason enough to consider the following seriously even though it may appear utopian at first sight, an aspect that should offer no further impediment once the academic expertise derived from the misinterpretation of fundamentals collapses like a house of cards. Nor should it be rejected because many occupations that are more or less parasitic will be eliminated in the process. We are here concerned with the existence or non-existence of millions of people in all countries of the world.
For more than a century it has been known that water emits ionising radiation, if it is discharged through a system of straight jets under pressure (see figs. 1-36). Hitherto unknown, however, was the following: If these rays are braked by a filter composed of fatty substances (paraffin wax) and conducted in bundled form into a vacuum-tube, then they incandesce on the inner surfaces, producing a dark red, strongly pulsating glow when the tube is earthed. This effect is similar to sheet-lightning. If these rays are amplified in Leyden jars and then conducted into inflammable liquids or gases, they ignite the latter. This is how the fire started in the Hindenburg, which was filled with hydrogen and became earthed when its ballast-water was released. The [The Energy Evolution - Harnessing Free Energy from Nature, The Biological Vacuum - The Optimal Driving Force for Machines]
Professor Sauerbruch was unaware that this vacuum comes into being through the planetary movement of the blood. Had he known, then medicine would have taken a completely different course.
I was further able to prove that because contemporary machines operate using centrifugence, resistances to motion with a reactive function[12] are
11 Here the German word is 'Qualitatstoff', which literally means 'quality-matter, or substance'. With this Viktor Schauberger intended to describe a higher, 4th or 5th dimensional magnitude of pure quality as a thing in itself and as the driving force in the raising of quality of whatever kind as a 'quality-producer' or 'quality-generating substance' or energy. The English expression term 'qualigen' used here, is a contraction of the two words 'quality' and 'generator'. — Ed.
12 Active and reactive energies, temperatures, etc.: 'Active' essentially relates to the more physical dimension, to what is outwardly physical and perceptible, physically palpable, gravitationally affected or oriented, and life-negating, i.e. to energies that tend to curb, limit and brake life, evolution and development. 'Reactive' on the other hand relates to more metaphysical dimensions, to what is inwardly physically intangible, levitationally affected or oriented, and life-affirming, i.e. to energies that tend to foster, re-animate and accelerate life, evolution and higher development. - Ed. [The Energy Evolution - Harnessing Free Energy from Nature, The Biological Vacuum - The Optimal Driving Force for Machines]
Viktor Schauberger's Microscope Evidence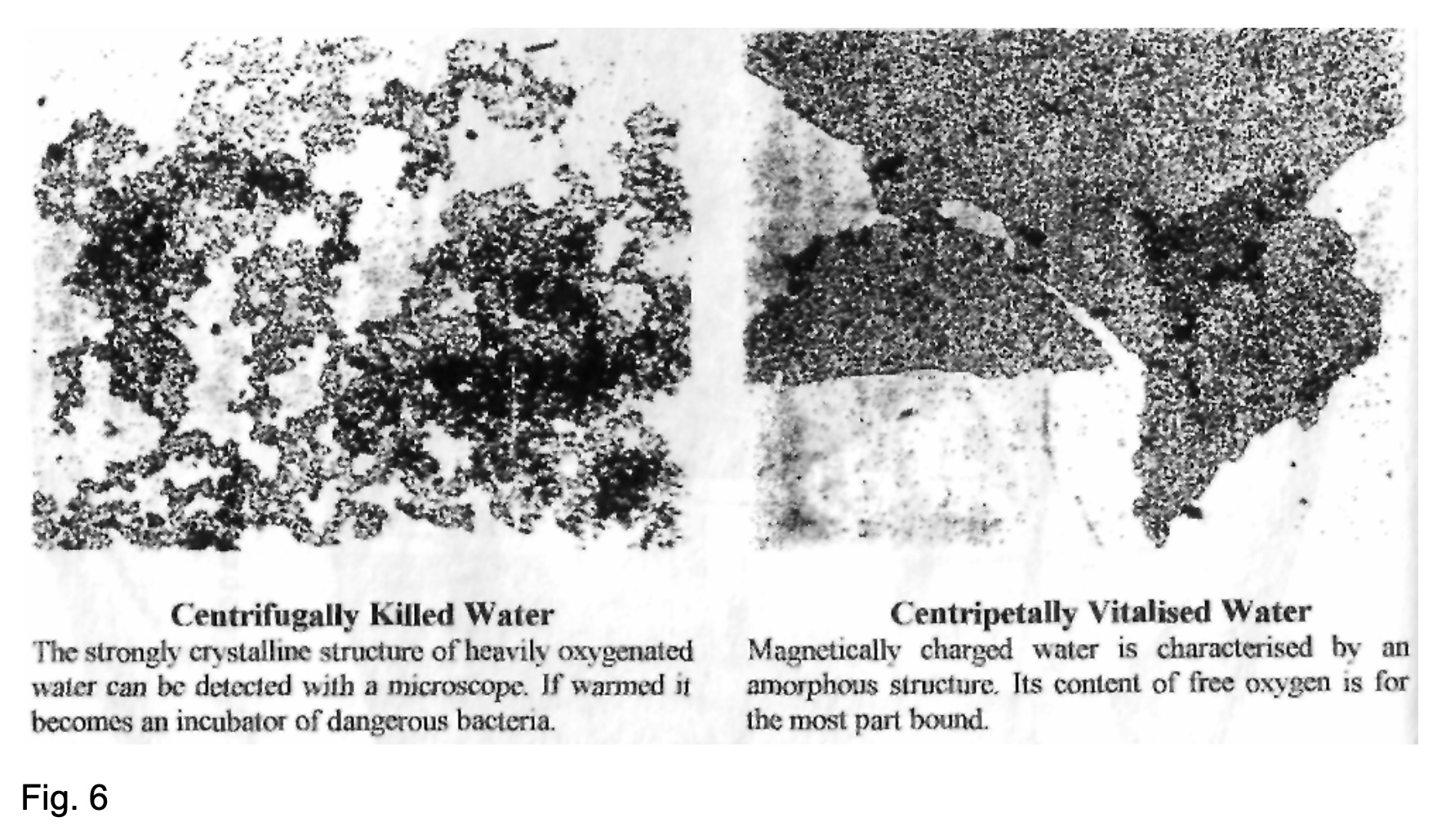 Biomagnetism is quality. Its adversary is all forms of over-illumination, over-heating or centrifugally engineered increase in pressure. In this case bio-electricity is produced, which, in the form of an atomic force of excess pressure, possesses energies that function electrolytically and over-acidify, decompose and kill all forms of life and growth. In the light of this, the deterioration of rivers and lakes becomes quite understandable. Since biomagnetism is quality, it follows that there is no constant conservation of energy in the presently accepted sense. There is likewise no equivalence between mass and energy and no insuperable force of gravity within the atmospheric envelope. All there is, is a rhythmical interplay between bipolar component forces, which ultimately inaugurates the final degeneration. In their interactive function as atomic pressural or suctional forces and through the biological vacuum thereby created, they also produce the best and cheapest driving force for machines. [The Energy Evolution - Harnessing Free Energy from Nature, The Biological Vacuum - The Optimal Driving Force for Machines]
The cause of this groundwater decomposition is the emission of analysing substances, namely cadaverine poison in ray-form (ptomaine radiation), which arises from liquefied stocks of fatty-matter when mechanically-induced centrifugal pressure and physically dissociative energies trigger lower-grade (expansive) temperatures, i.e. lower-grade cell vibrations, in molecular structures. [The Energy Evolution - Harnessing Free Energy from Nature, Cadaverine Poison in Ray-Form - Ptomaine Radiation]
This explains why, for example, the resistance to motion increases by the square of the unnatural (centrifugal) rotational velocity in all technical, hydraulic and dynamic pressure- and heat-increasing machines. This, however, does not occur if medial masses (earth, water & air) are accelerated 'originally' in the manner of the natural motion of the Earth's mass (see fig. 9), namely centripetally along the longitudinal axis. Such motion, which builds up everything indirectly and maintains the whole Earth in delicate equilibrium, can be copied in a manner true to Nature with the aid of very specially constructed and alloyed devices. [The Energy Evolution - Harnessing Free Energy from Nature, Cadaverine Poison in Ray-Form - Ptomaine Radiation]
---
Ramsay
"lower effect than the fifth; the seventh, B, has a higher effect than the sixth; but the eighth, C, has a lower effect than the seventh. If the effects of notes or chords depended wholly on the mathematical primes by which they are measured and located, or the ratios inherent in them, then the effects of the tonic, subdominant, and dominant chords would have been alike, for these chords are measured by exactly the same primes, and have exactly the same ratios. It is the position of the tonic chord which gives it its importance and not any special primes by which it is produced, nor any special ratios inherent in it. Notes by the power of 2 have a pure unmixed and invariable character. Notes by the first, second, and third powers of 3 have different degrees of centrifugal force; and the character of the notes produced by the first power of 5 depends on the character of the notes from which they are derived. The final character of notes and chords is determined by the amount of force which they have acquired from the way in which they have been derived, and from their position in the system. And no matter where these notes may be afterwards placed, like chemical elements, they never lose their original forces and tendencies. What Tyndal says of the inorganic chemical elements of the brain is true of the inorganic notes of music, "They are all dead as grains of shot." It is the organic state which gives the notes and chords their gravities and levities, and these two tendencies, the one upward and the other downward, constitute the vital principle of music. It is true that the mathematical operation is required to give birth and life to music, and that the mathematical system gives the knowledge of causes down to the law of gravitation, yet the artistic effects are fully realised from the tempered system deriving its organic harmony from this vital principle of music. The centrifugal tendencies of the notes of the subdominant, are too strong to be at all disturbed by the system being tempered. The enormous power of these chords corrects the effect which might otherwise arise from tempering, as the enormous power of the sun corrects the perturbations of the planets." [Scientific Basis and Build of Music, page 29]
See Also
---
centrifugal motion
Centripetal
Radiation
radio-active
Law of Repulsion
Magnetism
Death