New Views of Electromagnetism

Magnetism and electricism are the two opposing metaphysical energy-forms, which regulate life and death and which dwell in every solid, liquid and gaseous (aeriform) mass (matter) in an allotropic and latent transitional state. They await the all-important developmental impulse in order to be transformed into higher-grade (life-affirming) or lower-grade (life-negating) forms of energy. In the former case a magnetolytic dissociation process plays the mediatory role and in the latter an electrolytic. The belief that magnetism was a passive and uninteresting by-product of electricism arose merely because nobody was aware of the type of motion that gives rise to higher-grade energy-forms. Nor were they aware of the associated dynamic shapes with which latent bipolar dynagens and their carrier-substance can be accelerated in such a way naturalesquely that, in accordance with the equation F = ma, the force responsible for the increase in substance and qualitative improvement (ennoblement) arises with whose aid the relatively highest grade energy-form can come into being.
This special form of motion, still unknown to conventional science, can magnetise a tripolar mass of air or water up to a maximum of 36% virtually without cost. To do this a particularly constructed, profiled and suitably alloyed form is required, which promotes the evolvement of a developmentally progressive energy, the power of which increases in proportion to the centripetating rotational velocity. In this process it is possible to overcome physical weight and mental torpor effortlessly at almost no expense. Accordingly, magnetism is therefore levitism, the creative (metaphysical) counterforce to electricism, the latter being the decomposive energy-form that actuates gravitism, or physical and mental relapse (the death state).
76
In this regard the following must be explained: Viewed as a whole, all matter is a tripolar product of motion in which lower-grade dynagen concentrations, i.e. higher-grade qualigen in a pre-developmental embryonic state (here referred to as vitamin molecules), are present in an allotropic (polymorphic - solid, liquid, gaseous) state.
These concentrations of subtle matter are bacteriophagous threshold conformations (being neither corpuscular, nor metaphysical embryos) in which the opposing energy-forms mentioned at the beginning are suspended, which oscillate gently in liquid or gaseous media in a wavering state of equilibrium. That is to say, they possess too much levitational force to gravitate and too much lower-grade mass to levitate autonomously. Their inner processes of motion are sustained by the ambient differences in temperature. These, however, are insufficient to determine the fate of these threshold substances as they vacillate at this cross-roads.
The decisive factor here is il primo movere. This is the mysterious motive impulse that Leonardo da Vinci sought in vain during his whole life in order to activate il primo motore, the organic machine, in such a way that the intent of the original mobility-enabler - Life - could take its natural course.
This can be achieved when the rhythmical process of motion - an interplay between components (sub-forces) of suction and pressure - is activated in a manner in accord with natural development. That is to say, the suctional component, which builds up the invigorating motive influence prevails and outweighs the fatigue-inducing pressural component.
In this case magnetism, the levitating, life-affirming and relatively highest grade energy-form, springs forth from the above dynagen capsules - the vitamin molecules.
This is to be compared with the tragic error in motion made by today's technologists, hydraulicists and dynamicists inasmuch as they produced the reversed motive impulse in all machines, whether for systems of conveyance or for the generation of light and temperature. In place of the invigorating suctional component they allowed the pressural component to prevail and predominate, which has a fatiguing effect on the moved mass.
In order to give the reader some idea of the far-reaching repercussions of this disastrous misunderstanding of motion, the following will explain how energies that function in different ways can be built up.
Energy in its almost purest state is produced when any given mass (e.g. air or water) is propelled above the speed of sound in order to separate the lower from the higher-grade and to ennoble the latter through magnetolytic (formative) chain reactions. This gives rise to the substance-increasing retro-influent[1] energy-form, which endows what has been increased with reproductive and evolutive potency.
[1] retro-influent, refers to the energy-form that reverts to physical substance in contrast to that which exalts to metaphysical dimensions of energy. — Ed.
77
All systems of technical, hydraulic and dynamic motion cause the axial->radial dissociation of the tripolar masses of air and water, through which pressure, which generates lower-grade heat-forms, increases by the square of the centrifugating rotational velocity. This results in electrolytic dissociative processes, wherein the oxygen becomes free, unipolar and highly aggressive, and consumes and digests the carbones (fermented fatty-matter), which become passive under this heat influence.
Precisely the opposite dissociation is inaugurated when the suctional component prevails or is dominant. This is because suction, which produces higher-grade coolness, increases in proportion to the centripetating rotational velocity. This invigorating (quality-enhancing) suctional effect can only be created when a tripolar mass of water or air is radially->axially rotated at high speed about its own axis.
This biotechnical system of mass acceleration produces upwardly flowing magnetism, whose formative and levitative force increases by the square of the radial->axial rotational velocity (see fig. 14) in a naturalesquely constructed, contoured and alloyed generating device. This system is still unknown to today's purely mechanistic science, which is founded on too low a level of knowledge.
For this reason any expert opinion from this quarter is totally uninteresting, because the scientists, who failed to perceive the natural process of development, formulated rigid laws and dogma that do not exist in Nature's rhythmical interplay of forces.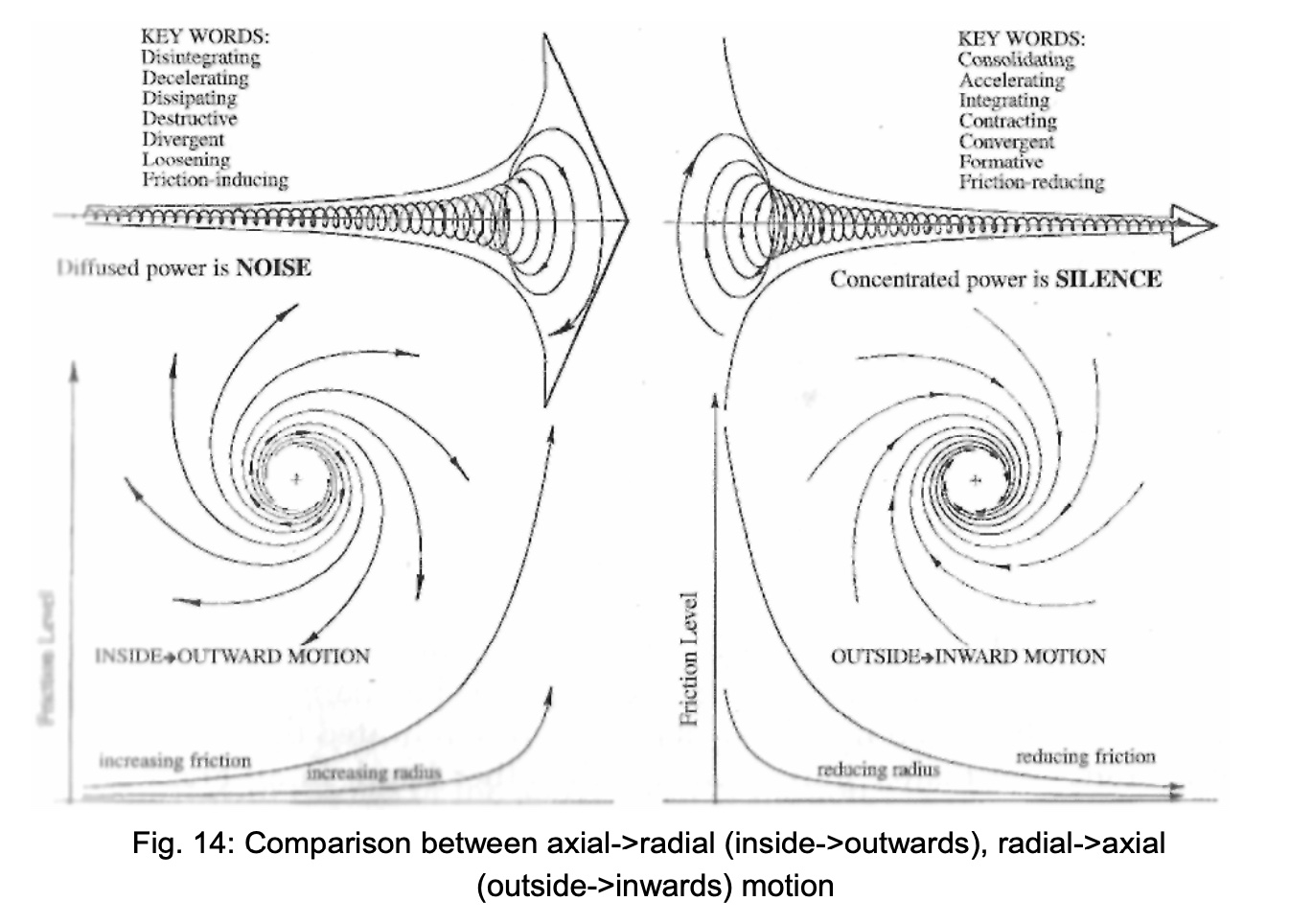 78
No law of energy conservation, nor any heat or other equivalence exists and hence no insuperable law of gravity, for all that is necessary is merely to accelerate a mass of ordinary water or air naturalesquely in order to generate upwardly flowing magnetism. This is the colossal force that maintains the whole Earth-ball in unstable equilibrium and whose revolution in cycloid-spiral-space-curves is caused and sustained by the above rotary (torque-producing) levitating current. By means of magnetolytic dissociative processes, this motion ur-produces the enlivening and originally moving (form-creating) retro-influent energy out of deceased fatty-matter; an energy that gives rise to the hitherto mysterious processes of genesis and increase, and the qualitative improvement (ennoblement) of what has been naturalesquely increased. In other words, it is responsible for the natural self-renewal and evolvement of everything that crawls and flies on this Earth.
Up to now this formative, levitative, multiplying and ennobling natural force has not only been inhibited, but through the reversed form of mass-acceleration has been transformed into the decomposive energy-form that destroys development-ripe raw-material. All this happened for the sole reason that air and water were moved axially->radially (= technically, hydraulically or even dynamically) instead of radially->axially, because it was generally believed that the earthly residues of former life decayed to dust and ashes! And so it came to pass that these vital formative substances were thoughtlessly decomposed or combusted in order to produce lower-grade light, temperature and power. In so doing people literally condemned themselves to death by the very sweat of their brows.
The consequences of this defective motion are so great that there is only one thing left to do, namely to reveal the truth with brutal frankness; a truth which, as a Roman poet declared, has been so cleverly concealed that only the sages understood it. Those who think naively, however, continue to go astray. As the mentally castrated so to speak, they do not perceive that they mis-earn their daily bread all the more rapidly by the sweat of their brows, the more conscientiously they carry out the processes and procedures expounded from lecture-chairs and pulpits. They have become the victims of an over-enfeebled mind and only after the most difficult experiences will they be able to reacquire their innate intuition and repentfully return to Nature.
To put it briefly and simply: We have been taught to wind up the ur-works like a clock, i.e. axially->radially. However, the ur-works that maintain the clock-springs of hunger and love in constant motion must be wound up radially->axially, because only thus is it possible to enable the suctional components to prevail, which produce levitism = upwardly streaming magnetism.
In reality, for the last 2000 years the opposite has happened. Only the Catholic Church, even if merely symbolically, has indicated the naturalesque way to transform matter into spirit. On the other hand, in all areas of the
79
economy and industry secular science instructed and taught the opposite 'winding'. Therefore, in lieu of the evolution-fostering (ennobling) spirit, it raised and reinforced the demon in the form of development-impeding electricism, as if by conveyor belt, to such an extent that the magnetism-generating Earth, which moves in cycloid-spiral-space-curves, is now incapable of neutralising the decomposive energies and their effects produced by millions upon millions of human beings.
It was therefore inevitable that we should be assailed by the catastrophes of Nature that we are presently experiencing. They are exactly the opposite of those experienced by the Atlanteans, who realised the danger of over-stimulating formative and levitative energies only when whole sections of the Earth were wrenched skywards by these elemental (metaphysical) suctional forces.
All today's machines, all methods of conveyance and the production of light and heat enable the lower-grade heat-, light- and temperature-producing pressured components to prevail and predominate.
Since no heat or kinetic equivalence exist, but only the reactive intensification of development-fostering or development-impeding energies, an economic, social, moral and cultural decline had to take place as the scope of pressure-inducing machines and other such devices increased and intensified.
Accordingly we have to learn the lesson from both extremes and balance out both forms of motion and acceleration in such a way that in accordance with the well-known equation F = ma, the desired force F in the form of a predominantly magnetic ion constantly possesses enough levitational superiority to ensure that natural increase and qualitative improvement can keep pace with the unavoidable increase in the population. That is to say, the standard of living must be regulated through the use of higher-grade (quality-increasing) retro-influent dynagens, which come into being when bipolar threshold masses are centripetated in accordance with the equation E = mc2. In other words, when they are accelerated by radially->axially in-winding forces to a speed exceeding that of sound under the simultaneous effect of a falling temperature gradient, i.e. accelerated along the longitudinal axis above their boundary velocities. This gives rise to the higher-grade factors of temperature, light and energy out of which upwardly streaming magnetism springs forth from the spiritual embryos, the vitamin-molecules mentioned at the beginning. These are suspended in a delicately balanced state of equilibrium in the media of air and water and await the naturalesque motive impulse in order, as refined subtle matter, to transform themselves into formative, multiplying and ennobling retro-influent energies. This will signify the end of the present shortages of food, raw material, germinating substances and fuels, and instead of capitalism and bolshevism a true socialism will arise about which Christ preached 2,000 years ago, who taught of the transformation of matter into spirit with the aid of the above form of motion.
80
Return to The Energy Evolution - Harnessing Free Energy from Nature