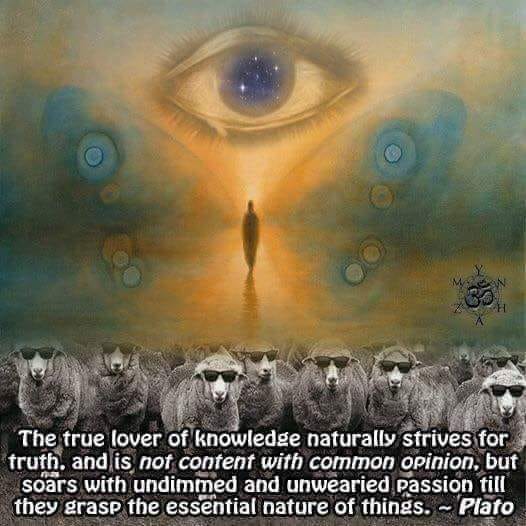 Keely
The science of learning and the science of knowledge are not wholly identical and learning has been known to overwhelm and smother knowledge. [Snell Manuscript - The Book, page 2]
"Science deems sensation the only criterion of knowledge and ignores intuition." [Snell Manuscript - The Book, page 2]
"Given that force can be exerted by an act of will, do we understand the mechanism by which this is done? And if there is a gap in our knowledge between the conscious idea of a motion and the liberation of muscular energy needed to accomplish it, how do we know that a body may not be moved without ordinary material contact by an act of will? Keely contends that all metallic substances after having been subjected to a certain order of vibration may be so moved. "Scientists are verging rapidly toward the idea that immense volumes of energy exist in all conditions of corpuscular space. I accept Prof. Stoney's idea that an apsidal motion might be caused by an interaction between high and low tenuous matter, but such conditions, even of the highest accelerated motion are too far down below the etheric realm to influence it sympathetically, even in the most remote way. The conception of the molecule disturbing the ether, by electrical discharge from its parts is not correct... the highest conditions associated with electricity come under the fourth descending order of sympathetic conditions. The conjecture as regards the motion being a series of harmonic elliptic ones, accompanied by a slow apsidal one, I believe to be correct... The combination of these motions would necessarily produce two circular motions of different amplitudes whose differing periods might correspond to two lines of the spectrum as conjectured, and lead the experimenter, perhaps, into a position corresponding to an ocular illusion. Every line of the spectrum, I think, consists not of two close lines, but of compound triple lines; though not until an instrument has been constructed, which is as perfect in its parts as is the sympathetic field that environs matter, can any truthful conclusion be arrived at from demonstration." [Keely]
"Up to 1888 Keely was still pursuing the wrong line of research, still trying to construct an engine which could hold the ether in "a rotating circle of etheric force," still ignorant of the impossibility of ever reaching commercial success on that line. It was the end of the year before he could be brought to entirely abandon his "perfect engine" and to confine himself to researches, which he had been pursuing in connection with his repeated failures on the commercial line, to gain more knowledge of the laws which govern the operation of the force. [Snell Manuscript - The Book, page 2]
---
Russell
"Because all knowledge exists and one can have all knowledge by desiring to have it."
"Knowledge is limited to cause." [Russell, The Message of the Divine Iliad, page 207]
"The acquisition of new knowledge by man is but the re-thinking or recollection of old knowledge." [Walter Russell, The Universal One, page 54]
"The centering consciousness of man, the PERSON, transforms information received by the senses into knowledge to the extent of which he is capable of recognizing CAUSE in spirit, back of the EFFECT which his senses record." [Walter Russell, The Secret of Light, page 58]
---
Schauberger
Modern intuitionless science has regulated the eternal flow of evolution (panta Rhei) in the wrong way and thus failed to notice the possibility of generating ur-forces. Instead of additional products of emulsion possessing development-enhancing functions, it had to make do with development-disturbing reactive forces and resistances to motion that increase by the square of the reversed form of acceleration. According to an age-old maxim, "she half-pulled him down, he half-sank on her". In this play on words there lies a far deeper meaning. It would take too long here to enumerate all the catalysts with various functions, which as Goethe already recognised, form the 'connecting' emulsifying bond. They are ray-forms, upon whose function the development-disturbing rising temperature gradient and the development-fostering falling temperature gradient depend. Paramagnetic catalysts act decentratingly diamagnetic catalysts concentratingly. This fact alone pin-points the incorrect form of development, which ultimately results in the destruction of atoms. Wise Nature, on the other hand, proceeds by way of atomic transformation, which from, a biological viewpoint is the exact opposite. Pressure and fire technology therefore produce retrogressive atomic energies, whereas implosion technology generates super-powerful, forward-thrusting atomic energies, i.e. an almost 100% formative and levitative force. And so the question arises, what actually is a catalyst? The answer is simple. It is a condenser that has been galvanically alloyed with oppositely-charged substances, which radiates predominantly negatively potentiated ray-forms into the naturalesquely inwindingly moved medium. This then activates a flowing diamagnetism, the formative and levitative force that soars upwards and sucks the generating device up in its wake, and which can be regulated by the rate of rotation. With this, the force was rediscovered that enables air-craft to overcome gravity effortlessly and stationary machines to be powered for virtually nothing. According to accounts from earlier times, the high priests of ancient cultures had a commanding knowledge of this power, which they cherished and guarded like life itself so as to be venerated as Gods for their skill. [The Energy Evolution - Harnessing Free Energy from Nature, The Catalysts]
This 'higher' practically implementable metaphysics has nothing in common with today's science. We are therefore here concerned with real 'knowledge' and in no way with the commonly held concept of 'science'. [The Energy Evolution - Harnessing Free Energy from Nature, The Life-Current in Air and Water]
The formulation of all terminology concerning this 'higher' knowledge is uncommonly difficult for the simple reason that today's science has commandeered all the relevant terminology, and thus in the German vocabulary there is a lack of suitable words with which to formulate these new concepts in a meaningful way.[4] For this reason the only way to approach things is by way of circumlocution so that they can be half-way understood by scientists. [The Energy Evolution - Harnessing Free Energy from Nature, The Life-Current in Air and Water]
Blood formation or blood decomposition - synthesising or analysing current - vitalisation or devitalisation - health in mind and body or disease, death and economic disaster, all these are decreed by what in the opening paragraph science calls molecular motion whilst having no knowledge of the differences in the forms of motion, which not only determine existence or non-existence, but also all economic progress or decline. [The Energy Evolution - Harnessing Free Energy from Nature, The Life-Current in Air and Water]
Contemporary science is founded on far too low a level of knowledge. The dying forests, the wasting fields and meadows, the polluted waters and the mind- and body-crippling industries are frightening warning signs of a total failure to appreciate the true workings of Nature. Through false pictures of the world, world-views and the ways of working arising from them, science unconsciously or consciously arrested the build-up of quality matter, thus committing the greatest stupidity or the greatest crime; the crime against the spiritual germinating force. It inhibited the transformation of matter into [The Energy Evolution - Harnessing Free Energy from Nature, The Life-Current in Air and Water]
In General
In the same way that it would be impossible, for example, for human beings and animals to reproduce and further develop (increase and qualitatively improve), were Nature not to enforce an interaction between their primary sexual substances through intolerable urge-driven differences in tension, which function reactively, there would likewise be no possibility for the reproduction and further development of plants, minerals and metals, and the physical (active) forms of heat and cold. Today's science is not only founded on a false developmental basis, but also on too low a level of knowledge. It ignores the formative reaction and using combustion processes gives pride of [The Energy Evolution - Harnessing Free Energy from Nature, The Practical Application of Cycloid-Space-Curve-Motion arising from Processes of Cold Oxidation]
This biotechnical system of mass acceleration produces upwardly flowing magnetism, whose formative and levitative force increases by the square of the radial->axial rotational velocity (see fig. 14) in a naturalesquely constructed, contoured and alloyed generating device. This system is still unknown to today's purely mechanistic science, which is founded on too low a level of knowledge. [The Energy Evolution - Harnessing Free Energy from Nature, Magnetism - Electricism]
It cannot be disputed that contemporary science, which is founded on far too low a level of basic knowledge, has made exclusive use of pressure-intensifying (development-crippling) motion and arbitrary dynamic shapes that in no way correspond to those required by Nature. The formative components of suctional force, which act in an enlivening (cooling) way, were completely neglected. Hence science created even more dangerous degenerative forces as purported successes were achieved to the detriment of the reactive formative forces. A more rapid economic decline was therefore inevitable, the more widespread and more intensive technology, hydraulics and dynamics became. The soil's energies must also become depleted in the same proportion, because the [The Energy Evolution - Harnessing Free Energy from Nature, Magnetism is the Function of Levitism and Electricism is the Function of Gravitism]
---
Hughes
The publication of this work has been unavoidably delayed for a year, and I now quote briefly from an address of Dr. C. W. Siemens, during the late meeting of the British Association at Southampton, as reported in the Times. I have strictly endeavoured to make my investigations according to his views of combining scientific knowledge with practical utility. [Harmonies of Tones and Colours, Introduction2 - Harmonies, page 10]
"The time was when Science was cultivated only by the few, who looked upon its application to the arts and manufactures as almost beneath their consideration: this they were content to leave in the hands of others, who, with only commercial aims in view, did not aspire to further the objects of Science for its own sake, but thought only of benefiting by its teachings. Progress could not be rapid under this condition of things, because the man of pure science rarely pursued his inquiry beyond the mere enunciation of a physical or chemical principle, while the simple practitioner was at a loss how to harmonise the new knowledge with the stock of information which formed his mental capital in trade. The advancement of the last fifty years has, I venture to submit, rendered theory and practice so interdependent, that an intimate union between them is a matter of absolute necessity for our future progress." "It is to the man of science, who also gives attention to practical questions, and to the practitioner, who devotes part of his time to the prosecution of strictly scientific investigation, that we owe the rapid progress of the present day, both merging more and more into one class, that of pioneers in the domain of Nature." "These considerations may serve to show that, although we see the men of both abstract and applied science group themselves [Harmonies of Tones and Colours, Introduction2 - Harmonies, page 10]
in minor bodies for the better prosecution of special objects, the points of contact between the different branches of knowledge are ever multiplying, all tending to form pail of a mighty tree—the tree of modern science." "In this short work energy we find all the efforts in Nature—energy is life in action." "We shall thus find that in the great workshop of Nature there are no lines of demarcation to be drawn between the most exalted speculation and commonplace practice, and that all knowledge must lead up to one great result, that of an intelligent recognition of the Creator through His works."
F.J. Hughes [Harmonies of Tones and Colours, Introduction3 - Harmonies, page 11]
It seems desirable that I should briefly state my entire ignorance of natural science, and that what I do know has been gained without technical knowledge, with the determination that imagination should not interfere with strict investigation. [Harmonies of Tones and Colours, General Remarks on Harmonies of Tones and Colours, page 12]
"Now comes the important question—Are the intermediate colours of the spectrum produced by vibrations that bear a definite ratio to the vibrations giving rise to the intermediate notes of the scale? According to our knowledge up to this time, apparently not." [Harmonies of Tones and Colours, On Colours as Developed by the same Laws as Musical Harmonies2, page 19]
"Their music is of a style very difficult for foreigners to acquire or imitate, but the children very easily and early attain it. I low much the Arabs profited by the works of ancient Greek writers is well known."† As knowledge increases, may not the beginning of every physical science be traced first as a trinity springing from a trinity in unity, followed by a second partaking of the nature of the first, so as to unite with it in complementary pairs as here described in tones and colours, trinity in unity being the germ of never-ending developments? [Harmonies of Tones and Colours, The Arabian System of Music, page 21]
With our present powers the darkness of ignorance is ever groping after the light of knowledge. If the field is so vast when we merely attempt to harmonise the laws which regulate the visible creation, it widens indefinitely when we attempt to harmonise, by the same laws, Creation with the Scriptures. "God is light," and with His Holy Spirit for our teacher, every line of His word instructs us; "like the ocean, the word remains essentially the same, while the light never plays upon its surface without deepening and varying its hues." [Harmonies of Tones and Colours, Reflections on the Scheme1, page 43]
"The real animating power of knowledge fills us with wonder and joy; a joy for which, observe, ignorance is just as necessary as the present knowledge. The man is always happy who is in the presence of something which he cannot know to the full, which he is always going on to know. This is the necessary condition of finite creatures with divinely rooted and divinely directed intelligence; this, therefore, its happy state—but observe, a state not of triumph or joy in what he knows, but of joy rather in the continual discovery of new ignorance, continual self-abasement, continual astonishment."—Ruskin. [Harmonies of Tones and Colours, Reflections on the Scheme2, page 44]
"Science and Revelation are mutually, though gradually, clearing each other; but as a little warmth of the rising sun only calls up the very mists which are to be dissipated by its more powerful shining, so a vague and chilling popular unbelief is to be dispelled, not by withholding knowledge, but by shedding abroad all possible light. Christianity has one most dangerous mental foe, and that is ignorance." Ignorance is the parent of Atheism; but we should carefully distinguish between "sinful doubt" and candid inquiry, the former of which generally arises from a too great love of, and belief in, our own mental powers. [Harmonies of Tones and Colours, Reflections on the Scheme3, page 45]
---
Paracelsus
"The universities do not teach all things," he wrote, "so a doctor must seek out old wives, gypsies, sorcerers, wandering tribes, old robbers, and such outlaws and take lessons from them. A doctor must be a traveller.…Knowledge is experience." [Paracelsus]
---
"True knowledge consists in a direct recognition of the truth and is taught by Nature herself. No man, no matter how great, educated and intelligent, can discover this science without divine intervention and revelation, as this knowledge depends entirely upon the grace of God and his divine dispensation." - [Paracelsus]
---
Rudolf Steiner
"When pride arises out of knowledge, that is always a sign that something in one's knowledge is indeed terribly wrong. For when knowledge is truly present, it makes one humble in a completely natural way." [Rudolf Steiner]
---
Blavatsky
"Theosophy, in its abstract meaning, is Divine Wisdom, or the aggregate of the knowledge and wisdom that underlie the Universe - the homogeneity of eternal GOOD; and in its concrete sense it is the sum total of the same as allotted to man by nature, on this earth, and no more." [The Key to Theosophy, by H. P. Blavatsky, 1889]
"Theosophy is synonymous with the Jnana-Vidya (knowledge of the Great Knowledge), and the Brahma-Vidya of the Hindus (sacred knowledge, knowledge of the Divinity pervading the universe), with the Dzyan of the trans-Himalayan adepts, the science of the true Raja Yogis (Raja Yoga is the kingly union, the highest form of self-development leading to union with one's Egoic Self). It is the parent stem - the Archaic Wisdom; the Light of Truth; the inner teachings of the Mahayana school of Northern Buddhism. It is something more than simple metaphysics. It is meta-metaphysics, metageometry, etc. or a universal transcendentalism; etc., etc." [Helena Petrovna Blavatsky]
---
Ramsay
"The science of music is the knowledge of how Nature proceeds in this beautiful region of creation in which so much of pleasure for mankind is found, and meet expression for the praise of God. "Music hath charms to soothe the savage beast;" how much more to gratify the civilized and educated ear; to stir with inspiration the prophetic gift; to comfort the troubled heart; and to draw forth the best feelings of our nature." [Scientific Basis and Build of Music, page 20]
In respect of harmony, the natural scale of five notes is like the scale of man's five senses; as the other notes can be compounded so as to form the octave of harmony, so sensation is joined by reflection, and new elements of knowledge come into existence in the process of reasoning. But the knowledge we have in our logical deductions is knowledge on different terms from sensation, which is intuitive; though if the logical process be rightly done, it is knowledge as certainly as the compound chords of the octave scale are harmony, quite as much, and a little more, perhaps, though on more complex terms, as that of the five notes of the natural scale. [Scientific Basis and Build of Music, page 86]
Another remarkable thing is that these dual numbers, when multiplied into each other, always come to 720. Now this number, as we see in the great genesis, corresponds to 1 in the major, being the point of departure for the development of the feminine mode, as 1 is the point of departure in the masculine mode. This 720 is the octave of 360, which is the number of the degrees of the circle, so divided in the hidden depths of human antiquity; and when F1 becomes F2, then B360 is the answering note and number in the dual system. All the notes in the masculine development are above F2; and all the notes in the feminine development are below B360. The unoccupied octave between F1 and F2 and that between B720 and B360 may be counted as the octave heads or roots of the two modes, and then F2 and B360 as the points from which the development of music's diversity begins; and it is noteworthy that the number of the degrees of the circle should be found in this connection. When was the circle so divided? Who divided it so? And why did he, the unknown, so divide it? Was Music's mystery known in that far-off day before the confusion of man's sinking history had blotted out so much of the pure knowledge of pristine days? [Scientific Basis and Build of Music, page 119]
---
Hughes
THE above quotation from that beautiful work, The Pendulograph, shows how firmly its author believes that the Almighty Himself will be proved to be the key to His works; a belief frequently expressed also in a striking work, Nature and the Supernatural, by the Rev. J. W. Reynolds, M.A. For many years I have been endeavouring to resolve some of the intricacies of natural harmony with the same views. In the pursuit of knowledge it is eminently important to "avoid profane and vain babblings, and oppositions of science falsely so called" (I Tim. vi. 20), and to remember that facts gained from the study of God's marvellous works, that "ought to be had in remembrance" (Psa. cxi. 4, Prayer Book Version), and the truths of Holy Scripture, can never really oppose each other. Research shows us countless varieties developed by trinities springing from unities, and we find true scientific depth in the Scriptural phrases, where the whole earth is continually mentioned as worshipping the Almighty. This truth is beautifully expressed in the Te Deum Laudamus—"Holy, holy, holy, Lord God Almighty; heaven and earth are full of Thy glory." [Harmonies of Tones and Colours, Reflections on the Scheme1, page 43]
---
Cayce
"Just as has so oft been indicated, one doesn't fall out of a tree into heaven, or an airplane, or fly into heaven, but one grows in grace, in knowledge, in understanding, in perfecting within self those applications of tenets and truths that bring to the activities the spiritual, the mental growth." [Cayce 2746-2]
"All knowledge - then, now, or in the future, is latent within self - would man but begin to understand. The stamp, the image of the Creator is a part of the heritage of each soul." [Cayce (2533-4)]
". . . there are no short cuts to knowledge, to wisdom, to understanding - these must be lived, must be experienced by each and every soul." [Cayce (830-2)]
"And what is knowledge? To know the Lord, to do good, to cast out fear; for partaking of knowledge symbolizes the bringing of fear - unless there has been that desire purposed in "Thy will, not mine, be done in and through me." [Cayce (1246)]
"For the beginning of knowledge is to know self and self's relationship to God! Then the relationship to the fellow man; then material knowledge to any entity, any soul, may become valuable, worth while, aggressive, advancing - success!" [Cayce (1249-1)]
"Change is the activity of knowledge from within. Learn to live! [Cayce 900-465]
"How (some would ask) did the body, Edgar Cayce, or soul, attune self at that particular period and yet not remember in the physical consciousness that conversation had with those that approached to communicate or to tell those things that were to them, are to them, very vital in their experiences in the present plane?
"This, as has been given, is because the soul passes from the body into those realms from which is sought that desired to be known by the seeker. Here there was sought (this is on the 9th of July, see?) concerning the physical condition of a body that which in the material world would aid in correcting the mental and physical conditions. This realm from which such information is obtainable, as we have given, is either from those that have passed into the realm of subconscious activity or from the subconscious and superconscious activity through which information is being sought by that superconscious activity in the realm of physical forces in action.
"Hence why this particular body, Edgar Cayce, was able to attune self to the varied realms of activity by laying aside the physical consciousness. Then, if the body from its material and mental development were to be wholly conscious of that through which it passes in its SOUL'S activity in such realms, the strain would be so great upon that which holds the mental and its applications of same in order for material activity as to become demented in its relationship.
"And he is thought crazy enough anyway!" [Cayce (5756-14)]
"All knowledge is to be used in the manner that will give help and assistance to others, and the desire is that the laws of the Creator be manifested in the physical world." [Cayce (254-17)]
Plotinus
"He who has not even a knowledge of common things is a brute among men. He who has an accurate knowledge of human concerns alone, is a man among brutes. But he who knows all that can be known by intellectual energy is a God among men." [Plotinus]
"Knowledge has three degrees - opinion, science, illumination. The means or instrument of the first is sense; of the second, dialectic; of the third, intuition." [Plotinus]
---
Osho
Osho, please can you say something about creativity and discipline?
"DISCIPLINE" is a beautiful word, but it has been misused as all other beautiful words have been misused in the past. THE WORD "DISCIPLINE" COMES FROM THE SAME ROOT AS THE WORD "DISCIPLE"; the root meaning of the word is "a process of learning." ONE WHO IS READY TO LEARN IS A DISCIPLE, and THE PROCESS OF BEING READY TO LEARN IS DISCIPLINE.
THE KNOWLEDGEABLE PERSON IS NEVER READY TO LEARN, because HE ALREADY THINKS HE KNOWS; he is very centered in his so-called knowledge. His knowledge is nothing but a nourishment for his EGO. He cannot be a disciple, he cannot be in true discipline.
Socrates says: "I KNOW ONLY ONE THING, THAT I KNOW NOTHING." That is THE BEGINNING OF DISCIPLINE. When you don't know anything - of course, a great longing to inquire, explore, investigate arises. And the moment you start learning, another factor follows inevitably: WHATSOEVER YOU HAVE LEARNED HAS TO BE DROPPED CONTINUOUSLY, otherwise it will become knowledge and KNOWLEDGE WILL PREVENT FURTHER LEARNING.
THE REAL MAN OF DISCIPLINE NEVER ACCUMULATES. Each moment he dies to whatsoever he has come to know and again becomes ignorant. That ignorance is really luminous. I agree with Dionysus when he calls ignorance LUMINOUS. It is one of the most beautiful experiences in existence to be in a state of luminous NOT-KNOWING. When you are in that state of not-knowing you are open, there is no barrier, you are ready to explore. THE HINDUS CANNOT DO IT - they are already knowledgeable. The MOHAMMEDANS cannot do it, the CHRISTIANS cannot do it. MY SANNYASINS CAN DO IT, for the simple reason that I AM NOT IMPARTING KNOWLEDGE. On the contrary, I AM DESTROYING YOUR KNOWLEDGE.
Hence it happens every day. Every day I receive many letters, many questions. One friend has come from the West. He says, for three, four years he has been reading my books and he was so much excited, he was in such great love with me, that he wanted to come somehow as quickly as possible. And now he has been able to manage to come, but here he feels frustrated. He was four years in deep love with me, and now he says, "I cannot say the same, because you are so shocking to me. YOU IRRITATE ME, YOU ANNOY ME; YOU GO ON HAMMERING ON MY CHERISHED IDEAS."
It is easy to read a book because the book is in your hands. I am not in your hands! You can interpret the book according to your ideas, you cannot interpret me according to your ideas - I will make so much trouble for you! He was not in love with me, HE WAS IN LOVE WITH HIS OWN IDEAS, and because he was finding support from my books HE LIVED IN AN ILLUSION.
But with me illusions are bound to be shattered. I AM HERE TO SHATTER ALL ILLUSIONS. Yes, it will IRRITATE you, it will ANNOY you - that's MY VERY WAY OF FUNCTIONING AND WORKING. I will sabotage you from your very roots! Unless you are totally destroyed as a mind, there is no hope for you.
---
OSHO
The Goose is Out
Ch #9: Rejoice to abandon!
am in Buddha Hall
(part 3 of 4)
Reich
"We shall no longer hang on to the tails of public opinion or to a non-existent authority on matters utterly unknown and strange. We shall gradually become experts ourselves in the mastery of the knowledge of the Future." [Wilhelm Reich]
Manly Palmer Hall
"We have to be able to recognize that the attainment of knowledge is the highest labor of mankind. And that the attainment of knowledge is the basis of all philanthropy, the basis of all unselfishness, the basis of all cooperation, and the strengthening of all the constructive emotions of the human being. Therefore to do this, it must be a discipline. And all ancient people set aside certain disciplines for those who wanted to know the truth more than anything else. These they called mystery schools. The greatest of all wisdom is the love of truth, the love of reality. We've had years and years of corrupted wisdom. We've had years of years of pseudo knowledge and we're now very much in need of the real thing." [Manly Palmer Hall, What the Ancient Wisdom Expects of Its Disciples]
Christ Returns - Speaks His Truth
"(However, at the moment of creation, two BASIC IMPULSES came into being, ensuring individuality, and it was these which controlled mankind's consciousness.
These IMPULSES were explained to me in detail but this knowledge is reserved for a future Letter when you will be better able to understand it) ................................ ." [Christ Returns - Speaks His Truth, Letter 1, page 17]
"When the FATHER CONSCIOUSNESS within me began to dim, and I gradually returned to human consciousness I became aware of gnawing hunger and also a return of my human conditioning and thought.
My reactions to my six weeks' experiences began to change. My usual human awareness of 'me' and my desires, took over my thoughts.
'Why, the most amazing and completely unexpected thing has happened to me!' I exulted. 'I have been given knowledge beyond any yet given to any other man.'" [Christ Returns - Speaks His Truth, Letter 1, page 19]
"But now, as I relate, in small measure, the story of my sojourn on earth in Palestine, it is with the intention that you, my reader, will begin to perceive and understand the knowledge I was given during my enlightenment.
My intention is to give you knowledge. Hearsay is when you are told something but you cannot really prove it is true. Knowledge is when you are told something - or read something - and because what you have now heard or read complies logically and realistically with all related items of knowledge already in your mind, and you can understand and believe it in a realistic, logical way, the new information becomes knowledge. You KNOW that what you now 'know' is TRUE. You have a sense of 'conviction'.
---
In the LIGHT OF CHRIST's SPIRITUAL TRUTH, doctrines become meaningless & are swiftly jettisoned from the illuminated mind.
page 65
Letter 3-09
Up to this time, some of you have had faith in 'Jesus Christ' but you have been like precocious children. Your faith has been partially blind and accepting, yet interwoven with much doubt.
Therefore, whatever you needed to be done for you, you depended on 'Jesus' for the work to be accomplished. Whereas, in fact, much of what you believe you have derived directly from 'Jesus' has been your own 'faith in Jesus' made visible in the form of things asked for.
Whilst this child-like 'faith' is very important to your well-being, those of you who are capable of moving onward on the spiritual path to perfection, must now reach a deeper level of true knowledge of the relation between mind and 'matter'. Without this foundation, people will continue to flounder in religious myths and will be locked into the misery of the human condition.
When I was on earth, I spoke Truth to the people, but it was continually misinterpreted. What I really said regarding faith, was this:
'You see this great big tree. It has grown out of the tiniest seed imaginable. See the vast trunk and branches and foliage. All that enormous growth has come out of a small seed.
'How did such a thing come about? From whence came all the wood in the tree and the foliage which adorns it! Is not this as much a miracle as are the miracles I perform for you, day after day? Is not the growth of this tree as much the work of the 'Father' as the healing which takes place in sick people? 'I ask you - what is a seed? Can you tell me? No - you cannot. But I will tell you.
'It is a tiny entity of 'consciousness knowledge'. It is the 'consciousness knowledge' of what it will become. It is a fragment of 'consciousness' drawn from 'Divine Creative Consciousness'.
'It is a fragment of mind power drawn from 'Father Mind Power' ... which, when planted in the earth and watered by rain, will begin to clothe itself with the visible 'matter' of which it possesses knowledge, deep within itself. This knowledge is true, it is firm, it is strong and undeviating. This self-knowledge embodied in the seed, is a conviction in 'consciousness'.
'All of life forms arise out of this one-pointed self-knowledge - a 'conviction of consciousness'.
This 'conviction of consciousness' is what separates the inanimate soil and rocks from all that lives and grows upon the face of the earth. Where there is no 'conviction of consciousness' or 'knowledge of identity' there is no growth. The consciousness within soil and rocks remains 'consciousness' in a dormant form. [Christ Returns - Speaks His Truth, Letter 3, page 64-65]
See Also
---
Awareness
Consciousness
Knowing
Mind
Thinking
Thought
Wisdom