Sai Baba
http://www.sathyasai.org/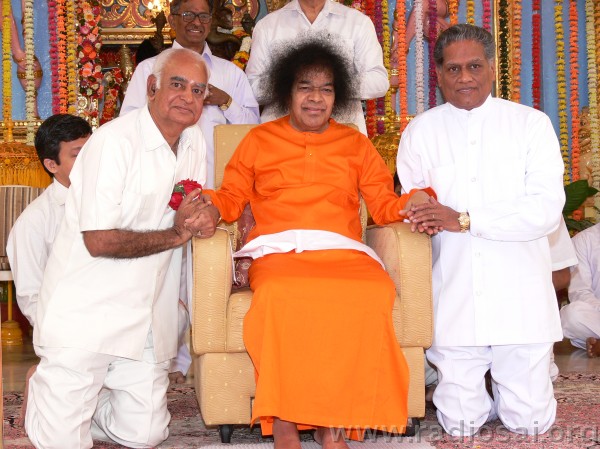 Sai Baba

Spiritual Advise from Sai Baba
An Interview
Interview to group of Journalists from Mumbai (Bombay) Published in The Times Of India - 12th March, 1999
Sai Baba has not given an interview to a journalist in the past 25 years. But, recently, He spoke to S. Balakrishnan and a group of journalists from Mumbai : Reproduced verbatim from The Times Of India - 12th March, 1999)
------

Sri Sathya Sai Baba is easily one of the most popular spiritual leaders of contemporary India. He has attracted a following which runs into scores millions cutting across barriers of caste, language, region and nation. He shot into fame because of the miracles performed by him, specifically his ability to materialise the holy ash and other material things from out of thin air. The rationalists consistently targeted him. But, Baba, as he is referred to both of reverence and affection by his devotees, only emerged stronger from these controversies. Today, the 74-year-old Baba is known for working out miracles of a different kind. Miracles in the form of a super speciality hospital where free treatment is given or a massive drinking water scheme in the parched hinterland of Andhra Pradesh or a massive educational complex. The high and the mighty of the land touch his feet and seek his blessings, so do ordinary people from all walks of life. Baba gives them all the same message of love. He has never given an interview to a journalist in the past 25 years. But, recently, he spoke to S. Balakrishnan and a group of journalists from Mumbai in a small room at his ashram in Muttaparthi in Andhra Pradesh.
How do you relate yourself to Saibaba of Shirdi? "This body has not seen him."
Indians are increasingly turning to god-men and god-women. Is this a sign of growing insecurity within them? Or is it something else? "This is basically a search for God. The divine is there within each person. The search is for this divinity. God realisation cannot be seen as a sign of insecurity. It is a positive aspiration to be one with God. It is a good sign."
Even as mankind is relentlessly searching for God, he finds himself engulfed by more and more misery. What is the reason for this state of affairs? "Attachment to the body is the root cause of all suffering and misery. Once this attachment ends, then one can experience divine bliss. There is no doubt about that. Since God does not have any bodily attachment, he does not attach any importance to the suffering of His body."
What is the best way to serve God? "Serve the poor, the weak, the downtrodden and the underprivileged. There is divinity in each of us, hence love and serve fellow human beings selflessly. Give those around you pure love. Religion can be best pursued through the axiom 'Dil mein Ram, Haath mein Kaam'. There is only one religion - the religion of love; one caste - the caste of humanity; one language - the language of the heart; one law - the law of Karma and there is only one God - He is omnipresent. All of us should remember these simple yet profound truths. These truths lead us to God."
Is there no escape from human misery? "It is all karma. The need is to adopt the path of righteousness. One should surrender oneself to the Almighty."
Why do you perform miracles like materialising a ring, a medallion, a necklace, vibhuti and other objects? What are you trying to prove by performing these miracles? "Chamatkaar or miracle is a cheap word for what I do. A magician performs his tricks to earn a livelihood and worldly fame. But, I materialise these talismans as my visiting cards, as evidence that divinity can transform earth into the sky and vice versa. To doubt this is to betray an inability to grasp the grandeur of the universe. I get lot of satisfaction while gifting these talismans to my devotees."
The suffering millions flock to you. They want to pass on their problems and suffering to you. How much of these suffering can you take on? "I am only performing a divine mission."
How do you spend your day? "My day begins with granting darshan to my devotees, interviews to people, bhajans, attending to all projects taken up for human welfare. Same cycle is repeated from post noon till evening. Although I know the contents of all letters which I receive, I read all of them for the trupti or satisfaction of my devotees."
"I avoid milk, green fruits, dry fruits, sweets, ghee, butter, tea, coffee, etc. I take a skimpy meal of ragi and green grams. For the past 60 years my weight has remained unchanged at 108 pounds. When the world sleeps, I go to my devotees, give them my vision, comfort them, console them and solve their problems. I willingly take on the sufferings of my devotees on myself."
Have you gone abroad any time? "Yes, only once - to East Africa, that too because of the pure love of a devotee, who is no more now. I did not go at the invitation of the government."
Do you have any plans to visit foreign nations and spread your message? "No. Where there is sugar, the ants come there; the sugar does not go chasing after the ants. My first task is to clean up our own country first, then go to other countries."
You wield enormous influence over the top politicians of the country. Why don't you impress on them the need to inculcate values in public life? If this is done, India will be a much better place. "Politicians have a choice to pursue good or bad governance; they do covet power with a frenzy. But I tell them that politics without principles, science without humanity, education without character and commerce without morality are not only useless but can prove to be positively dangerous and harm people at large."
Do you read newspapers? "I never read them. Even though I do not read any newspaper, I am aware about everything that is happening round the globe. What is necessary today is that the newspapers should be more careful and responsible in their reporting. Publishing of sensational and baseless news must be avoided. No negative and baseless reporting, specially of those at the helm of affairs of the country, should be done since it has lot of repercussions abroad. If there are any doubts, then they should be cleared after free and frank discussions with the persons concerned. Truth should not be compromised under any circumstance."
You are the chancellor of the Sathya Sai University and you attach tremendous importance to education. Why do you think that education in India has now become a mechanical exercise? "This is because that education has been divorced from values. Education bereft of values is meaningless. The need is to restore values to education."
What are your views on different political parties in India? "All parties do good work as well as bad; the problem lies with ourselves. We should insist on principles."
Who will lead the Sathya Sai movement after you? "My devotees. God will continue to guide them."