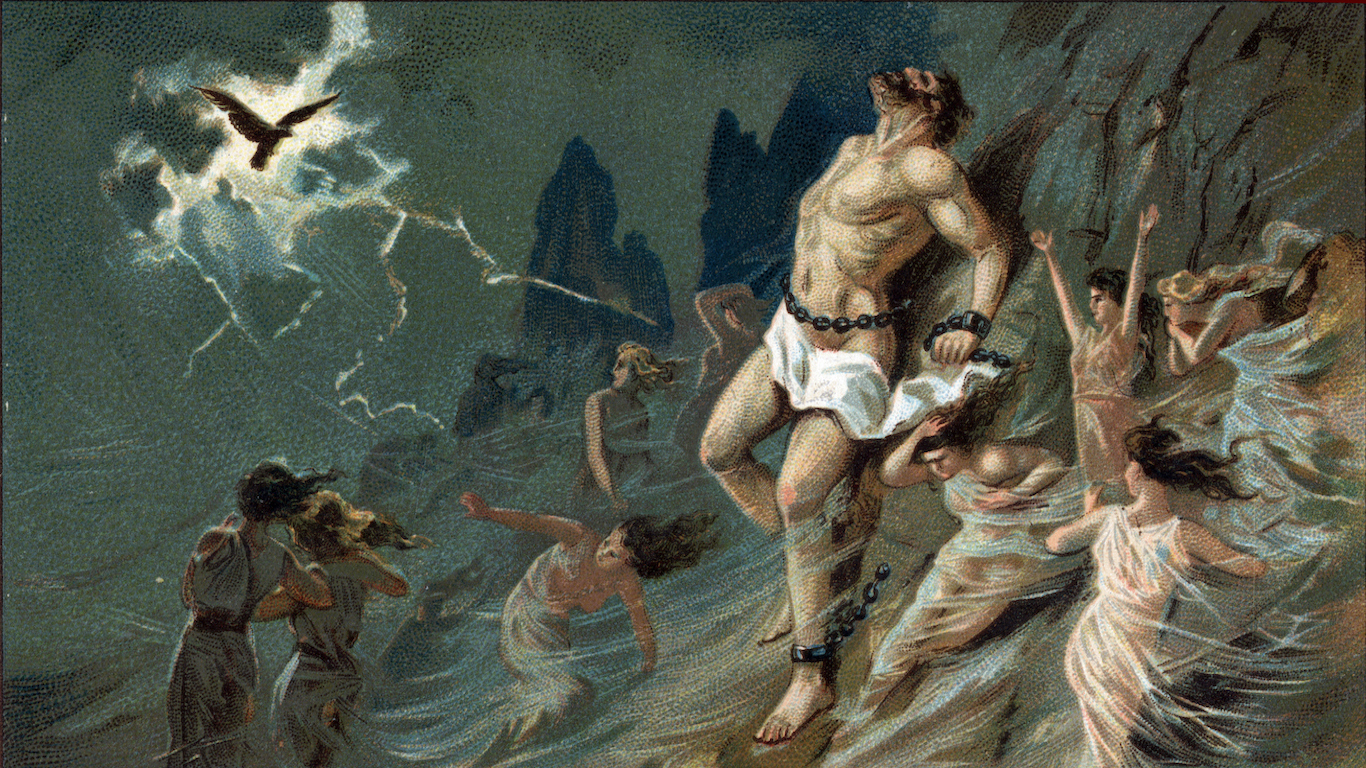 In Greek mythology,
Prometheus
(Ancient Greek: "forethought") is a Titan, the son of Iapetus and Themis, and brother to Atlas, Epimetheus and Menoetius. He was a champion of mankind, known for his wily intelligence, who stole
fire
from Zeus and gave it to mortals. Zeus then punished him for his crime by having him bound to a rock while a great eagle ate his liver every day only to have it grow back to be eaten again the next day. His myth has been treated by a number of ancient sources, in which
Prometheus
is credited with - or blamed for - playing a pivotal role in the early history of mankind. (wikipedia)
---
Keely "In such fields of research, Mr. Keely finds little leisure. Those who accuse him of "dilly-dallying," of idleness, of "always going to do and never doing," of "visionary plans," etc., etc., know nothing of the infinite patience, the persistent energy which for a quarter of a century has upheld him in his struggle to attain this end. Still less, if possible, is he understood by those who think he is seeking self-aggrandizement, fame, fortune, or glory.
The time is approaching when all who have sought to defame this discoverer and inventor, all who have stabbed him with unmerited accusations, all who have denounced him as "a bogus inventor," "a fraud," "an impostor," "a charlatan," "a modern Cagliostro," will be forced to acknowledge that he has done a giant's work for true science, even though he should not live to attain commercial success. But history will not forget that, in the nineteenth century, the story of Prometheus has been repeated, and that the greatest mind of the age, seeking to scale the heavens to bring down the light of truth for mankind, met with Prometheus's reward." [Keely - Cure of Disease]
"But history will not forget that, in the nineteenth century, the story of Prometheus has been repeated, and that the greatest mind of the age, seeking to scale the heavens to bring down the light of truth for mankind, met with Prometheus' reward." [The Key to the Problems. - Keelys Secrets]
"History will not forget that, in the nineteenth century, the story of Prometheus found a counterpart, and that the greatest man of the age, seeking to scale the heavens to bring down blessings for mankind, met with Prometheus' reward from the vultures of calumny who, up to the present moment, have not spared their talons upon him." [Ether the True Protoplasm]
"All these requisites, coupled with a godlike patience, are possessed by this founder of a new school of science; who, for more than twenty years, has borne calumnies, unmerited obloquy, scorn and contempt, without answering his accusers or reproaching his slanderers; while, Prometheus-like, be has been toiling to bring down fire and light from celestial regions for his fellow-men." [What Electricity Is - Bloomfield Moore]
"The discoverer of this law of nature has long been harassed and made to feel like a galley-slave chained to a rock, while with Prometheus aspirations he is seeking to bring down fire and light from heaven for his fellow-men." [An Appeal in Behalf of the Continuance of Keelys Researches]
"But history will not forget that, in the nineteenth century, the story of Prometheus has been repeated, and that the greatest mind of the age, seeking to scale the heavens to bring down the light of truth for mankind, met with Prometheus' reward." [Addendum 6]
"But history will not forget that, in the nineteenth century, the story of Prometheus has been repeated, and that the greatest mind of the age, seeking to scale the heavens to bring down the light of truth for mankind, met with Prometheus's reward." [Keelys Secrets - Part 2 - One Phase of Keelys Discovery in Its Relation to the Cure of Disease]
"The scaffolding which our modern Prometheus has built is not the airy fabric of delusion, nor the baser fabric of a fraud, as has been so often asserted. It has been built, plank by plank, upon firm ground, and every plank is of pure gold, as will be seen in due time." [The Keely Motor Secret]
"The scaffolding which our modern Prometheus has built is not the airy fabric of delusion, nor the baser fabric of a fraud, as has been so often asserted. It has been built plank by plank, upon firm ground, and every plank is of pure gold, as will be seen in due time." [Introduction]
"This company has thrown upon the discoverer's shoulders the burden of its stock-jobbing operations, until Keely is looked upon by men of science, as well as by men ignorant of the A B C of science, as a man working for personal ends; instead of, as he should be regarded, a Prometheus seeking to give to his fellow-men a costless motive force; and who, whether he succeeds financially or not, is entitled to the admiration of all who believe, with Browning, that "effort, not success, makes man great." [Helpers on the Road and Hinderers]