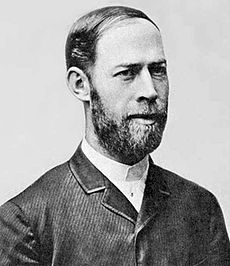 Heinrich Rudolf Hertz
"
No man who is working on these lines, with such instruments, is a fraud. I cannot help him; no one can help him; he must work out his system alone, and when it is completed, we can pursue our researches on the same line. I thought Keely was working, as I am, with an electrical machine and wires. I had no idea of these wonderful instruments.
" [Heinrich Hertz,
Newton of the Mind
]
If we have imprisoned the ether without knowing it, why may not Keely have done the same?
[Heinrich Hertz,
Aerial Navigation
]
Heinrich Rudolf Hertz (February 22, 1857 - January 1, 1894) was a German physicist who clarified and expanded the electromagnetic theory of light that had been put forth by Maxwell. He was the first to satisfactorily demonstrate the existence of electromagnetic waves by building an apparatus to produce and detect VHF or UHF radio waves. Heinrich Hertz
"Often has Keely expressed his regret that mechanical physicists have not had suitable instruments for their researches, saying that they would long since have discovered their errors had they been in possession of proper instruments for acoustic research. It was some photographs of his instruments which led the late Henri Hertz, after examining them, to say in 1889:
"No man who is working on these lines, with such instruments, is a fraud. I cannot help him; no one can help him; he must work out his system alone, and when it is completed, we can pursue our researches on the same line. I thought Keely was working, as I am, with an electrical machine and wires. I had no idea of these wonderful instruments." [Newton of the Mind]