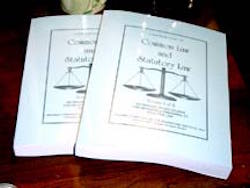 This book, >900 pages in two volumes, is available in the svpbookstore.com:
https://www.svpbookstore.com/Common-and-Statutory-Law-Self-Study-Course-vol1-Torts-Liens-and-Criminal-Procedures-and-vol-II-Practice-and-Civil-Actions-Constitutional-Law_p_545.html
OVER 900 8 1/2 X 11 PAGES IN TWO PERFECT BOUND VOLUMES. AN ORIGINAL STUDY COURSE FOR INDIVIDUALS PREPARING TO PRACTICE LAW or defend themselves in court or to keep your attorney and court honest. Complete with Quizzes on each Section. ORIGINALLY PREPARED BY THE BLACKSTONE INSTITUTE, 1914.
FREE BONUS: We will include free of charge with purchase of this book download links to more than 700 mb of download data files concerning Common Law, common law court case briefs and other relevant materials.
Table of Contents
Volume I Law of Torts, Part I, Trespass Law of Torts, Part II, Conversion Law of Torts, Part III, Legal Cause & Negligence Law of Torts, Part IV, Negligence Law of Torts, Part V, Defamation Law of Torts, Part VI, Malicious Prosecution Law of Torts, Part VII, Interference in Relations Law of Torts, Part VIII, Privacy Law of Liens and Pledges Law of Criminal Procedure Law, Origin, Nature & Development
VOLUME II Practice in Civil Actions Law of Attachment & Garnishment Law of Judgments & Executions Law of Extraordinary Remedies Law of Evidence Constitutional Law, Constitutions Constitutional Law, Powers of Government Constitutional Law, Guarantees Constitutional Law, Eminent Domain Constitutional Law, Taxation Constitutional Law, Naturalization