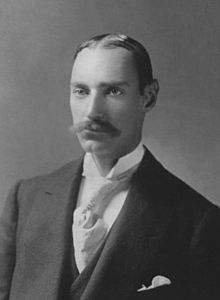 John Jacob Astor IV
(click to enlarge)

John Jacob Astor IV
(July 13, 1864 - April 15, 1912) was an American businessman, real estate builder, investor, inventor, writer, lieutenant colonel in the Spanish-American War and a member of the prominent Astor family.
Astor
died in the sinking of the RMS Titanic during the early hours of April 15, 1912. He was among the 1,514 people on board who did not survive. He was the richest passenger aboard the Titanic and was thought to be among the richest people in the world at that time, with a net worth of nearly $87 million when he died (equivalent to $2.13 billion in 2015). (
Wikipedia, John Jacob Astor IV
)
"Had Mr.
Brewster
asked me to make a proposition to them after I had refused his proposition on Nov. 7 I was prepared, on the same condition
Col. Astor
had accepted from me Oct. 23, to place under their control the "privileges" that I acquire my contract with Mr.
Keely
.
"When, on Nov. 5, the unauthorized and untrue statements of
Col. Astor
's transaction were made public I said that plans formed to have the scientific value of Mr. Keely's discoveries acknowledged publicly before commercial success is attained had been refuted for the third time within five years. I then despaired of accomplishing these aims, and Nov. 7, all negotiations with the financiers were abruptly brought to a close. [from
Mrs. Moore on the Keely Motor
] [See
Moore's commitment to support Keely
]
See Also
---
Affairs of the Keely Motor Company
apergy
Apergy - Power Without Cost
Letter from Bloomfield-Moore to Cornelia
A Monument for John Worrell Keely
Keely - The New York Times
Keelys Motor
Chronology
The Keely Motor - Arizona Weekly Journal-Miner
Mrs. Moore on the Keely Motor
Moore's commitment to support Keely
Keely - Historical Documents