"
Newton, who scoffed at Epicurus' idea that "gravitation is essential and inherent in matter," asserted that gravity must be caused by an agent acting, constantly, according to certain laws. Heat, gravity, light, electricity, magnetism, chemical affinities, are all different phases of the primal force discovered by Keely, and all these forces, it is said, can be obtained from a single ray of sunshine. "The evidence of unity or oneness even between the physical, vital, mental, and spiritual is seen in the light of this law of correlation," says Smith. "A great portion of our muscles contract and relax in obedience to our wills, thereby proving that the mental force can be, and is, in every instance actually converted into the muscular or physical." Keely demonstrates the truth of this assertion, claiming that "all forces are indestructible, immaterial, and homogeneous entities, having their origin and unity in one great intelligent personal will force.
" [
Keely and His Discoveries
]
"
There have been many attempts to describe an energy force out of which the universe is constructed. This energy force is one which can only be described as love.
"
Dialogue on Awakening, page 106
[See Also
Sympathy
,
entanglement
]
"First, let it be understood there is the pattern in the material or physical plane of every condition as exists in the cosmic or spiritual plane, for things spiritual and things material are but those same conditions raised to a different condition of the same element - for all force is as of one force."
[
Cayce
(5756-4)]
Return to
Book 01 - Chapter 19 - Omniscience
---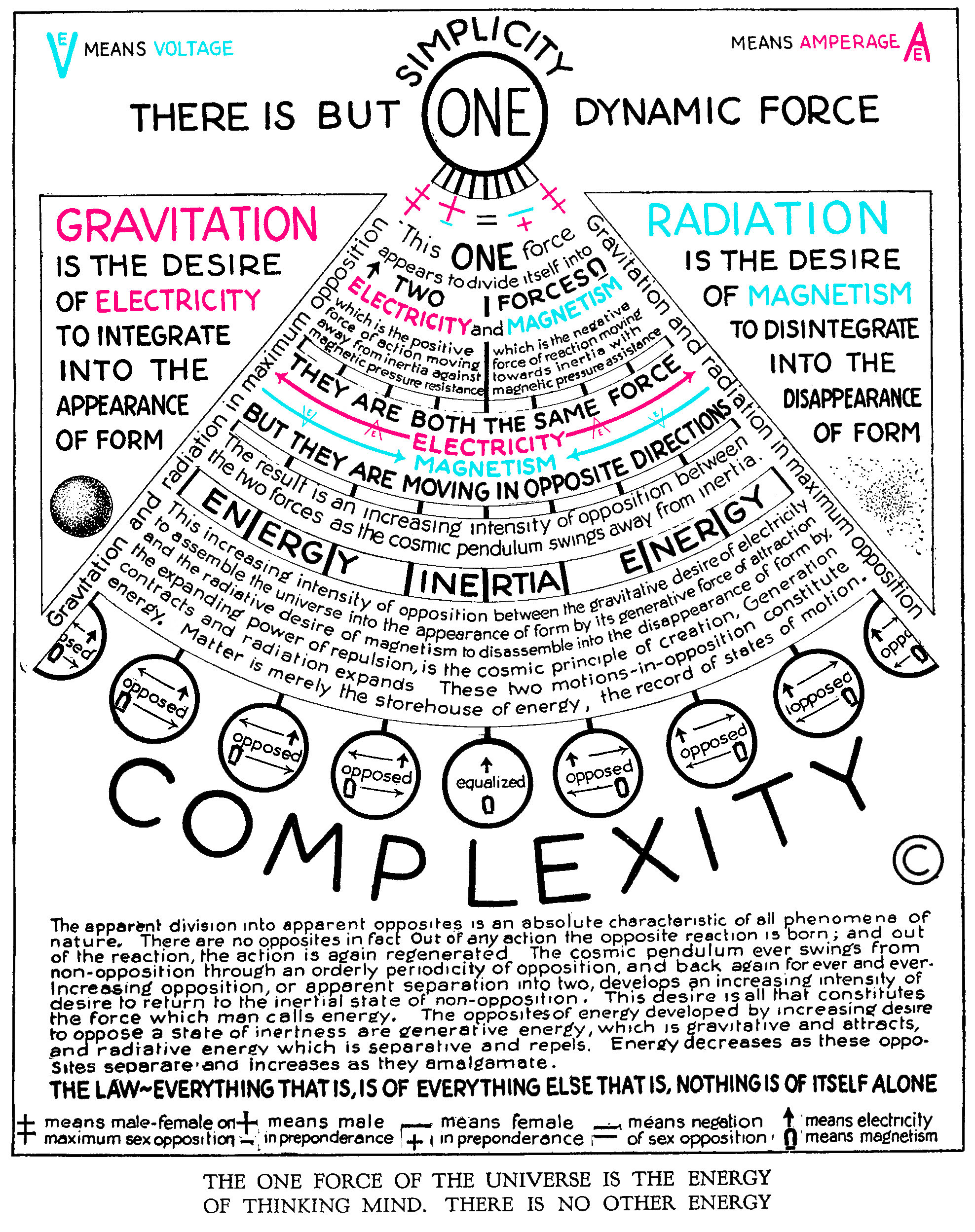 There is but One Dynamic Force
GRAVITATION
is the
desire
of
electricity
to integrate into the appearance of form.
RADIATION
is the
desire
of
magnetism
to disintegrate into the disappearance of form.
The
ONE force
appears to divide itself into two forces
Electricity
which is the positive force of action moving away from inertia against magnetic pressure resistance and
Magnetism
which is the negative force of reaction moving towards inertia with magnetic pressure assistance.
They are both the same force, electricity magnetism, but they are moving in opposite directions.
The result is an increasing
intensity
of opposition between the two forces as the
cosmic pendulum
swings away from inertia.
ENERGY INERTIA ENERGY
This increasing intensity of opposition between the gravitative desire of electricity to assemble the universe into the appearance of form by the generative force of attraction and the radiative desire of magnetism to disassemble into the disappearance of form by the expanding power of repulsion is the cosmic principle of creation. Generation contracts and radiation expands. These two motions-in-opposition constitute energy. Matter is merely the storehouse of energy, the record of states of motion.
COMPLEXITY
The apparent division into apparent opposites is an absolute characteristic of all phenomena of nature. There are no opposites in fact. Out of any action the opposite reaction is born; and out of the reaction, the action is again regenerated. The
cosmic pendulum
ever swings from non-opposition through an orderly periodicity of opposition and back again for ever and ever - increasing opposition, or apparent separation into two, develops an increasing intensity of desire to return to the the inertial state of non-opposition. This desire is all that constitutes the force which man called energy. The opposites of energy developed by increasing desire and radiative energy which is separative and repels. Energy decreases as these opposites separate and increases as they amalgamate.
The Law - Everything that is, is of everything else that is, nothing is of itself alone.
The
One force
of the universe is the energy of
thinking mind
. There is no other energy.
Keely
"In this system (Sympathetic Vibratory Physics), force and energy are classified as opposites, working in antagonism to each other: Force as "a positive power which initiates aggregative motion, and resists separative motion, in three postules, of ponderable matter in the etheric medium;" Energy as "a negative power, which initiates separative motion, or disintegration, and resists aggregative motion, in three postules of ponderable matter, also of the etheric medium."
[
Bloomfield-Moore
,
What Electricity Is - Bloomfield Moore
]
See also
---
Bjerknes Effect
Father-Mother Principle
Gravity
Law of Assimilation
Law of Attraction
Law of Repulsion
mate-pairs
Mind Force
Mind of God
mutually constrained
One Balanced Whole and Two Reciprocating Dynamics
Radiation
Reciprocating Duality
Russell Images
Source
The Universal One
Thought
Universal Heart Beat
See Also
---
Entanglement
Love
Mind Force
Sympathy
Volition
Will Force